SAN FRANCISCO, May 20 – ElectroNeek Robotics Inc. today announced that it had launched its major 2020 platform update, which allows companies to instantly discover the automation potential of their business processes, receive automation recommendations, and deploy software robots to eliminate repetitive business tasks.
New functionality compliments ElectroNeek's Robotic Process Automation capabilities and establishes it as an end-to-end automation platform.
The Calaveras update enables companies to achieve business-wide digital transformation to improve efficiency, to continue innovating to remain competitive, and to develop robots on-premise in order to speed up workflows and improve customer experience.
When you start using ElectroNeek for the first time, pay attention to one of its unique components, the People Dashboard, where managers can see how much time selected users or entire departments spend on repetitive tasks using different software and are able to identify the routine they want to avoid. It also estimates the potential for automation opportunities using proprietary data models.
For particular recommendations on which user actions can be automated, visit the Automation Hub, which is the core of the ElectroNeek Platform.
The intuitive UI of the downloadable Studio makes it straightforward for business professionals to build and launch robots without external help, and all automation workflows are managed in the Orchestrator.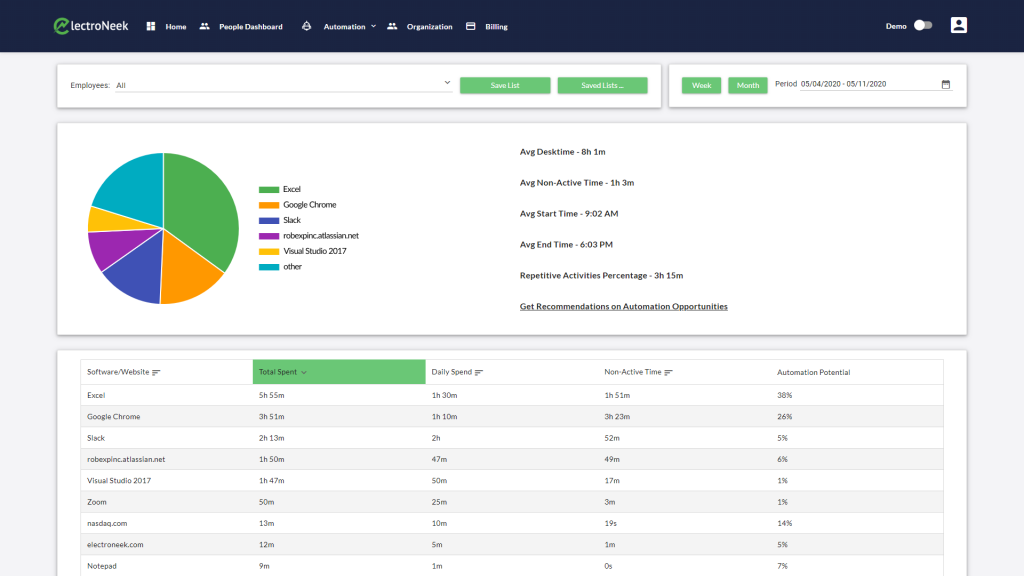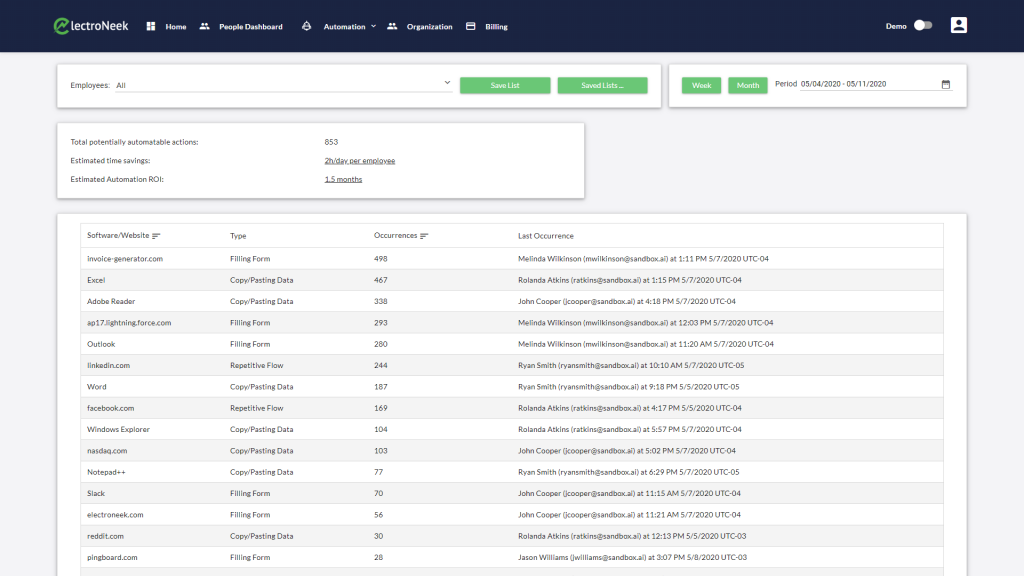 ElectroNeek's mission is to deliver the automation platform for business professionals who are not necessarily experienced in coding. The company's vision is having an Automation Hub in every company – analyzing everyday workflow, optimizing time spent on repetitive, rule-based tasks, and getting automation recommendations tailored to the company.
ElectroNeek has automated thousands of high-volume, repetitive tasks for companies worldwide. Through its commitment to assist people to digitally transform businesses, ElectroNeek is transforming work by allowing people to automate custom processes, driving productivity to new levels and enhancing customer service.
ElectroNeek is a proud member of the Cloud Security Alliance, and the ElectroNeek Calaveras Platform update is backed up by AWS Guard Duty and Advanced Credential Management. The free ElectroNeek Academy is now live to help you get up to speed with the core and new functionality of the updated ElectroNeek platform.
ElectroNeek provides clear business efficiency benefits to the companies striving to implement automation in daily work processes. ElectroNeek Calaveras allows customers not only to build robots but also to analyze work patterns and see tailored recommendations for automation.

With ElectroNeek Calaveras, we will continue to execute our product vision of making RPA easy and secure for Citizen Automators, whether they are in IT or are just motivated business users.

Sergey Yudovskiy, Co-founder and CEO of ElectroNeek
---
About COMPANY
ElectroNeek Robotics, a Y Combinator company, builds an end-to-end automation platform for businesses to discover and robotize repetitive business processes. The ElectroNeek Platform allows users to analyze how employees interact with different software on office and work-from-home computers and to proactively identify automation opportunities to improve business efficiency.
ElectroNeek generates algorithm-based automation recommendations for users and provides a robust Robotic Process Automation (RPA) suite that is so intuitive that even business users can design and manage automated workflows.
ElectroNeek has been recognized as a leading RPA platform by G2 ("Top-3 RPA platforms in the US") and Capterra and has clients within Banking, Insurance, Manufacturing, Consulting and other industries. Originally founded in NYC in 2019, ElectroNeek Robotics is headquartered in San Francisco.