Last summer Gartner published predictions with technology implementation roadmap for enterprises in the next two years. Robotic Process Automation (PRA) is mentioned as one of the disruptive forces in IT Automation.
The infographics show six core directions of technology development that is going to increase its presence in the business environment significantly. Network, Security, Digital Workplace, IT Automation, Compute and Storage (Cloud and Desktop). There are also four stages of technology implementation: Monitoring, In Planning, In Pilot, and In Deployment, which represents the current situation in the market.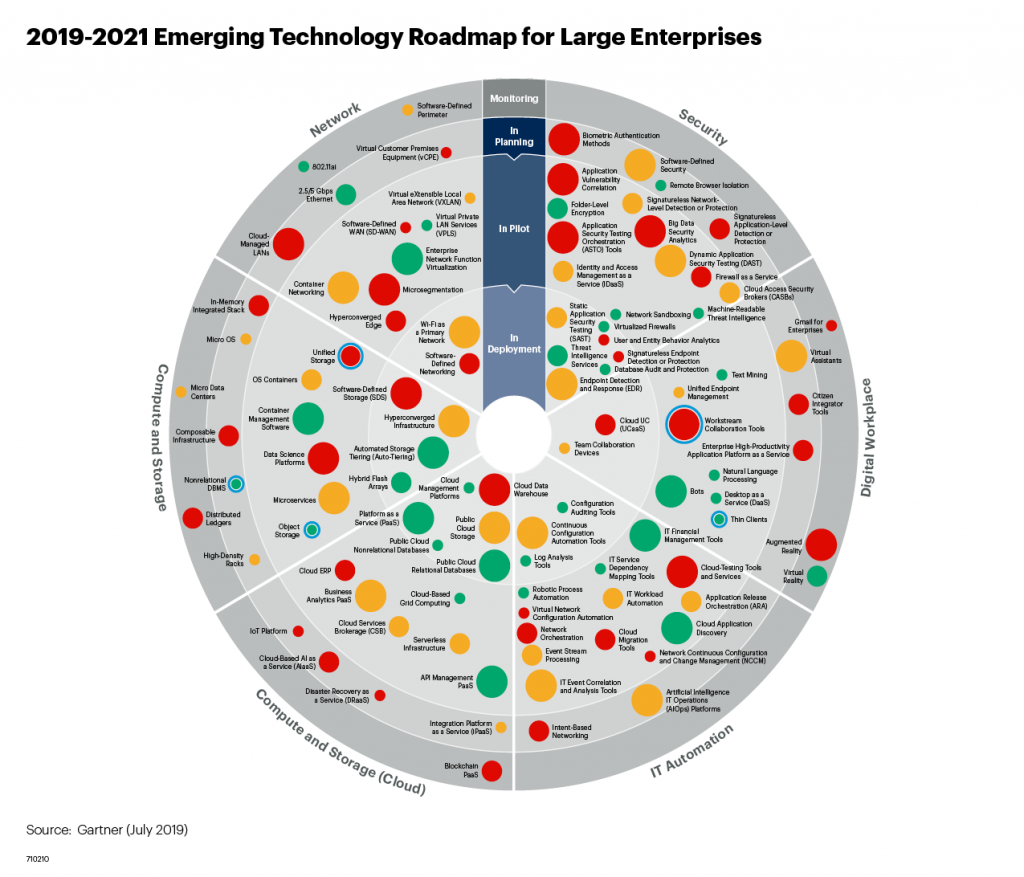 Among other exciting, innovative ideas, Robotic Process Automation (RPA) is placed in the IT Automation sector as one of the most promising technologies. Even in the Pilot stage, RPA is ready for more massive adoption by enterprises from any industry.
Automating business processes via RPA allows companies to save time and money typically spent on routine tasks with scanned docs/PDFs, desktop applications, and web solutions with or without API. It simplifies the work with legacy systems and managing data flows.
Moreover, the infographics show Bots in the Digital Workforce section, and, like RPA, it's in the Pilot stage of implementation but very close to being deployed globally. Programmed robots (or bots) imitate the work that people do in front of the computer using a mouse and keyboard. It streamlines work processes such as web scraping or data extraction using Optical Character Recognition (OCR).
What's Next in Technology?
Technology trends in 2021 will come with both unfathomable innovation and intricate connectivity, drawing the social responsibility of businesses to respect the ethical lines of the consumer data breach. According to the PwC report, AI Products by 2030 will contribute over $15.7 trillion to the global economy.
In 2020, businesses not only need to follow standards in six dimensions mentioned above but also stay relevant with modern technology, like RPA. For that to happen, the present team needs to have training sessions, and the process should be followed accordingly.
In the next several years we expect to catch sight of a technologically advanced world with specific use cases of all the technologies mentioned earlier.
If you are ready to start your automation journey, reach out to our automation expert for a personalized demo.