Automation Hub is a management tool for all your running and scheduled workflows with automation suggestions based on your company's workloads.
Below we chose 5 characteristics of Automation Hub that help companies optimize workloads of employees and automate repetitive, rule-based processes.
Advantages of Automation Hub
Automation Recommendations. Spot-on recommendations about automation opportunities in your company based on ElectroNeek's analysis of your workloads allows companies to restructure task management and optimize time spent on high-value business processes, leaving routine automated with programmed robots.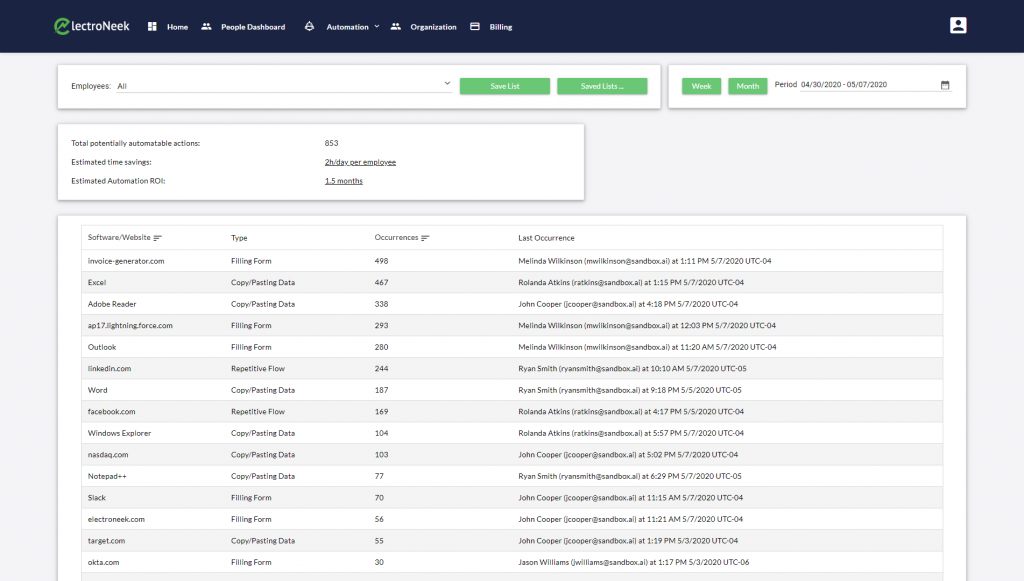 Estimated Automation ROI. Among other strategic parameters, in Automation Hub, you can see Total potentially automatable actions, Estimated time savings, and Estimated Automation ROI that creates a clear vision of the impact that process automation will bring to your company.
Robot. The robot analyzes how users interact with different software without accessing the data they work with. On the basis of this analysis, ElectroNeek creates a list of suggested automation opportunities.
Studio. Our easy-to-use ElectroNeek Studio, with an intuitive drag-and-drop interface, has already become a favorite among developers. With the latest platform update, the Studio has been redesigned too. It became more convenient to use by non-tech business users, allowing employees from all departments to create, schedule and launch automation workflows.
Orchestrator. An orchestrator is a tool for launching and monitoring the implementation of scheduled automation, as well as integration with external systems and services. It is mainly used for unattended bots. ElectroNeek Orchestrator helps users launch, monitor and control implementation of scheduled automation from one place.
All in all, Automation Hub is a suite of products used to identify and automate repetitive business processes. It shows suggested automation opportunities and actual benefits from previously launched robots, from ROI assessment to calculation of time saved with ElectroNeek. Here you can also control bots activity and schedule new automation workflows.
You can see it in action. Do not miss a chance – Book a demo!