Business is about money. The IT industry is no exception, that is why an effective sales team is so important — building a sales team costs time, finances, and human resources.
If you are VP of sales or sales leader, you know what we are talking about. It doesn't matter whether you build a sales team for startups or established companies. It might be challenging for both. It is essential to follow the best practices to build a sales team from scratch or improve the one you have.
We will share tips to help you manage sales representatives and set sales goals. We will also explain how to improve sales team efficiency and achieve team goals using the proper tools.
Tips on building efficient sales teams
Probably you think that it's all about hiring the right people. Well, this is true to a certain extent. The bad news is that there is no universal guide that will guarantee to find the Jedi with sales skills.
You should set sales team roles and responsibilities during the hiring process. It will help candidates understand what they are getting into. Once you have the candidates, you can start building your team.
So, how to build a sales team without money that effectively achieves annual revenue goals? We share some advice to unify your sales process and allow salespeople to focus more on potential customers.
Determine your goals
Give yourself time and think about the vision for your company. Where do you expect to be with your business and team in the upcoming years? Start writing down your ideas and thoughts and transforming them into clear goals. Be as realistic and specific as possible.
A few examples of such goals:
Double the turnover within 2 or 3 years.
Expand to other countries, mention the names.
Acquire 40% new customers by a specific year.
You may also review your past strategy to see what changes you should introduce in the new one. If you build a sales team for a startup, your peers can give you helpful gold nuggets.
Then review how you generate your company's revenues? For instance, check how you generate 60-80% of the revenue (the percentage of customers who spent the most money). Separate your loyal customers who love your product from those who have bought it just once. With this segmentation, create your customer profiles, and make an action plan.
Define the action plan
After identifying your goals and customer profiles, you need some more research. Why? To know your strengths and weaknesses, and how your competitors act and plan how you will deal with them.
After gathering all information, you will devise a course of action:
What are your sales goals?
What are the pain points of the target audience?
How much money do you need?
Which timeline is better?
Which prospecting methods will you use for the team? Some sales reps require guidance, and some are hunters. It would help if you considered this fact when assigning targets.
Your action plan should contain your goals, targets, and strategies so that all team members can easily understand. Your team will also help you identify the roadblocks and obstacles. You need to develop strategies to overcome these problems, so your team can crush their quota successfully.
Training
Lifelong learning is a new trend nowadays. If you want to achieve the company's aims, pay attention to the team training. It will help you to have the best sales Jedi. Regularly put your efforts into team education to see better results rather quickly.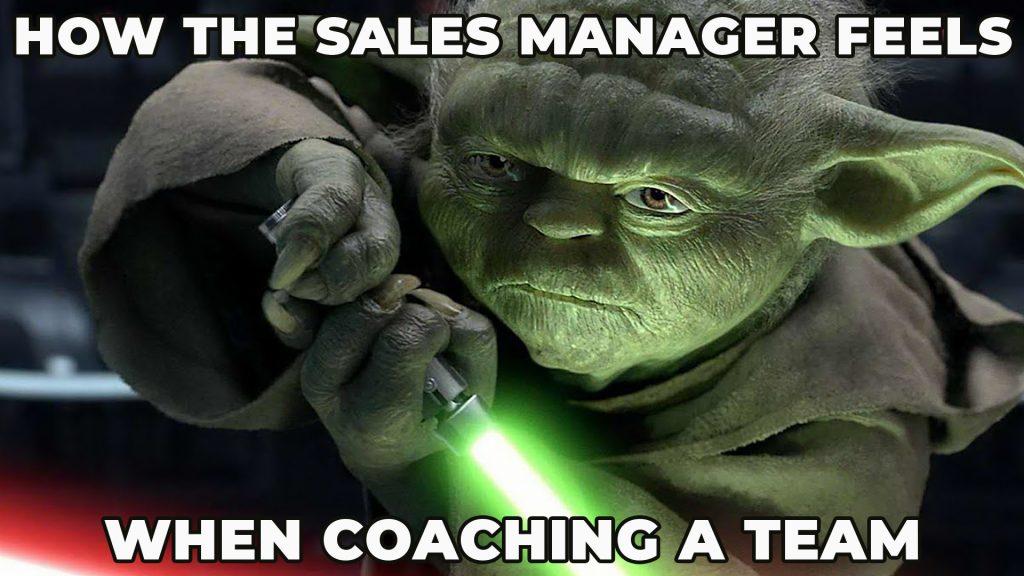 You can use various materials for your sales training:
Sales playbooks with the best practices for any potential situation;
Demos and sales calls;
Role-playing within the team;
Workshops and seminars.
Your team talks to the clients, finds out their needs and provides relevant answers. Sales managers are like partners for the customer. They know the concerns of the client and help to find solutions. If this part is done great, they may recommend you to their peers.
All this works only with an effective strategy. Ensure your team has the correct information and goals to target the right prospect.
Knowledge management
You are using knowledge management to gather and store information and make it accessible for later use. Having the correct information at the right time helps make the right decisions. You can't put a strategy in place if you don't identify and resolve the problems with your team and customers.
You need to gather information by using good tools like CRM to promote information exchange and feedback. Your weekly team meetings and individual conversations are good ways to exchange information. The communication tools and content management system or any other tools will help you capture and store it for future use.
Knowledge management makes communication simple. Plus, your reps can also document questions and objections from customers. It helps to understand that everyone is up-to-date and on the same page.
Choose the proper supporting technology — Automation
Businesses that help their salespeople with the relevant software and tools can get a more significant market share.
Hubspot published the 2021 sales enablement report, which surveyed 500 sales leaders from different countries. It revealed 40% of them had missed their revenue targets.
What about your business? How did the company perform against its target? Do you think you will make great results with the existing strategy? If you want to build a successful sales team, automation technologies like RPA can help.
Repetitive tasks with documents, manual data entry, and emails take much time and effort. Your sales force has plenty of manual tasks to support the sales goals, which takes a lot of their productive time. It lessens their productivity in the long-term period.
Sales managers need to track various technologies such as automation.
Automating your sales process helps:
Saves time: no more repetitive jobs.
Apply uniform standards: consistent sales processes across teams and unified information management.
Keep checking: continue to monitor your sales pipeline in real-time.
Decrease response time: improve your customer satisfaction.
Improve data consistency: ensures data quality and equality.
Easy reporting: It makes forecasting and reporting easier.
Improve communication: enhance internal communication between reps and sales heads.
How do you automate a sales team?
Many steps of the sales process can be fully or partly automated. You can automate a few processes across your sales funnel.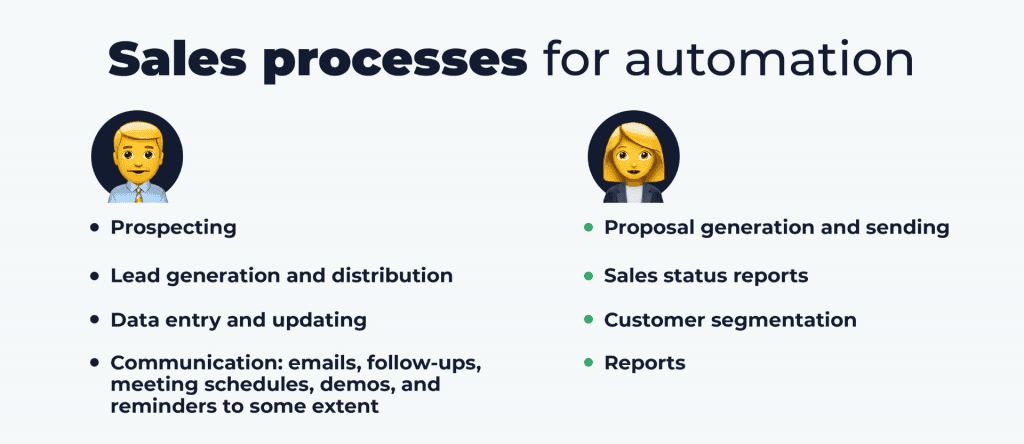 There are various automation tools available in the market. If you are looking for reliable and budget-friendly automation software, we recommend checking out ElectroNeek. Our solutions will help you create an efficient sales team.
The best automation software to increase sales team efficiency
Small businesses or an enterprise can spend less money with automation. You can implement it yourself or work with a service provider.
Typically, you have to pay the license fees for every bot deployed, making scaling automation costly throughout your organization. However, ElectroNeek has made the bots free of license fees to help you implement automation in every possible process.
What makes a successful sales team? Continuous learning and training, excellent listening skills, company culture, motivation – all play their part in making your sales team members efficient. Still, you can't ignore automation technologies like RPA (robotic process automation) that eliminate routine and high-volume tasks. Of course, you want your reps to focus more on the tasks that lead to revenue generation.
Automation is essential in building a successful sales team. They will help your sales professionals stay productive, motivated, and achieve their targets.
If you want to automate your sales processes, don't hesitate to talk to us. We will help to boost your sales and grow your business!