The Artificial Intelligence Breakthrough Winner, ElectroNeek, Announces the 9.6 Product Release with Powerful AI Prompt Enhancements.
This update, which contains new capabilities to improve productivity and user experience, reaffirms ElectroNeek's dedication to reinventing automation for growing businesses worldwide.
Welcome to an Era where ElectroNeek provide great impact regarding Intelligent Automation. The new AI Workflow Generator isn't just a feature – it's a transformative force that propels you toward unparalleled efficiency and success. Whether you're a seasoned business leader or an aspiring visionary, our AI-powered features redefine team management and resource control in ways you never thought possible.
In today's rapidly evolving digital environment, harnessing the power of advanced AI technologies has become crucial for individuals and businesses alike. One such technology that has gained significant attention is the AI Workflow Generator, an advanced feature that can understand and generate human-like text based on given prompts.
But what if you could take this a step further and seamlessly integrate your text prompts into a functional workflow?
That's where the true potential of efficiency and innovation lies with ElectroNeek's new enhanced features.
The AI Workflow Generator: Easily Transforming words into actionable workflows
https://i3.ytimg.com/vi/GW2t2JAYLVM/maxresdefault.jpg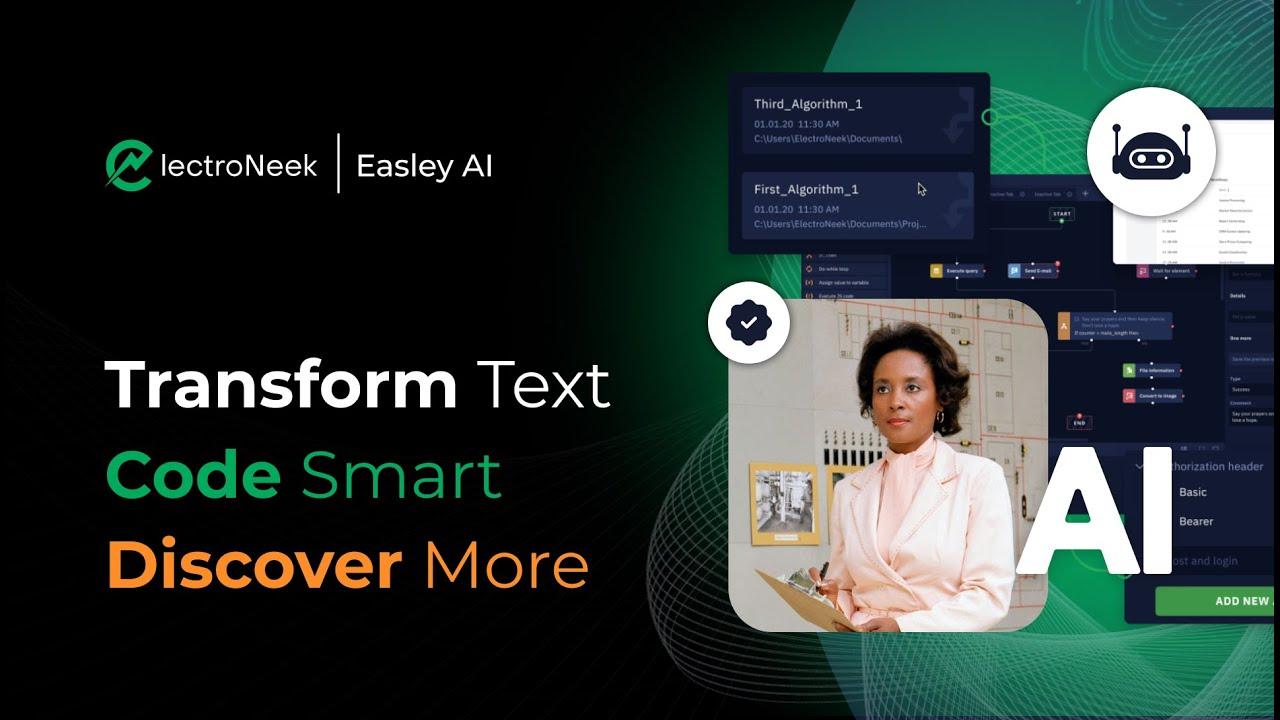 By easily transforming text prompts into actionable workflows, you can automate tasks, streamline processes, enhance creativity, and achieve unprecedented levels of efficiency. Whether you're a professional, a student, or a business owner, harnessing this technology can revolutionize the way you approach tasks and challenges.
To further improve the work of users when creating workflows, some of the improvements added to AI Workflow Generator are:
AI prompts to build workflows quickly: Within the AI Workflow Generator, prompts of up to 600 characters instantly become workflows, which support companies' struggles in structuring and defining them. You just have to describe the process you want to create, and the Generator will give you a ready-made flow!
Connected activities: In addition, activities linked to email and Excel spreadsheets are now easily integrated, which helps deliver tasks and communicate assertively and quickly between team members.
Integration with IntelliDocs: Directly connected to the Intelligent Document Processing solution (IDP), making the automation process more complete from start to finish.
Get our weekly newsletter
for the latest insights
Unlock Seamless File Management with AI: Manage Files between Remote and Local Servers and Automate Your Operation Process
In the modern age of dynamic work environments and interconnected systems, the need for efficient file management between remote and local servers has never been more pressing. Introducing a cutting-edge feature that revolutionizes the way you handle your files – a seamless bridge that effortlessly connects your remote and local servers while automating the entire process.
Effortlessly bridge the gap between remote and local servers with ElectroNeek's AI capabilities!
Gone are the days of cumbersome manual transfers, data discrepancies, and time-consuming tasks. Our innovative AI Workflow empowers you to effortlessly manage, synchronize, and transfer files between your remote and local servers.
Imagine initiating file transfers with a single click, knowing that our intelligent automation handles the rest – ensuring accuracy, security, and lightning-fast speed.
See what's making the difference here:
Secure Data Handling: Your data's security is our utmost priority. Our state-of-the-art encryption and secure protocols guarantee that your files remain confidential and protected throughout the transfer process.
Streamlined Workflow: Boost your productivity with a streamlined workflow that eliminates repetitive tasks. Set up automatic transfers based on customizable schedules, and watch as our automation takes care of the entire process seamlessly.
User-Friendly Automation: You don't need to be an IT expert to harness the power of our solution. Our user-friendly interface simplifies the setup by easily transforming your text prompts into a workflow that will automate your experience, putting you in control without the steep learning curve.
Manage Users With Ease: Say hello to a Newly Reimagined Team Page, the Central Hub for Managing User Access.
In the realm of collaborative workspaces, navigating user access should be a breeze, not a labyrinth of complexities. That's why we're excited to unveil our optimized interface, engineered to make managing team access an intuitive and hassle-free experience.
With our enhanced new Team Page you can start adding, editing, or removing users from your products is now as straightforward as a few clicks. Say farewell to convoluted processes and welcome a new era of simplicity in team access management.
The updated interface has improved to be more intuitive. ElectroNeek's Product team included the following improvements as part of the product growth and roadmap:
Ease of Access Control: With an optimized interface, managing team access is now intuitive. Add, edit, or remove users is now more straightforward.
Flexible Product Assignments: ElectroNeek's new design empowers administrators to assign products to team members easily. Ensuring a cohesive and efficient workflow, team users can quickly access the necessary tools.
Faster Operations: Time is money, so speed takes center stage. With improved loading times and navigation, you can now expect to spend less time waiting and more time doing.
The future of team access management is here, and it's refreshingly simple. Elevate your collaboration game, minimize administrative headaches, and relish in the fluidity of a workspace where your focus remains on the tasks that truly matter.
Track your Features: Easily Access your Consumption and Usage Limits with monthly Data Insights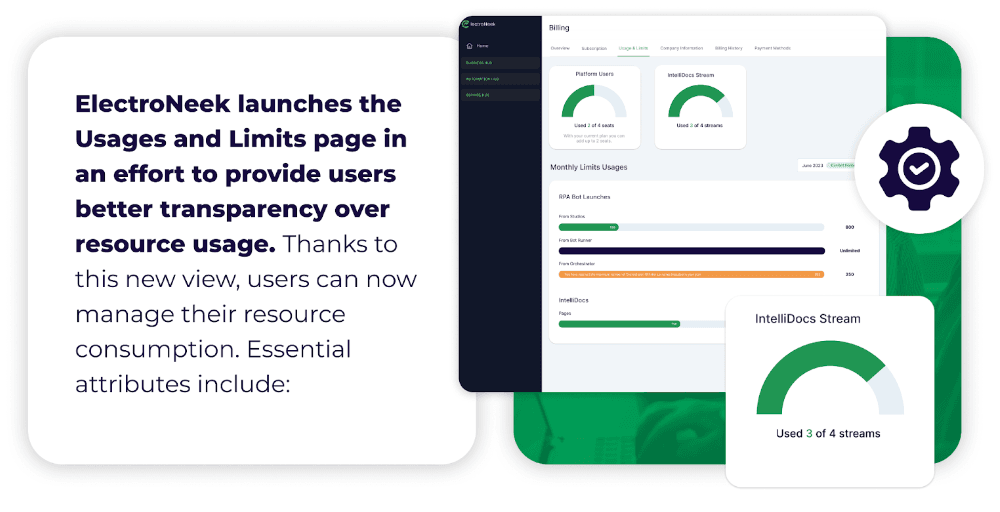 In the landscape of data-driven decisions, understanding your consumption patterns shouldn't be a puzzle. Introducing our game-changing solution inside our Billing Section that brings your monthly data insights to the forefront, painting a vivid picture of your progression from month to month.
With our cutting-edge tool, accessing and comprehending your consumption data is no longer a challenge. Witness the transformation as we illuminate your journey with intuitive insights, providing a clear and concise view of your month-to-month growth.
ElectroNeek launched the Usages and Limits page to give users better resource usage transparency. Thanks to this new view, users can directly manage their resource consumption, including:
Management Overview: A centralized location to monitor product usage and consumption metrics.
Monthly Timeframes: Easily access your consumption with monthly data insights, giving you a clear view of your month-to-month progression.
"In this release, 9.6, we want to emphasize the advancements in our AI Workflow Generator that will help our users solve workflow faster. We're continuously developing our platform to make intelligent automation more accessible whether you are an experienced business owner or a new RPA developer."
Dmitry Karpov, Co-founder and Chief Product Officer
Emphasizing advancements isn't just about technology – it's about empowering you to achieve your goals faster, smarter, and with unparalleled ease. Whether you're orchestrating a complex business process or stepping into the realm of RPA development, our AI Workflow Generator is your steadfast companion on the path to unparalleled success.
Join us in embracing the future of intelligent automation. Experience how advancements translate into accelerated solutions and a brighter, more efficient tomorrow. Your journey to problem-solving excellence starts here – one workflow at a time!
If you want to dive into the world of intelligent automation with ElectroNeek, check out these helpful resources: