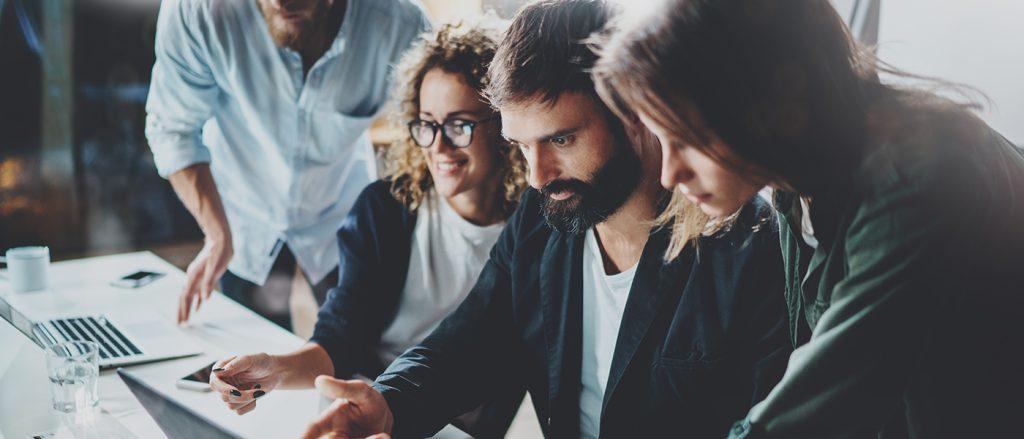 Let us guess, you have always wanted to be an entrepreneur? We have good news for you – the best time to start is now! We live in a truly fantastic time when anyone can start earning money by doing what they like.

Many people are afraid to fail. This is why they always doubt if they should start a business. Since you are here, you are tired of routine office life and searching for an exciting business idea.

And you are not alone here! Due to a survey conducted by Inc, many people run companies instead of working for someone else. They find hidden benefits in it like a remote job, their own business idea, and startup culture.
The most popular industry for starting a business is IT. Tech startups are booming and gaining more venture capital and talents worldwide. More and more IT entrepreneurs put effort into creating a successful company.

At first glance, it seems easy to start an IT business. It would be best to have an innovative idea for a product and make a prototype. Then test it and raise funding with your project.

It is not so easy in real life, although almost anyone can enter the market. But we believe that anyone can build a thriving IT business with a strategy and help from the partners.

In this article, we want to motivate you and show why starting your own IT business is a great idea.
Why is starting a tech start-up a good investment?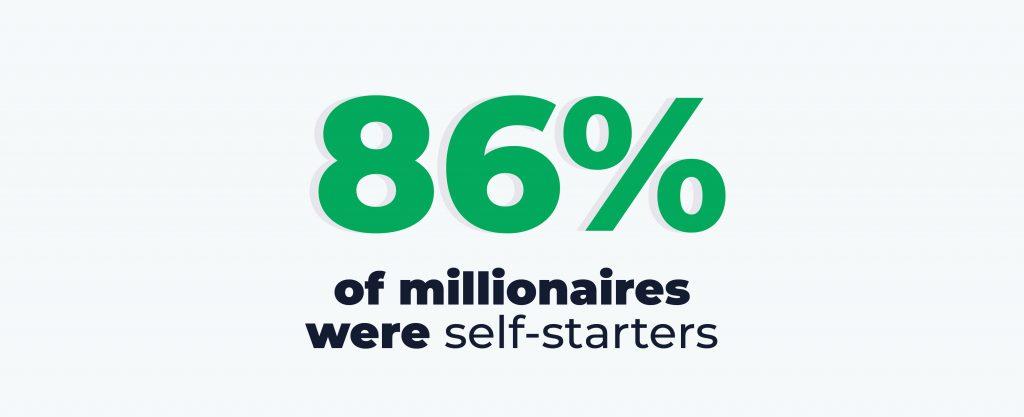 Research has shown that about 86% of millionaires started as entrepreneurs and self-starters. Those people just like you and us had a great idea and decided to monetize it. They found some real problems and solved them with their products.
Today, automation is a new black. Many organizations search for ways to make processes efficient. Small and large companies reduce costs and resources.
In these conditions, you can help people make their teams more productive. Offer them quality automation, AI, or cloud tools at a fair price, and you will be successful. The number of companies that automated at least one business process rose to 31% during the last two years.
Top 5 benefits of running your own IT Business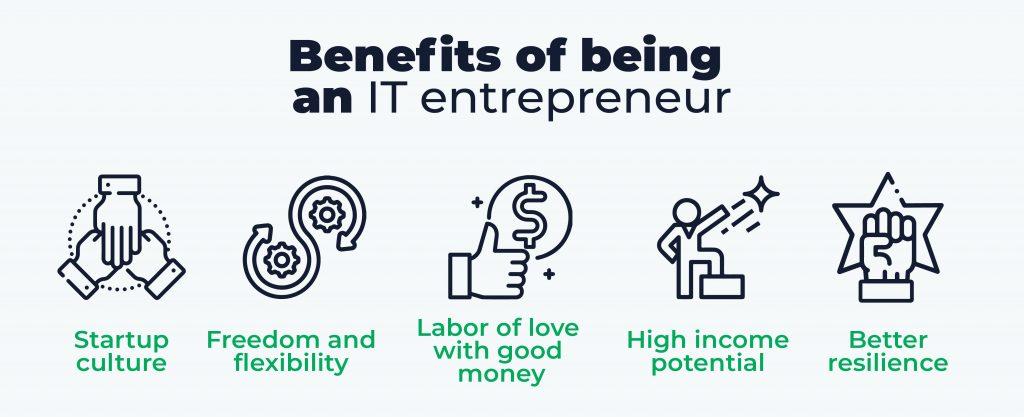 Form startup environment and team
Every startup is a truly unique project. Only you decide what the future company will look like. You gather talents who will make products and services of your brand. First employees form the corporate culture and transfer it to the newbies.
Startup culture is something that really inspires. The whole team is working on the big idea and ready to change the world together.
Have freedom
If you ask yourself why to start a business, you have to understand that you will be controlling everything that will happen. You will build a better future for yourself.
Most companies become bureaucratic over time. They have rules based on past mistakes and experience. Such a situation can lead to an illusion of safety. But it is not always true.
Startups, on the other hand, are small and flexible. It gives them the freedom to build better processes, regardless of bureaucracy. They don't spend long hours on technology implementation and are more flexible to changing conditions. They can experiment and focus on the customer, not the routine.
It is not always easy to make your business idea work and bring profit. However, with a good team and strategy, you will succeed. It is an excellent opportunity for every entrepreneur to build the whole structure.
The level of flexibility is one of the top benefits of starting your own IT business. As an entrepreneur, you can select projects, costs of goods sold, and the right team for you.
Do what you love
You can select the niche of business you like. The business should be interesting, foremost, for ourselves. This allows doing the work well getting pleasure from the work process.
Tech startup ideas are exciting and open unlimited scalability. As a small business owner, you can select business and pricing models to reach out to various customers. This advantage opens the excellent income potential.
Get higher income
If you are doing jobs then your salary would not be very high. You have to do lots of work ordered by your employer. Pitfalls of a job will limit your growth potential. With IT business, you can have a balance between hours you spend on work and the financial reward.
Another good thing about tech companies is that you don't need infrastructure for selling the product. It helps to increase the profit. All you require is just proper software and Internet access.
When a technological solution is in demand, it is easier to attract investors and raise funding. All the above factors lead to a good profit margin for tech startups.
Make company resilient
IT companies have many benefits over other businesses. They can adapt more quickly than others, and are more flexible in general. This helps them to continue with business even when the market is down.
Technology is constantly developing, so the market will always have new projects for IT companies. The future is bleak for businesses that can't adapt to technological progress. IT remains the fastest growing industry worldwide, so entrepreneurs have a good opportunity to build and grow their business.
Conclusion
As you could see in the article above, there are many benefits to building an IT business. In a startup, you have a certain autonomy over what and how you do it. You can control and influence everything.
Every business has certain risks, IT is not an exception. However, each startup can have a niche and stable income if planned in the right way.
The best thing about building a startup is bringing your passion to what you do and helping people with your product. As soon as your business starts solving real problems, you will never want to stop. Are you interested in starting your own business, but need a helping hand? Just contact our team.