Austin, TX, April 24, 2023 - ElectroNeek receives recognition as a Champion RPA software, according to the Software Reviews April 2023 Emotional Footprint Report.
ElectroNeek is revolutionizing the Intelligent Automation industry with its innovative RPA technology. It has made a name for itself in the RPA space with its dedication to customer service, earning the distinction of being recognized as a Champion RPA software, according to Software Reviews' April 2023 report.
Software Reviews' Champion Robotic Process Automation Software April 2023 Emotional Footprint Report
The Emotional Footprint Buyer's Guide documents a comprehensive customer experience of working with an Intelligent Automation software vendor. Organizations increasingly rely on software vendors to be true partners to help improve their operations.
The report involves the collection of 25 data points outlining the customer experience, from the initial contracting and negotiation phase through support to how their overall product strategy and direction help customers improve. This report details which vendors focus on cultivating customer relationships.
The Emotional Diamond helps identify which vendors provide the best overall experience compared to the software's perceived value.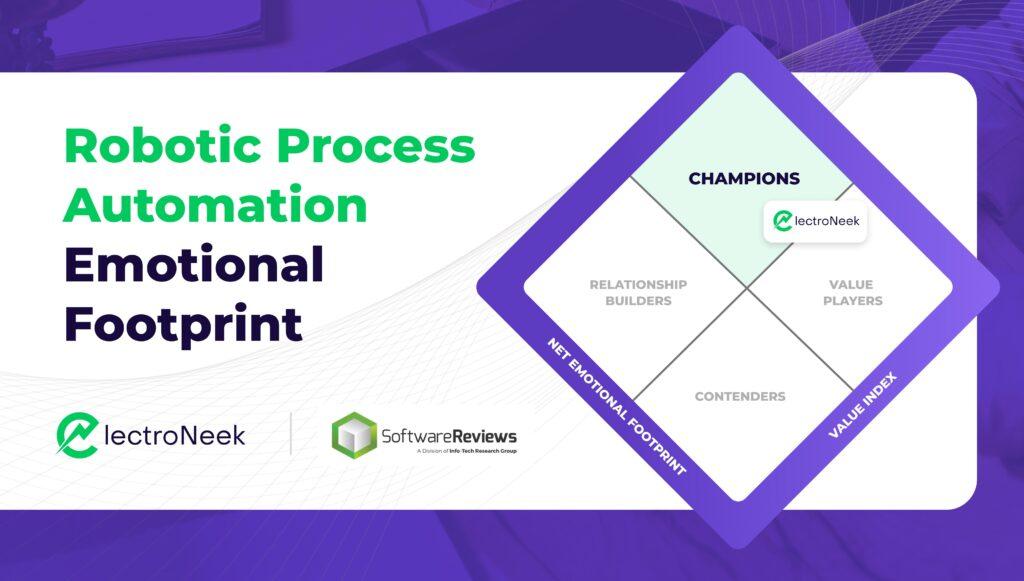 Simplifying Automation for MSPs with ElectroNeek's Intelligent Automation Platform
End-user learning curves cost organizations money, and reliable and intelligent platforms must eliminate barriers to drive user adoption. With comprehensive and readily available training, users can hit the ground running and get the most out of the platform. And when issues do arise, top-notch customer support is crucial to reducing downtime and keeping everything running smoothly.
ElectroNeek's Intelligent Automation platform is the only platform built for MSPs, empowering them to develop, launch and manage bots easily. The no-code platform offers ready-made building blocks, recipes, and unlimited bots, eliminating learning curves and making the automation experience within reach for users.
ElectroNeek: Ensuring Business Longevity and Sustainability with Intelligent Automation
"At the heart of many successful RPA MSPs is an effective automation platform - an essential tool that ensures business longevity and sustainability.
We strive for innovation on a global scale, collaborating with our clients to transform the landscape of intelligent automation. Our mission is to empower MSPs with no-code resources that enable swift development, deployment, and monetization of automation solutions for small and medium-sized businesses.
We are honored to be acknowledged by Software Reviews and remain committed to showcasing our expertise in the automation industry."
Sergey Yudovskiy, Co-Founder and CEO at ElectroNeek