We are proud to announce that G2 2021 Fall ratings marked ElectroNeek in numerous categories. ElectroNeek has been among the top RPA providers and held most of these awards for more than 1 year, an excellent achievement for any technology vendor.
The G2 Grid® report assigns Robotic Process Automation vendors' scores based on authentic, verified customer feedback and data from online sources.
ElectroNeek has remained a top Momentum Leader of the Robotic Process Automation industry for 12 consecutive months. We consistently held the leader position in the RPA category for more than four quarters.
Additionally, ElectroNeek gained further recognition in the following categories:
Fastest Implementation
High Performer
High Performer (Small Business)
High Performer (Europe)

Best Estimated ROI

Users Love Us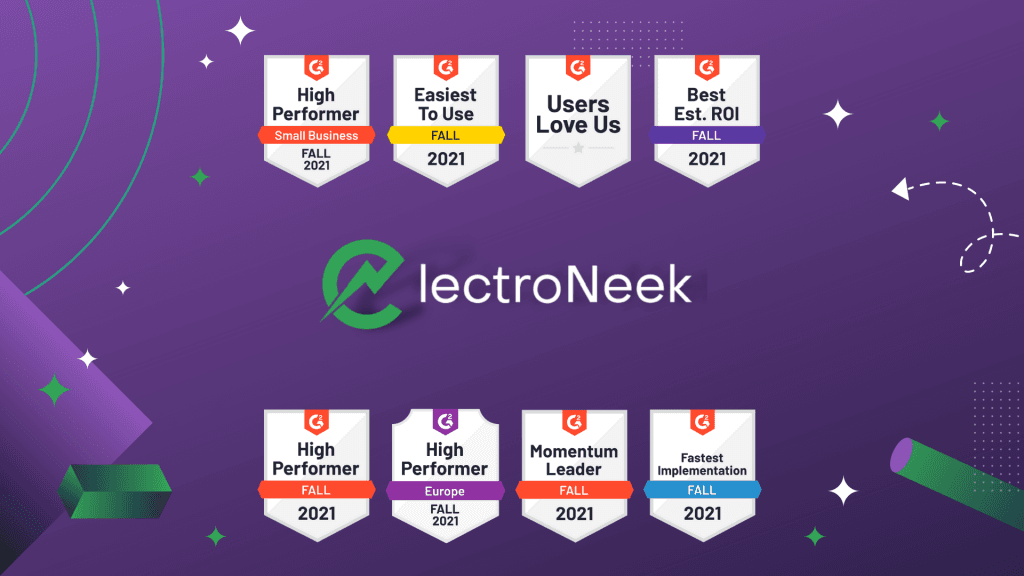 ElectroNeek first emerged as a new entrant in the RPA platforms' market in 2019. In the last two years, we continued to make appearances on the G2 Robotic Process Automation grid multiple times. The founders of ElectroNeek noted that G2 recognition results from the entire team's effort and dedication poured into the product's usability and unique architecture.
Our business model focuses on helping MSPs and service providers build RPA bots for their clients without the hassle of software licenses, resulting in exponential business growth.
---
G2's methodology
The experts at G2 evaluate technology using a unique algorithm applied to the data. Such an algorithm adds up customer satisfaction and market presence scores.
G2 Grid classifies products under four categories:
The Leaders quadrant includes products rated highly by G2 users and with substantial Market Presence scores.
The High Performing products category includes those with a high customer satisfaction rate but a low Market Presence.
The Contender products category consists of products with medium customer Satisfaction rates and a high Market Presence.
The niche products category includes products with low Satisfaction rates and a low Market Presence.
ElectroNeek: in the leading top RPA providers' list again
Staying at the top of the RPA industry for the long haul, ElectroNeek won its place as a top RPA vendor for Managed Service Providers(MSPs) and IT teams.
Our company became well known for its disruptive business model that provides free bot licenses for MSPs during the last two years. Additionally, our RPA platform emerged with the best developer's UX design.
In June 2021, ElectroNeek raised 20 million dollars in Series A funding from Baring Vostok and other investors. Our brand became globally recognized through the AICPA organization, as we are among 5 startups that had been selected by AICPA Startup Accelerator.
With over 105 million valuations, ElectroNeek continues to penetrate the SME RPA market by providing access to innovative technology for companies of any size and industry in North America, Latam, and India. We have even partnerships with tech giants like Microsoft, Oracle, and Nvidia.
A few of ElectroNeek's popular products include;
Studio Pro: An integrated development environment for building limitless bots.
Orchestrator: It is a single control room for managing and administering bots.
Bot Runner: A downloadable platform for deploying bots from any environment.
Each ElectroNeek RPA tool has distinct and advanced features; book a demo with us to have an in-depth view of how everything functions. Our support team is always available to help your MSP business.