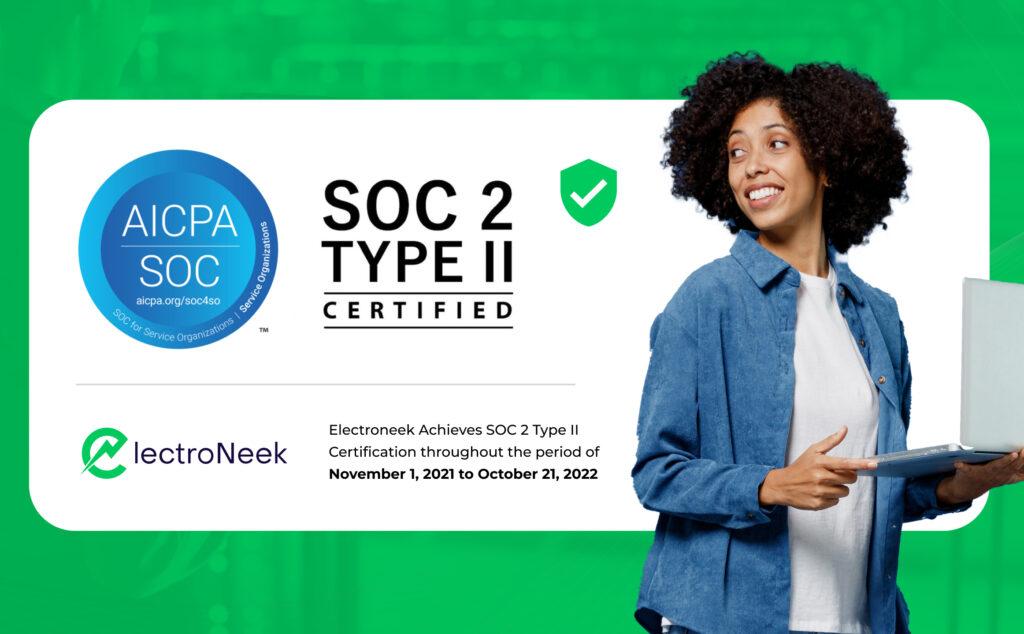 ElectroNeek is honored to announce we have passed SOC 2 TYPE II certification for the second consecutive year. This is a testament to our dedication to keeping up with the AICPA's Trust Service Criteria to demonstrate trustworthiness and operational effectiveness over time.
SOC 2 reports are completed by a third-party auditor and assure customers and clients that a company's controls and processes meet these standards. This includes security measures, data backups, and incident response plans. Additionally, SOC 2 compliance ensures that a company is adhering to industry-specific regulations such as the General Data Protection Regulation (GDPR) and the Health Insurance Portability and Accountability Act (HIPAA).
ElectroNeek is committed to guaranteeing our customers a safe, reliable, and private experience. A commitment demonstrated throughout the recent audit conducted by Dansa Darata Soucia LLP, which adheres to one of the most vigorous industry-accepted standards.
The comprehensive audit reviewed every aspect of ElectroNeek RPA services and tools, from risk management to sub-service vendor due diligence. The review dove deep into the entire IT infrastructure for an all-encompassing checkup. It validated maximum security across the logical, network, and physical measures and a thorough audit of the software development life cycles and system resilience, access management, incident management, and diligent operations.
"We couldn't be more pleased with our SOC 2 Type II report, as it validates that we have the most reliable and secure measures in place to protect all stakeholders. Cyberattacks are an ever-present threat; without appropriate security controls, sensitive customer data could be compromised - which is simply unacceptable. Thanks to this significant certification, ElectroNeek ensures that our team and any professional using our tools will benefit from robust digital safeguards."

Sergey Yudovskiy, Co-Founder & CEO, ElectroNeek Robotics Inc.
About Dansa D'Arata Soucia LLP
Dansa D'Arata Soucia LLP ("DDS") is a full-service CPA firm based out of Buffalo, New York. Over the past decade, their auditors have built dedicated expertise in AICPA's Trust Service Criteria and how to mitigate risks related to protecting sensitive data.