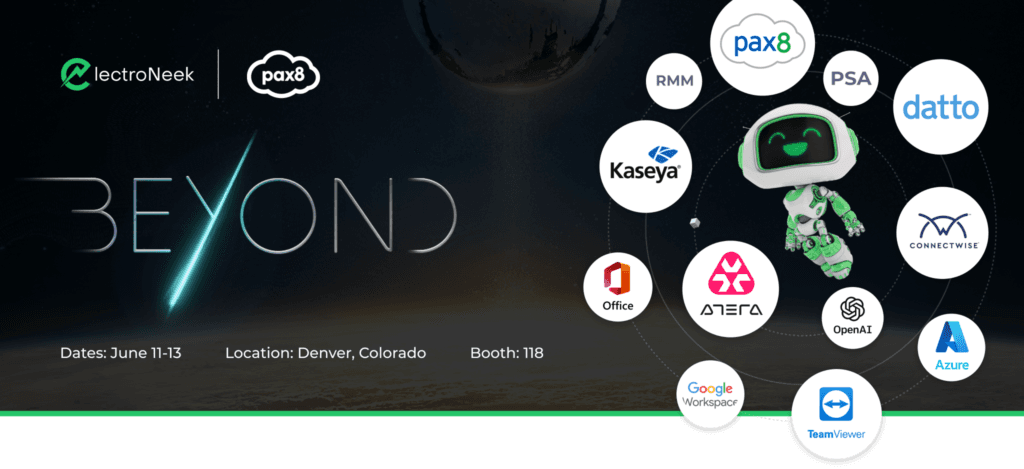 Austin, TX, June 5, 2023 - Connect with ElectroNeek at Pax8 Beyond Conference and gain valuable insights into the latest trends, technologies, and strategies driving the industry forward.
ElectroNeek is thrilled to announce its participation at the Pax8 Beyond Conference, June 11-13, in Denver, Colorado. This is an exciting opportunity to connect with ElectroNeek at Booth 118 and network with 1,000+ IT MSPs, vendors, and special guest speakers, making it one of the most anticipated events in the technology space.
Pax8 Beyond 2023 is the event that will change the game for anyone looking to stay ahead in the tech industry. Learn from experts, get insights into the latest trends & strategies, and connect with peers from different backgrounds.
Pax8 Beyond Conference: A Unique Event for Accelerating Growth and Driving Success
The event promises to be a one-of-a-kind experience, featuring keynote speakers, breakout sessions, and interactive workshops covering a wide range of topics, including cloud computing, cybersecurity, digital transformation, and more.
The Pax8 event hosts 1,000+ MSPs and intends to showcase innovative business strategies to accelerate client growth, increase operational efficiencies, and reduce business risks.
Attendees can expect to leave the event with a deeper understanding of the industry's challenges, opportunities, and practical strategies for driving success in their organizations.

Registration for Pax8 Beyond 2023 is now open. To learn more about the event and to reserve your spot, visit the Pax8 website.
About Pax8: Cloud Technology Distributor for MSPs
Pax8 is a cloud technology distributor that provides cloud solutions to managed service providers (MSPs). They offer many cloud-based products and services, including email and productivity tools, security solutions, backup and disaster recovery, and Infrastructure-as-a-Service (IaaS). Pax8 was founded in 2012 and is headquartered in Greenwood Village, Colorado.
ElectroNeek at Pax8 Beyond Conference: A Word from Our CEO
"I'm delighted to announce that ElectroNeek will participate in the upcoming Pax8 Beyond Conference this year!
We're thrilled to be in the esteemed company of industry titans like ConnectWise, Veeam Software, Acronis, Liongard, N-Able, Zoom, Spectrum, and many more. Being part of this dynamic ecosystem is a real honor, and we can't wait to meet you all in person.
This is a unique opportunity to share RPA market insights, discuss intelligent automation challenges, and collectively shape the future of our industry. I'll be there personally and can't wait to see you!"
Sergey Yudovskiy, Co-Founder and CEO at ElectroNeek