Austin, TX, July 25, 2023 - ElectroNeek, the leading intelligent automation platform for Managed Service Providers (MSP) and businesses, introduces the game-changing AI Workflow Generator functionality in Platform 9.5.12 Release, enabling you to create automation workflows directly from natural language descriptions.
AI Workflow Generator - a Breakthrough in Automation
AI Workflow Generator effectively bridges the gap between human-readable instructions and machine-executable processes.
https://i3.ytimg.com/vi/wikwPmKoWrU/maxresdefault.jpg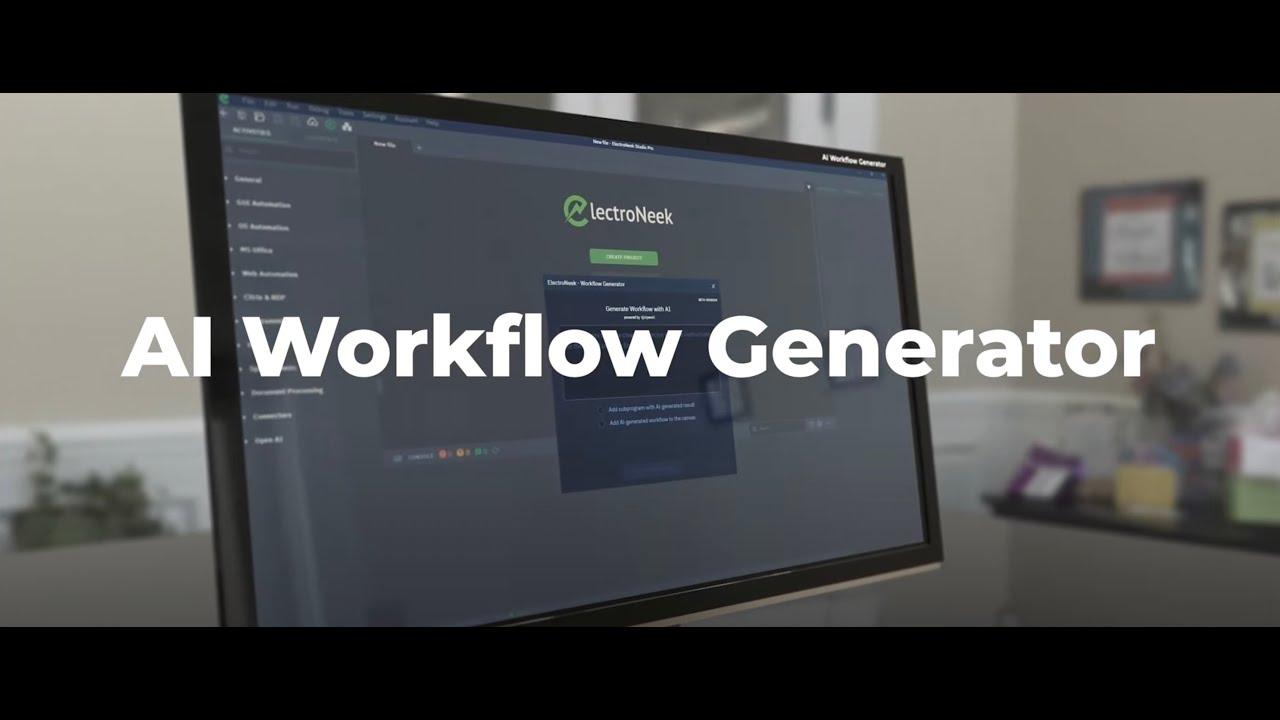 The Benefits of AI Workflow Generator
Accelerated Workflow Creation: By utilizing Text to RPA, users can rapidly create automation workflows based on natural language descriptions. This streamlines the development process, reducing the time and effort required to build robust RPA solutions.
Improved User Experience: Embracing the future of RPA is now more accessible than ever with the intuitive interface of the AI Workflow Generator. Studio Pro users can seamlessly tap into the power of AI without the need for extensive coding knowledge, enhancing the overall user experience and enabling more team members to participate in the automation journey.
Subprogram Integration: Studio Pro facilitates the integration of the AI Workflow Generator into the Subprogram Activity. This powerful combination allows users to incorporate AI-generated responses directly into their subprograms, enhancing the flexibility and functionality of their RPA workflows.
All the benefits of ElectroNeek AI Workflow Generator are available in the Community Edition of ElectroNeek Studio Pro that is free to test for all audiences.
Adoption of AI Technology Relies on Education
To ensure easy adoption of all AI features by the customers, we release course GPT AI Engineer at our Product Training page. In this comprehensive course, participants will gain a profound understanding of GPT technology within the ElectroNeek Platform and its invaluable aid for RPA development. Through practical exercises, you'll discover how to effectively leverage GPT4's capabilities within ElectroNeek Studio Pro, reshaping your approach to workflow development.
The course explains how combining AI and Robotic Process Automation (RPA) can drive unprecedented efficiency and productivity, reshaping the future of technology and automation.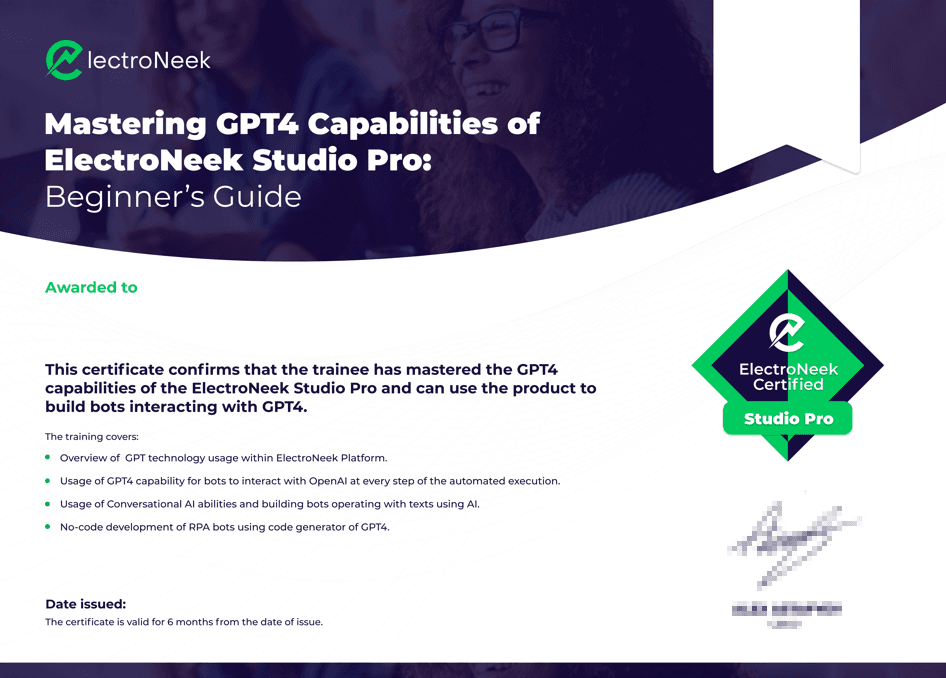 Completing the course will allow you to explore the true potential of GPT within ElectroNeek Studio Pro, master obtaining contextual responses from AI, manipulate and transform text effortlessly within automated workflows, generate code automatically for streamlined development, and create self-building bots with ease.
Practice time at the end of the course ensures that all explained skills are supplemented by real-world examples. Enrollment is free of charge.
ElectroNeek Forwards AI-First Approach to Automation
"At ElectroNeek we believe that AI technology is crucial for a better future and democratization of automation technology for the whole world. Our goal is to empower Managed Services Providers globally with AI-powered tech and business tools, thus allowing them to automate their daily routine and, as a next step, bring automation to numerous end clients of all sizes. By building the bridge between AI and developers in the form of user-friendly and reliable AI-powered features, we help them effectively adopt Conversational and Generative AI and support the advancement of the tech industry as a whole".

Sergey Yudovskiy, Co-Founder & CEO at ElectroNeek

AI Worfklow Generator is the newest addition to the set of AI features already developed by ElectroNeek.
ElectroNeek AI Code Generator empowers users to ask code-related questions to OpenAI's advanced language model, GPT, and receive code feedback in a matter of seconds compliments set of no-code activities eliminating 'low code' paradigm.
Ask AI activity in Studio Pro allows bots to process complex data and make decisions when executing automation, by communicating to LLMs
Edit Text is a versatile tool that enables you to manipulate text in your workflows easily
"AI Workflow Generator is the natural progression of ElectroNeek's product roadmap that is guided by AI-first approach. We aim at providing RPA and Automation developers with best-in-class technology and features, allowing them to free time and resources for other tasks such as project architecture and alignment to business goals of the automation project. The role of developers in our age and time remains important, but the profession is changing and taking new shapes, and it is vendor's duty to adapt to these changes and challenges. Besides professionals, we cater to casual non-tech users, and AI Workflow Generator is one more step towards making technology available to all".

Dmitry Karpov, Co-Founder & CPO at ElectroNeek

ElectroNeek will continue the development of AI features within products to democratize automation globally. If you're interested in exploring the world of intelligent automation with ElectroNeek, be sure to check out these helpful resources: