AUSTIN, TEXAS (October 21, 2022) - The only Robotic Process Automation (RPA) platform for IT Service Providers today announced the launch of its new office. Located in Austin, Texas, the office will serve as the company's international headquarters.*
ElectroNeek has embraced the value and benefits of a multicultural employee and customer base as a remote-first global company. The decision to launch our new headquarters in Austin, Texas, will help us bring synergy to our rapidly growing company and a centralized hub where team members and customers can work together and meet.
ElectroNeek's hockey stick growth and global expansion have created the need to choose a location for the headquarters from among the most promising technology hubs.
The Austin-Round Rock metro area placed first on the Tech Town Index for the third consecutive year. IT talents keep moving to Austin due to evergrowing job opportunities, affordability, and a good level of real estate facilities. Considered by experts to be the fastest-growing tech hub in the US, Austin recently displaced Los Angeles Great Area as the most preferred market for investors. In addition to a strong employment base, an abundance of talented individuals, and a thriving business technology community, Austin's central location makes it easy to conduct business with clients worldwide.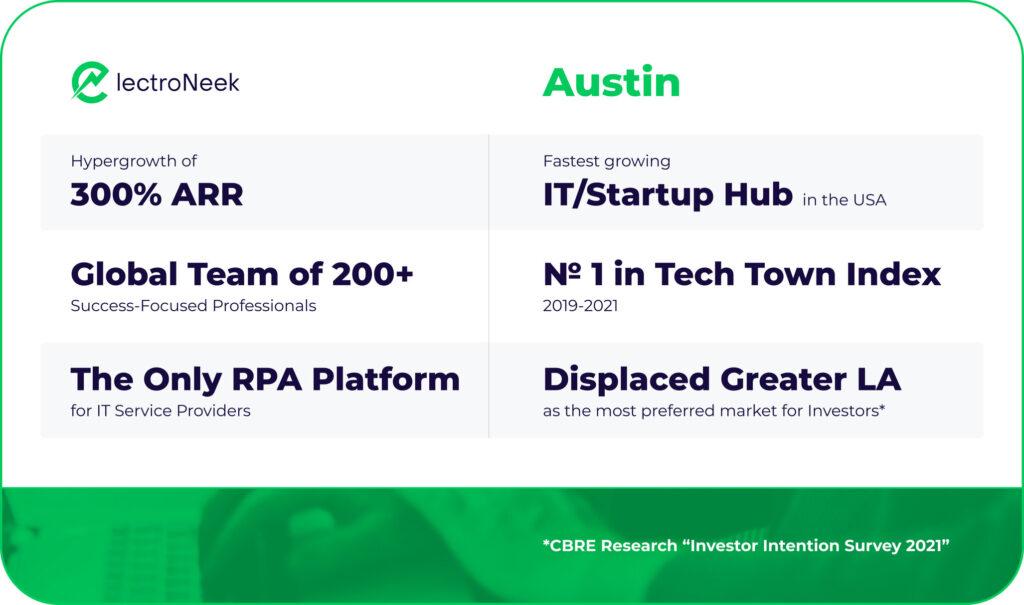 ElectroNeek Makes a Unique Contribution to Austin Business Community
"Our team is very excited about the launch of our headquarters in Austin. As the only Robotic Process Automation platform for IT Service Providers, ElectroNeek is uniquely positioned to support small and medium-sized IT Services firms. We enable them to successfully deliver automation to their clients, monetize software bots, and capitalize on the growing demand for automation services.
Austin has demonstrated stable growth as the leading tech hub over the last few years. Establishing our presence at the very center of entrepreneurship activities will help us provide even more opportunities to our partners and customers. We are happy to join Austin's business community and are ready to contribute to its further development."
Sergey Yudovskiy, Co-Founder and CEO of ElectroNeek