Austin, TX, April 6, 2023 - ElectroNeek continues cultivating momentum with its disruptive Intelligent Automation platform and covers customers and their end-clients in 100% of the Latin American countries.
ElectroNeek is revolutionizing the Intelligent Automation sector with its disruptive Intelligent Automation technology. ElectroNeek's scalable business model, cutting-edge technology that seamlessly automates business processes, commitment to customers, and expanding market presence has significantly impacted the RPA industry, especially in the Latin American market, by covering all the countries in the region.
The State of the Technology and Intelligent Automation Market in Latin America
The Latin America Digital Transformation Market is forecasted to grow significantly over the next decade, reaching $207 billion by 2032 with an impressive compound annual growth rate of 15%.
The increasing adoption of cloud-based solutions drives this growth, the rising demand for automation and artificial intelligence, and the evolution of e-commerce and digital marketing.
How ElectroNeek Supports Digital Transformation and Intelligent Automation in the LATAM Market
The ElectroNeek platform empowers the Latin American market's MSPs and IT Service Providers to support the growing digital transformation.
One of the examples is Brazil - an emerging market for digital technologies such as AI and Intelligent Automation, and ElectroNeek has established a strong presence there.
ElectroNeek paints a picture of a future of success from innovation, and Brazilian companies have partnered with the Intelligent Automation platform because they see a promising future.
Pedro Conte, the Regional Sales Manager (Brazil) for ElectroNeek, expands on the outlook of the Brazilian market.
"ElectroNeek is experiencing substantial quarterly growth in this market. The acquisition of robots is estimated to increase by 15% in Brazil alone in the first half of the year."
Testimonial from ElectroNeek client: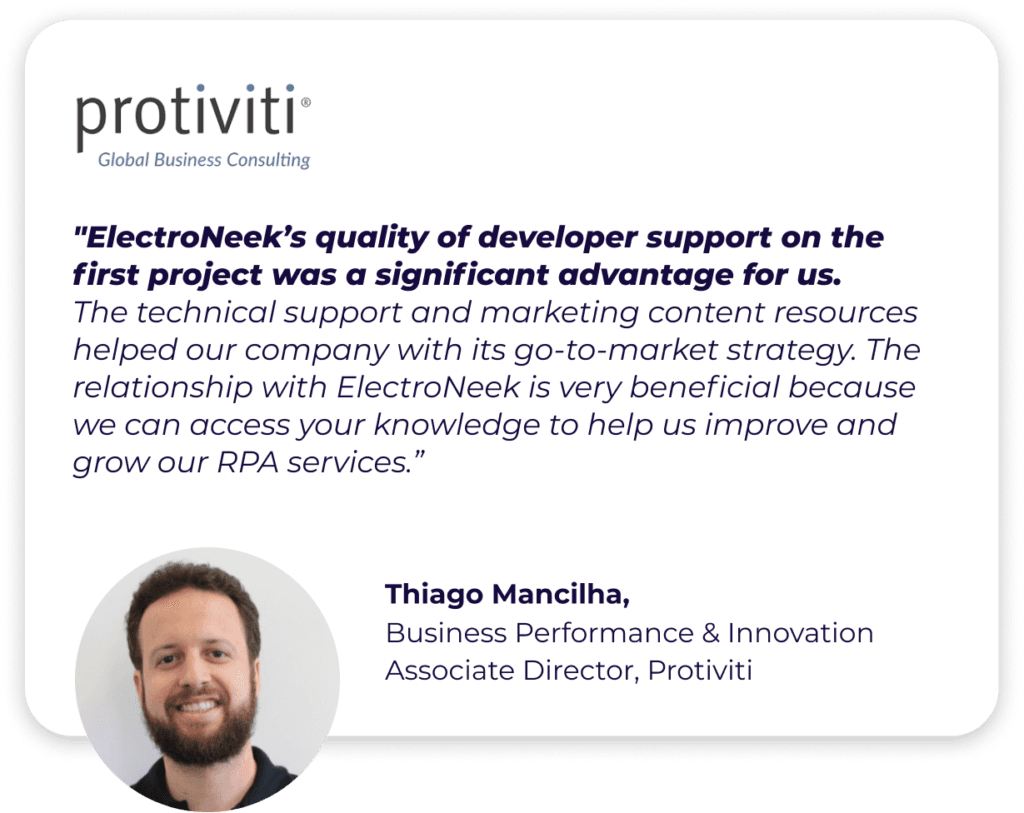 "RPA and Hyperautomation are surging rapidly in LATAM and are no longer a 'future trend.' It is the present.
However, only large corporations can access them due to expensive per-bot licenses. While the Enterprise segment is saturated, the SMB market is underserved. ElectroNeek's unique licensing of unlimited bots empowers MSPs to build profitable Intelligent Automation businesses and deliver automation to end clients of all sizes, including SMB segment, lowering the barrier to entry," adds Pedro Conte.
Testimonial from ElectroNeek client: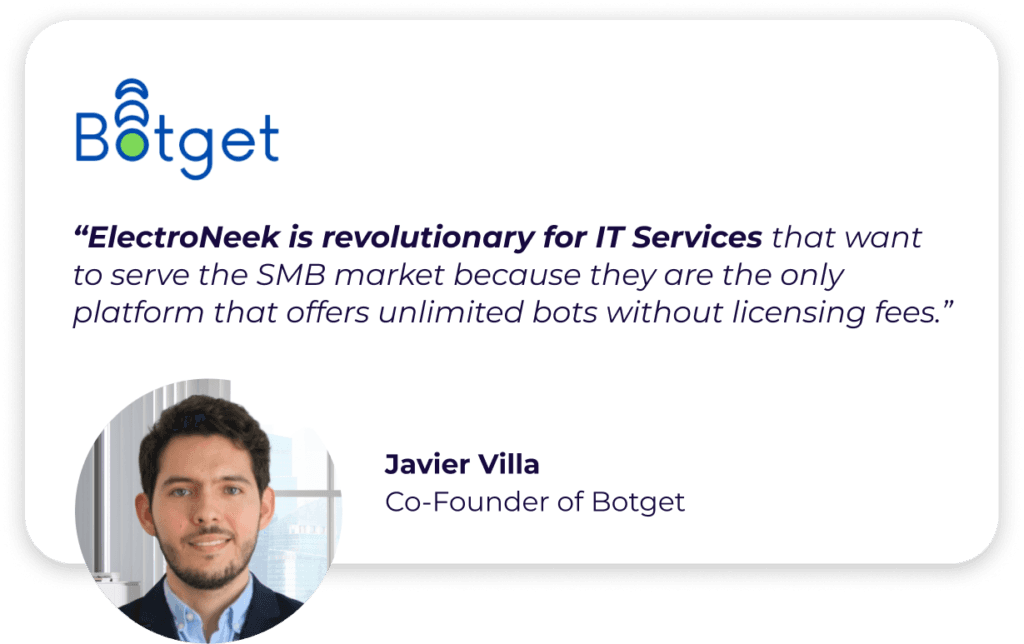 "ElectroNeek is so successful in South America because our model allows IT Services Providers to tap into the SMB Market by setting up their own RPA practice, deciding pricing and licensing schemes, many times a SaaS model, and keeping 100% of the revenue.
Now that IT Services Providers can offer a more affordable option with robust technology without sacrificing profit, the SMB market in LATAM gets full access to the power of Intelligent Automation.
The current market conditions impel this. Winds of recession, economic pressure, and currency devaluation increased companies' demand for cost-saving and efficiency solutions.
While other industries are holding their breath, the RPA industry is growing rapidly. This trend will continue to expand since new technologies like Chat-GPT have increased the interest in such services, the market size is enormous, and the SMB segment is hungry for robust, flexible, affordable solutions.
It is almost surreal to think that less than two years ago, we just started knocking on the doors of IT Services Providers to propose an alternative model to the traditional 'per-bot' business.
Now we have clients in every country in South America. Seeing our clients grow their businesses and truly democratize access to technology is incredibly inspiring."
Juan Carlos Peña, Head of Sales, LATAM, ElectroNeek