Austin, TX, April 20, 2023 - ElectroNeek's 9.3 Release enables MSPs to leverage Intelligent Automation with intuitive RPA bots powered by OpenAI technology and Zapier integration with over 5,000 SaaS apps. The 9.3 Release equips MSPs with advanced bots with enhanced decision-making abilities, enabling them to automate more complex logic and achieve greater productivity, reduced expenses, and more opportunities for strategic business pursuits.
9.3 Release Highlights
OpenAI - Ask AI
OpenAI - Edit Text
IntelliDocs - History of Page Recognition
Zapier - Connector Update
Wiki - New Search Functionality
OpenAI - Ask AI
ElectroNeek introduces a new bot feature, Ask AI, powered by OpenAI technology. As the name suggests, the user can use an RPA bot to ask prompt questions to OpenAI to receive an answer.
With the new feature, your bots have enhanced decision-making abilities. Now it is possible to route RPA bots to different tasks based on context, tone, and meaning of information. This unlocks the ability to apply complex business rules that previously would take a long time to develop. Besides enhanced development capabilities, this benefits end-user - ElectroNeek bots perform complex tasks such as communication with a prospect, reducing expenses and time spent on first-step communication, resulting in more time dedicated to complex and essential tasks.
https://i3.ytimg.com/vi/9yCsko6nJaQ/maxresdefault.jpg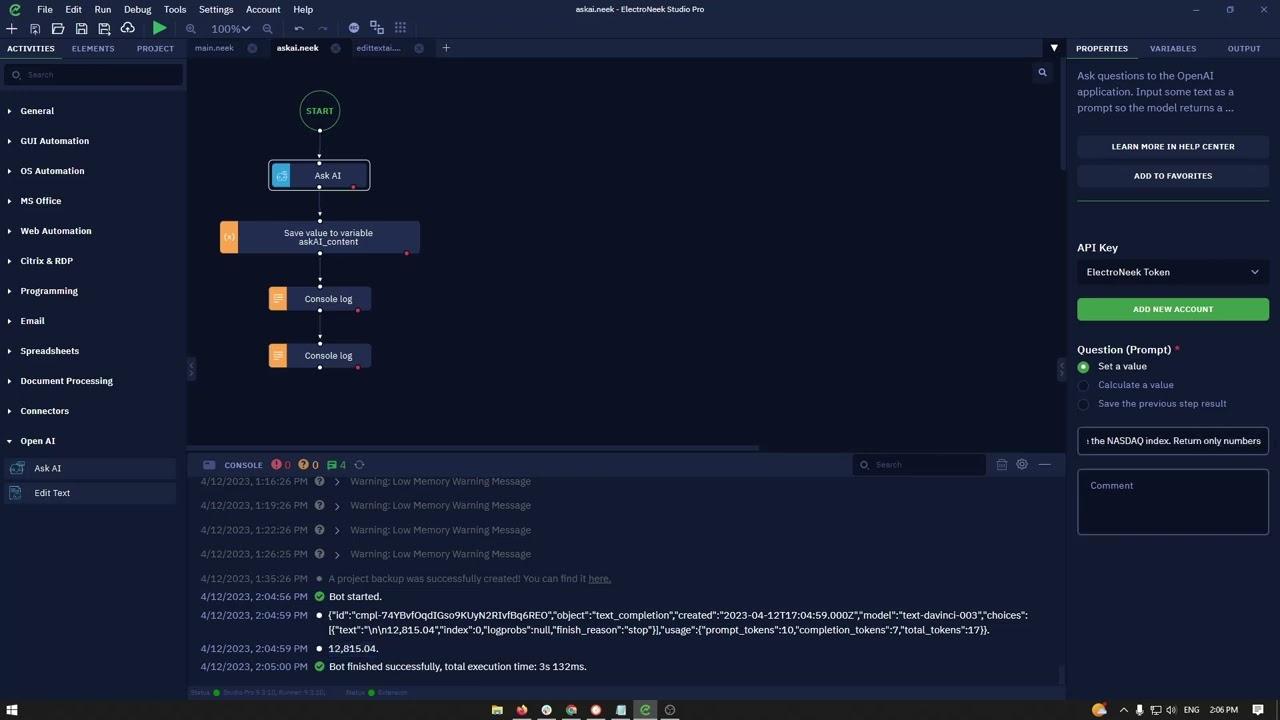 OpenAI - Edit Text
With the new Open AI Edit text feature, ElectroNeek gives your business powerful AI capabilities to transform text and automate business communications. This new feature enables you to leverage Conversational AI to perform text manipulation operations such as summaries, translations, and more.
For example, if your team regularly works with large amounts of text, you can now leverage ElectroNeek bots to summarize information.
https://i3.ytimg.com/vi/2SxeZIiD4b0/maxresdefault.jpg
IntelliDocs - History of Page Recognition
Subscription management with IntelliDocs just got easier with the ability to recognize the number of pages clients use. You can leverage this new IntelliDocs feature to streamline your billing processes, improving your end client's overall user experience and management.
This new feature brings a filter that lets users view the number of pages end-clients use from their dashboards, and users can select a date range for their data. The new page recognition feature further enhances the user experience with IntelliDocs, providing easy and fluid billing and subscription management.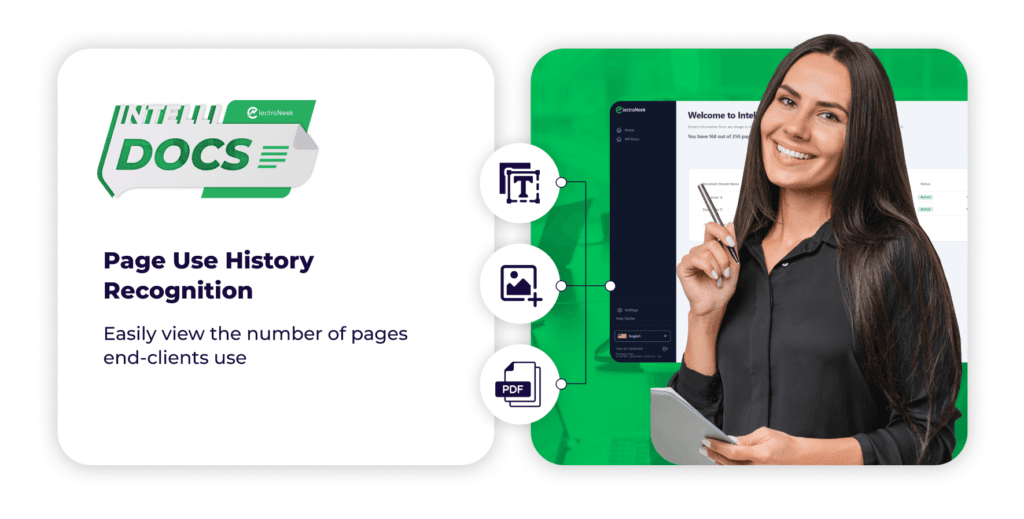 Zapier - Connector Update
ElectroNeek's Zapier connector empowers MSPs to automate complex logic tasks - ultimately allowing for a 100x increase in automation capabilities.
The new Zapier connector update enables you to unlock a new world of automation possibilities, expanding the reach of automation technology to more than 5,000 different applications. By integrating Zapier with ElectroNeek bots, you can easily and quickly pass data from your SaaS applications to your RPA bots, allowing them to enter information into any system on a Graphical User Interface (GUI) level.
Previously, we could launch any RPA bot using Zapier.
In this release, we unlock the ability to pass data into the ElectroNeek's connector in Zapier. Users can now decide what data to transfer to the ElectroNeek bot from an application in Zapier's ecosystem, making it much more convenient and flexible to integrate ElectroNeek with other connectors.
For example, posting a new message in Slack will trigger the action that launches the RPA workflow. You can see which workflow you need in Orchestrator and select the user sending the message and the content sent.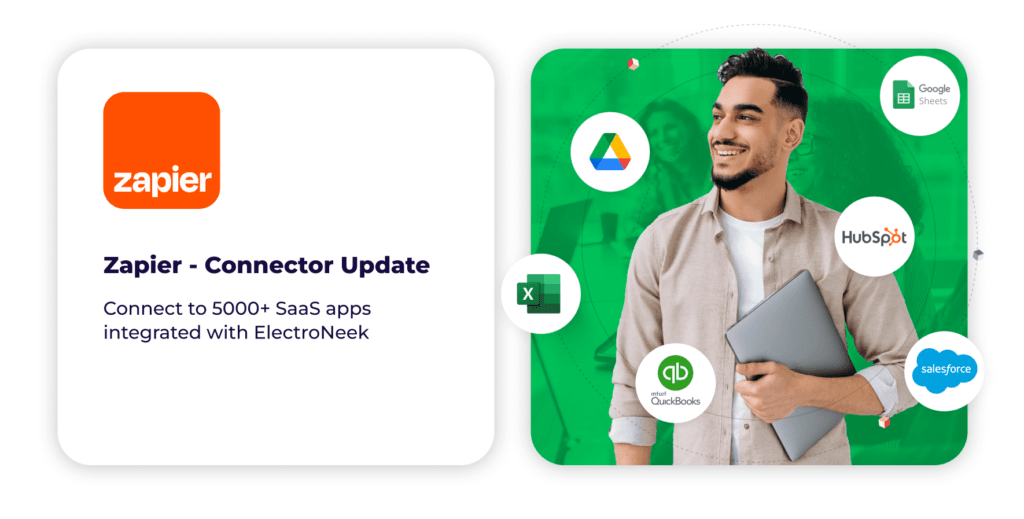 Wiki - New Search Functionality
ElectroNeek's Wiki is your one-stop shop for all the sales and marketing collateral you need to jump-start and accelerate your business. Wiki's new feature enables customers to access reusable templates, tutorials, ready-made graphics, and sales proposal templates from Business Hub.
Now, you can search the Wiki library for the templates you need.

Wiki's new search feature makes locating documents and templates for automation service management, sales, and marketing simple, giving you a jump start on your RPA services!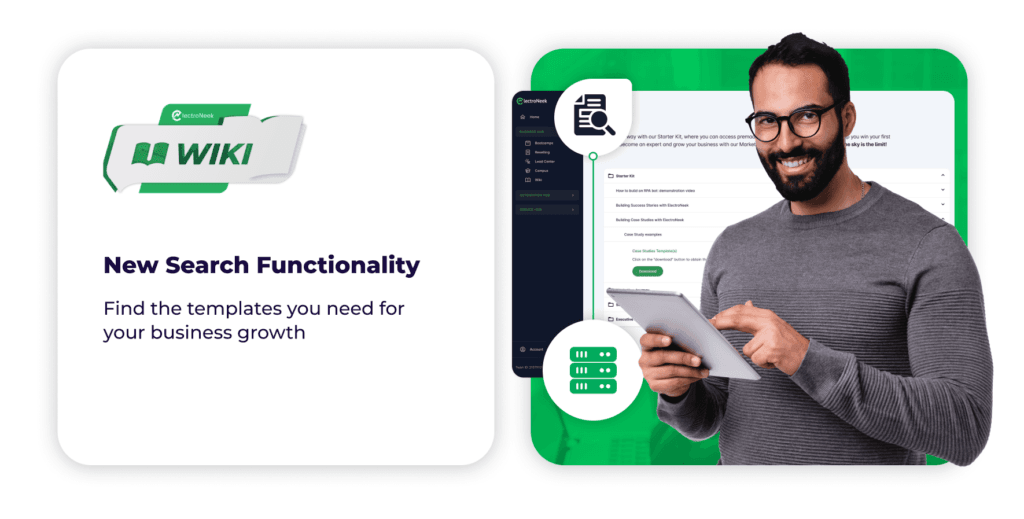 Get ready for a game-changing release, set to transform the approach to tedious tasks and free up our time for more meaningful pursuits. By integrating AI technology with RPA, the 9.3 Release offers unprecedented efficiency gains while simplifying development and providing greater customization and agility.
Join the intelligent automation movement and experience the benefits for yourself. ElectroNeek is proud to lead the charge with its cutting-edge platform, and we're excited to continue pushing the boundaries of what's possible. Whether you're an MSP or a business owner, ElectroNeek's intelligent workflows will help you achieve more and do it faster than ever before. Don't miss out on this opportunity to revolutionize your workflow and take your business to new heights.