AUSTIN, TEXAS (December 8, 2022) – The ElectroNeek Winter '22 Platform Release helps IT Service Providers conquer the SMB market with a no-code RPA platform.
Winter'22 Platform Release Highlights
I. Global Updates
This release represents a significant milestone for the ElectroNeek platform. We have taken a dramatic leap forward in our product evolution to delight our customers.
The Winter '22 platform release delivers a new Business, Automation, and Service Hub architecture that gives IT Service Providers (ITSPs) everything they need to automate business processes for their customers and grow revenue.
The new Hubs have productized many of the previously human-to-human, services-based interactions that greatly accelerate the time-to-value for our customers.
What's new:
Business Hub (for executive, sales, and marketing) - gives IT Service Providers the ability to grow their automation business with assets, templates, and tools to build a winning sales and marketing go-to-market plan.
Service Hub (for customer support teams) - provides world-class support, including development support for your first RPA project.
Automation Hub (for developers and tech leaders) - develop, launch, and manage software bots with the leading no-code automation tools.
What drove this evolution?
Redesigning the platform's structure into the new Hub architecture follows ElectroNeek's product-driven approach to empowering IT Service Providers and reduces the reliance on services to deliver value to our customers. IT Service Providers can now get everything they need to build, sell and support automation solutions for their customers directly in the platform.
The intuitive navigation and ease of access to the Hubs and all their modules unite all products under one interface to enhance the user experience and accessibility.
II. Business Hub Updates
What's new:
Business Hub is now a one-stop shop for IT Service Providers to learn how to build recurring revenue with e-learning, blueprints, templates, tools, assets, and business resources.
Authorized resell and free trials are now available within just a few clicks and help ITSPs build their pipeline quickly.
Executive, Go-to-Market, and Platform Roadmap Bootcamp seats can be reserved and attended directly through the Business Hub.
Customers now have all the sales, marketing, and executive resources centralized within the Business Hub, all conveniently placed as a one-click functionality within the Platform.
Let's dive deeper into the new Business Hub.
Introducing - Campus
For this release, we're delivering an exclusive automation learning experience for our customers. Campus brings our customers powerful e-learning courses from four different subject areas: Starter Kit, Marketing, Sales, and Executive.
Campus significantly improves the ITSP's time-to-value and enables them to build a lucrative RPA business faster by shifting from a project-based to a subscription-based recurring revenue model.
Introducing - Wiki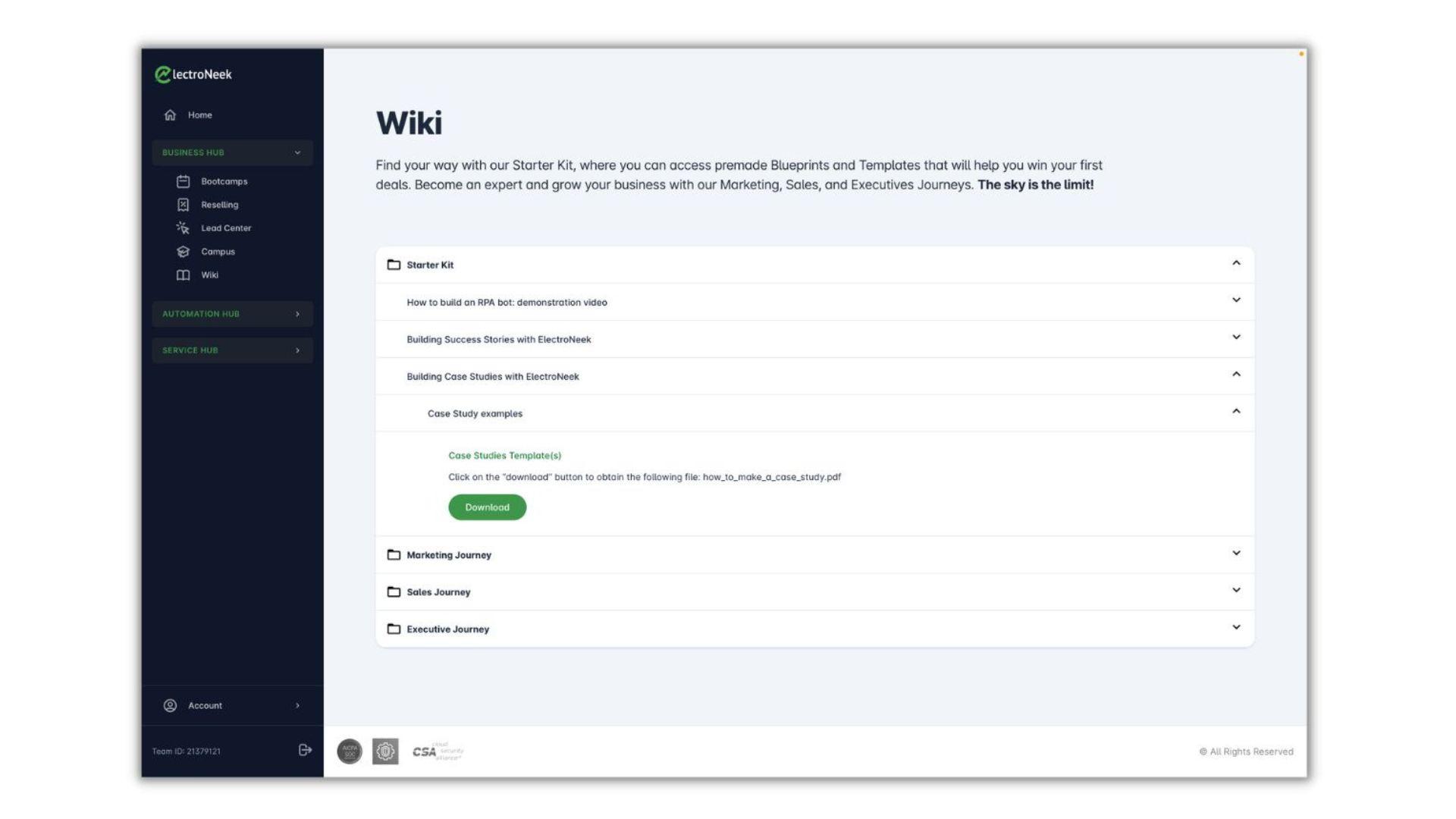 We're also launching the new Wiki that holds virtually any form, agreement, sales deck, template and blueprint you would need for your sales, marketing, recruiting, and business operations - centralized and organized for easy navigation.
Our customers will now have all the assets they need within a few clicks and without requiring assistance from their ElectroNeek Customer Success Managers.
Bootcamps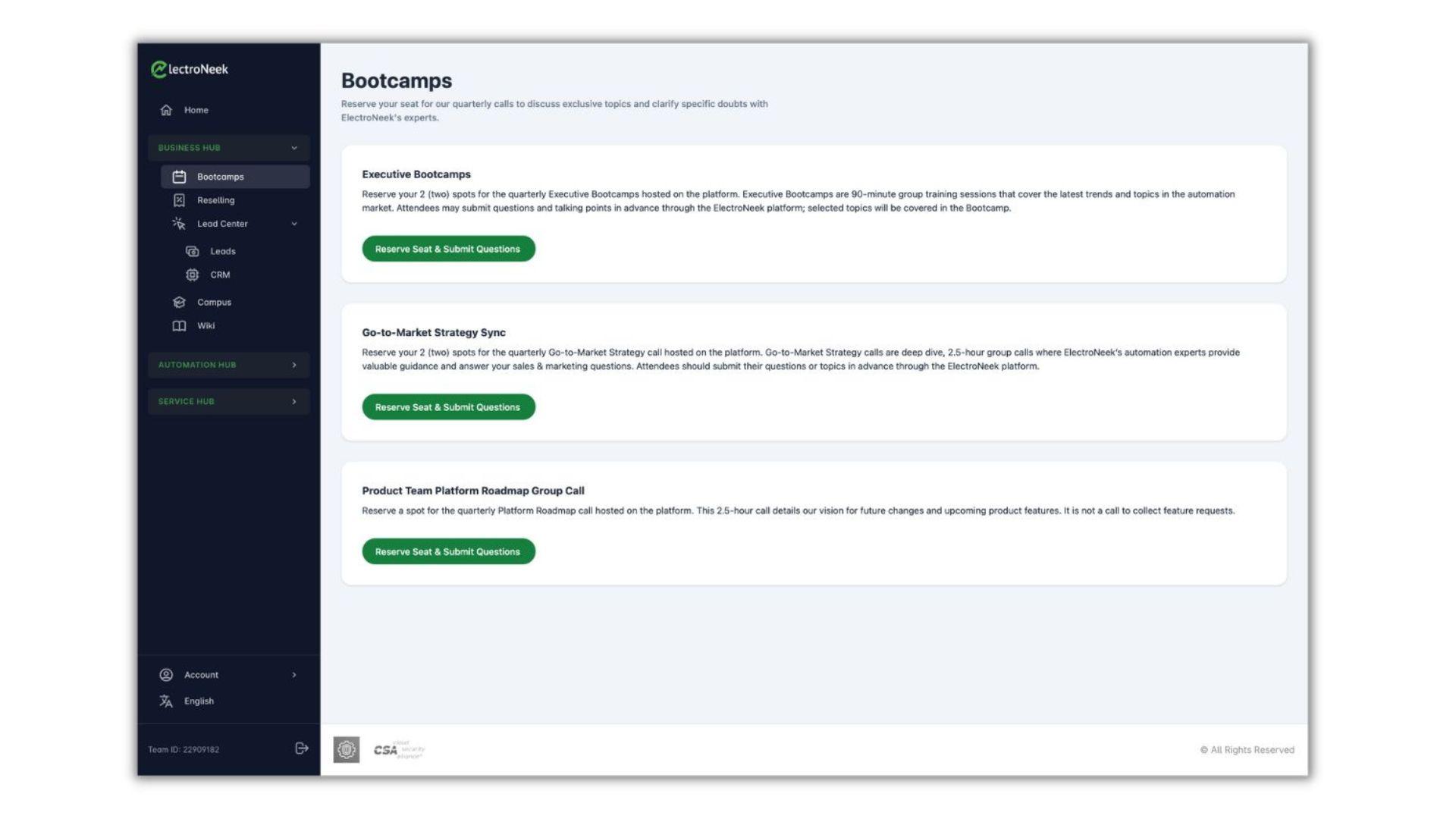 Bootcamps are now integrated within Business Hub to simplify the scheduling and attendance process for our customers. Through this feature, our Silver and Gold tier customers can reserve up to two seats to join three different Bootcamp calls. ElectroNeek's product, sales, success, marketing, and executive leadership teams host the Bootcamps, where they share knowledge and expertise.
Executive Calls: Executive Bootcamps are 90-minute group training sessions that cover the latest trends and topics in the automation market.
Go-to-Market Strategy Sync: Go-to-Market Strategy calls are deep dive, 2.5-hour group calls where ElectroNeek's automation experts provide valuable guidance and answer your sales & marketing questions.
Product Team Platform Roadmap Group Call: This 2.5-hour call details our vision for future changes and upcoming product features.
Reselling
ElectroNeek offers a new feature that allows customers to resell products to build revenue and provides free trials to help them build pipeline and prove the benefits of automation.
We firmly believe that our customers should be able to profit from reselling our products. The new Reselling feature allows them to provide automation within just a few clicks.
The free trials are now part of the Business Hub, allowing our customers to provide trials to their end clients. Whether their clients are new to automation or there is a use case or proof of concept being delivered, free trials enable our customers to expand their market and win new clients easily.
III. Service Hub Updates
The Service Hub updates follow along the lines of productizing functionality that was previously done through services. We continue to provide our customers with best-in-class tech support options.
In our Support Center, our Silver and Gold customers can now submit a request for development support for bots. If you have an RPA project and are stuck, submit the form directly in the Support Center and get assistance from our expert support team members. Read our help center article to learn more about this offering.
Additional support options available to our Silver and Gold customers include support help for enterprise bid projects and security policy and penetration testing assistance related to automation.
All of this is now part of our Service Hub.
IV. Automation Hub Updates
Updates in Automation Hub further extend the capabilities for IT Service Providers to effectively perform automation for their end clients.
It is important to clarify that the ElectroNeek Platform is built for IT Service Providers and provides a no-code/low-code platform that makes it easy to develop, build, deploy, and manage software bots.
The first significant update is the ability to run bots in remote machines without worrying about active sessions. Previously, when launching bots that needed to interact with the GUI, administrators had to maintain an active remote session manually. This is a repetitive and unpleasant task. Now, remote machine sessions are activated and maintained automatically when a bot is triggered without human interaction. Administrators can have unlimited remote sessions in a single machine for running multiple workflows simultaneously. Unlike many other vendors, we do not restrict the number of sessions you can support at a time on one machine.
The second update added console log functionality to the SaaS Orchestrator. Now it is possible to log the entire process with auto logs and separately log only the necessary ones. This helps refine the monitoring and management of process business logic and avoid the bulkiness of auto-logging.
V. Help Center Updates
The Help Center was updated based on our continued focus on improving the customer experience.
The Getting Started section splits the user journey into three key roles so that customers can select the one that matches their path and helps them quickly get started with our platform.
We've redesigned the Help Center structure to match the Hub structure as Platform components. Each Hub represents a set of products, so it is always easy to match a specific category with your needs.
Finally, the API documentation has undergone substantial changes as well. The menu now visualizes the sections existing in the documentation. The improved interface allows you to copy auto-generated code snippets for API requests and try them out.