ElectroNeek`s Global
Partnership Program Overview
This course will help you understand the benefits of joining ElectroNeek Global Partnership Program and how you can successfully meet and exceed your revenue targets and rapidly grow your RPA business with ElectroNeek.
ElectroNeek`s Global Partnership Program Overview
Course Description:
Discover why ElectroNeek is the first RPA vendor for MSPs.
Explore the ElectroNeek Ecosystem, its innovative, scalable, affordable automation solutions, and business-oriented services.
Learn how ElectroNeek supports the growth of your business and helps to achieve your RPA goals.
Why is ElectroNeek the trusted RPA vendor for Business Leaders?
What differentiates ElectroNeek from the other RPA vendors?
What is the ElectroNeek Ecosystem?
What are the business benefits of the ElectroNeek Global Partnership Program?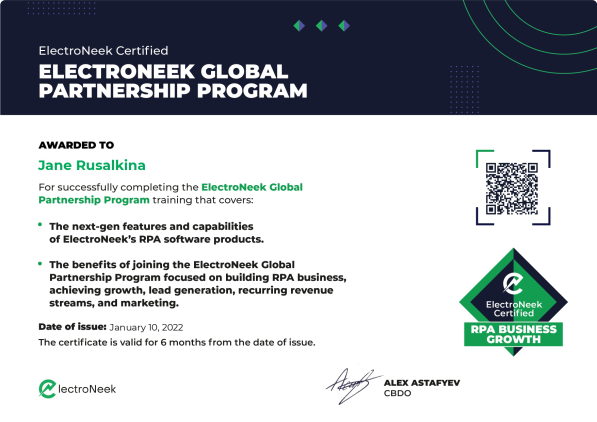 What's
included:
Learning materials:
videos
quizzes
useful resources
Certification for the course
completion
More than 250
successful partnerships
2 hours to complete
the course
Practical cases
from ElectroNeek experts
Explore ElectroNeek
Space Missions!