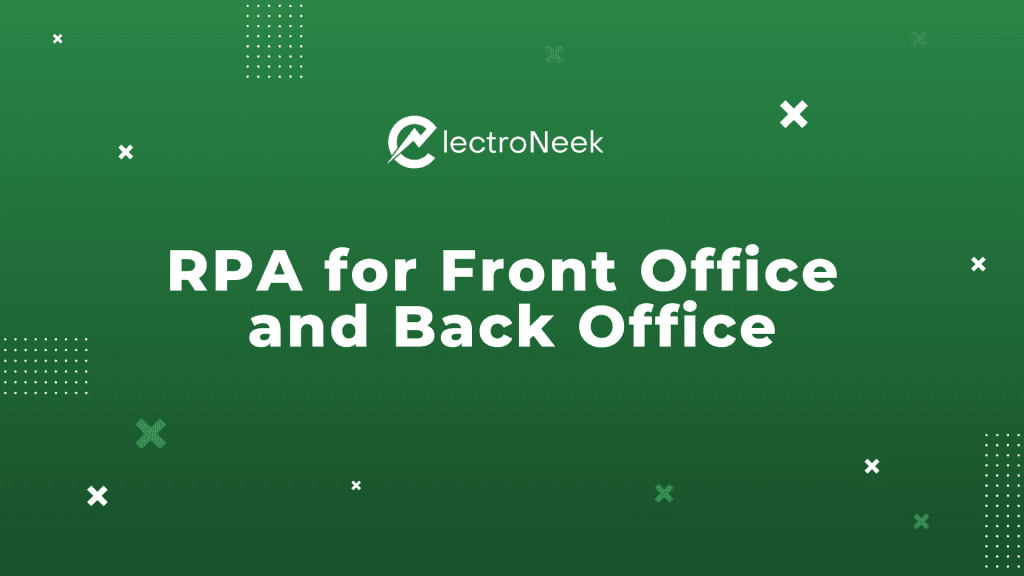 Front and back office automation lets businesses improve their overall productivity and efficiency by reducing the workload, and simplifying and automating processes.The article below provides in-depth details into how robotic process automation (RPA) can improve the entire front-end and back-end workflow.The differences between back office and front office.
The differences between back office and front office
The business organizational structure is divided into two main parts:
The front office — the part of a company that comes in contact with clients.
The back office — deals with administrative work.
Revenue generating and customer activities form the front office operations, and all back-office processes deliver quality products and services. In modern business, defining these processes is tricky. Let's get a deeper understanding of the front and back office activities.
What is the front office: Responsibilities and tasks
The front office is business processes centered around client-facing tasks. An overview of the front office departments includes the following services:
Marketing
Public Relations
Sales
Customer service
Professionals in the front office are the ones directly responsible for generating revenue for a company. The marketing team drives research campaigns to understand customer needs and runs promotional activities. Public relations supports those activities through branding and engagement. The sales team is responsible for the company's growth in terms of product sales, subscriptions, and other offered services. At the same time, client servicing focuses on resolving client issues.
Overlap with the back-office would be the technical support team. It's vital to a business and impacts the organization's revenue stream directly, making it closer to front-office than back-office.
What is the back office: Responsibilities and tasks
The back-office applications involve administrative, accounting, compliance, IT, and maintenance functions. The main goal of the back office department is to plan, monitor, and improve ongoing business processes. Everything customers see is the result of back-office activities like data gathering, operational decisions, and strategic meetings. A few usual back office activities include:
Accounting
Human resources
Information Technology
All of the back office applications and functions play a critical role in laying the foundation for any organization.
Front office and back office comparison
| | | |
| --- | --- | --- |
| | Front Office | Back Office |
| Main function | Increasing awareness, demand, and sales, for a product or service. | Assisting in the analysis, technical, and administrative services |
| Responsibilities | Mainly responsible for sales, marketing, and after sales services. | Mainly responsible for administrative processes to ensure the business runs steadily. |
| Involvement with customer | Employees have direct involvement with customers. | The staff has no direct contact with customers. |
| Area of focus | The focus is to increase revenue. | The main focus is to ensure the business runs effectively . |
The benefits of RPA for front office and back office workflows
RPA is a business process automation tool where software robots get deployed to perform repetitive tasks to improve productivity and efficiency. According to the Global RPA Study by Deloitte, automation consistently meets and surpasses expectations in improving productivity (86%), quality improvement (90%), compliance (92%), and reducing costs (59%).
Automation's role in enhancing productivity and quality is evident in how RPA can quickly handle challenges and provide long-term benefits. Automation can address operational issues in the front office and support the back office in functioning more efficiently.
Here is how RPA solves the above challenges and benefits your front and back offices:
Front and back office advantages
| | |
| --- | --- |
| RPA benefits for front office | RPA benefits for back office |
| Increase front-end employees' productivity by automating repetitive and time-consuming tasks. | Back office RPA increases data processing speed. For instance, 15 minutes of data importing is completed in 5 minutes as bots rely on rule-based tasks which contain well-defined steps that get performed much faster. |
| The front office improves customer service and communication through automating customer messaging and employee reminders for follow-ups. | RPA bots reduce back office data processing and input inconsistencies with a low error rate compared to manual processes. |
| RPA bots perform faster data queries making high volume inquiry transactions possible at a quicker rate. | Fewer compliance issues (for insurance companies) as automation provides an in-depth audit trail and sensitive data management. |
| Automation of the front office provides a 360-degree view of a customer profile making it easier to provide personalized experiences with RPA. | RPA back office allows administrators complete access to monitor and audit the bots, and modify functions in real-time. |
| Sales representatives waste 65% of their time on non-revenue generating functions. Automation frees up the time of sales personnel to focus more on selling by taking over the repetitive tasks. | RPA back office allows administrators complete access to monitor and audit the bots, and modify functions in real-time.Automation improves data quality by denying and flagging incorrect data types. |
Front office automation: Use cases
Front office automation is about utilizing RPA bots to drive customer satisfaction through facilitating effective and efficient interactions between a company and its clients. A few common use cases of front office automation include:
Customer communication
Automation increases customer satisfaction and encourages quick and efficient communication with customers. For instance, RPA allows companies to schedule automatic reminders to follow up with clients and automated messages when a customer contacts the company.
Automated messaging ensures a company's information about new services, products, and deals reaches customers promptly. Such an enhanced level of communication helps in touching base with customers frequently to understand their needs and how to satisfy them efficiently.
Sales order processing
The sales order process involves many departments, such as sales, customer service, and finance. The tool involves applications like customer relationship management (CRM), enterprise resource (ERP) platforms, and accounting software.
The manual method of sales order processing is slow and inefficient as one error can result in delayed deliveries, reduced profits, and strained client relationships. The process involves creating a sales order, approving it, and printing the order acknowledgments. Secondly, releasing the sales orders to warehousing and delivering the sold goods, lastly, invoicing the goods sold and processing the sales order.
RPA bots can accurately verify orders, pull information from multiple systems, check billing and related customer information in just a few minutes making the whole process shorter and error-free.
RPA is beneficial for sales order processing as it integrates sales data with all applications such as customer relationship management, enterprise resource planning, and inventory systems. Automation frees up the staff's time to focus on more value-adding tasks such as nurturing customer relations and actively upselling.
In addition, implementing RPA to sales order processing can assist the sales and marketing teams to work quickly and efficiently through accurate data entry and delivering information to the required stakeholders and systems in real-time.
Back office automation: Use cases
Back office automation focuses on improving the efficiency of a company's administrative, IT, finance, and maintenance departments through RPA bots. A few common use cases of office automation are:
IT service desk
The IT service desk is essential for the success of any business to address service requests, incident management, asset management, and reporting. Such requests are transactional and repetitive, making it ideal for RPA to take over.
Manually addressing the IT desk functions stresses employees, and with a heavy workload, some critical tasks might get left out. With automation, issues get solved faster as RPA bots can foresee problems and notify employees in real-time. RPA productivity moves the process from a reactive stance to a proactive one.
Management of employee data
Employee data management is high in volume and a transaction-heavy process with the Human Resources department. The process involves data changes and other requests coming from various systems, often including hand-offs to multiple stakeholders from different departments.
RPA productivity allows closing the gap between different departments through triggering notifications among required teams. RPA automatically collects, matches, verifies, and stores employee data in the desired format. Automation ensures that the complete employee data from creating the record to when an employee leaves the company is updated, maintained, and distributed efficiently with a predefined workflow.
The entire process can take place within a minimum time cycle while eliminating errors. RPA for the HR department builds an enriching experience for employees from onboarding to engagement.
Migrating data
RPA bots can recognize needed files and formats that require to be migrated from one system to another in predefined folders quickly without errors. RPA bots can migrate data from legacy systems without manual intervention. With RPA, data migration takes place very quickly to replace legacy systems in the most secure way.
In addition, bots retain the migrated data into a log to allow users to check the process. Such a procedure, when done manually, is much slower and error-prone.
Why choose ElectroNeek's RPA services
ElectroNeek delivers end-to-end automation solutions for front and back office functions.The company is a top RPA solutions provider that assesses front end and back end processes right from planning to adopting RPA and making sure the program is scalable.
Choosing the right vendor is a critical aspect of successfully implementing RPA solutions to improve your front and back office workflows. Click here to book a demo with the ElectroNeek team to learn more.
Key takeaways
Revenue generating and customer activities form the front office operations, and all back-office processes support delivering quality products and services.
Back office automation uses RPA bots to cut down costs and improve the efficiency of a company's administrative, IT, finance, and maintenance functions. Examples: data migration, employee data management, IT service desk automation.
Front office automation is implemented towards client-facing tasks, such as sales order processing and customer communication.