Did you know that 1.7 MB of data are created every second for every person on earth — the same amount of data needed to store an 850-page book?
The data and information age brings high costs for organizations, specifically in processing documents and transforming data into a functional form.
Organizations are dealing with an ever-increasing amount of unstructured data, which accounts for 80% of their data. This data typically includes images, PDFs, reports, and other documents. The manual management of this data can lead to issues such as security vulnerabilities, errors, and poor forecasting.
Could Intelligent Document Processing (IDP) be the solution for businesses to leverage unstructured data easily?
Unlock Efficiency with IntelliDocs: Streamline Client Management with Multiple Separate Streams
ElectroNeek's new Automation Hub product, IntelliDocs, delivers a new class of IDP (Intelligent Document Processing) capabilities.
IntelliDocs is the first ever IDP product for MSPs and IT Service Providers, empowering users to automatically recognize digital documents, understand their types and extract key information, supported by MSP-centric monetization and management tools. It can easily automatically process invoices and mostly thousand other model types, work across all major categories and languages and format like pdfs and images.
MSPs Supercharge your IDP Business with AI and 900+ Document Models

IntelliDocs is a user-friendly product requiring no specialized RPA, Artificial Intelligence, or extra staff knowledge for document processing. It comes with pre-made models that can accurately extract data from over 900 document models with more than 99% extraction accuracy.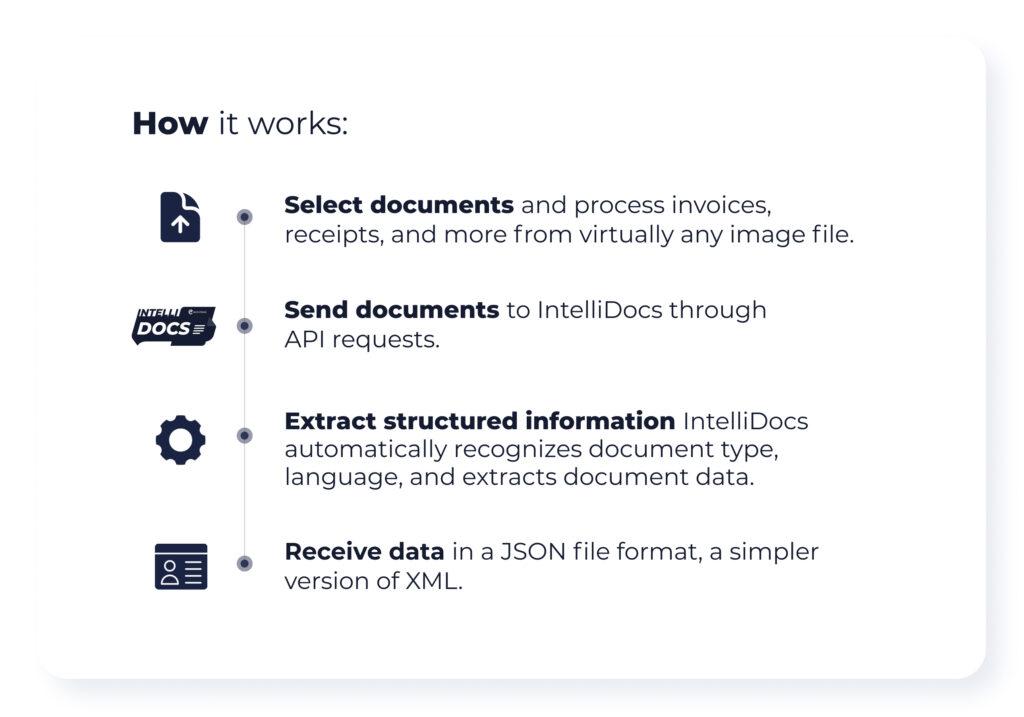 Start using IntelliDocs easily by selecting the documents you need to process. You can process licenses, invoices, and receipts, in PDF or PNG format with support for batch recognition for .zip files.
Send documents through API (Application Programming Interface) requests.
IntelliDocs uses AI and Machine Learning to extract structured information without manual intervention.
The information is delivered in a JSON file format, which stores structured information and mainly transfers data between a server and a client. The file is a simpler and more lightweight alternative to XML.
Discover even more possibilities with the IntelliDocs API.
MSPs Can Now Make More Money with IntelliDocs
IntelliDocs is the ultimate IT Service Provider IDP – giving you the power to manage multiple end clients in separate streams, all while setting custom pricing per page. Unlock the full potential of your business and take your service offering to the next level.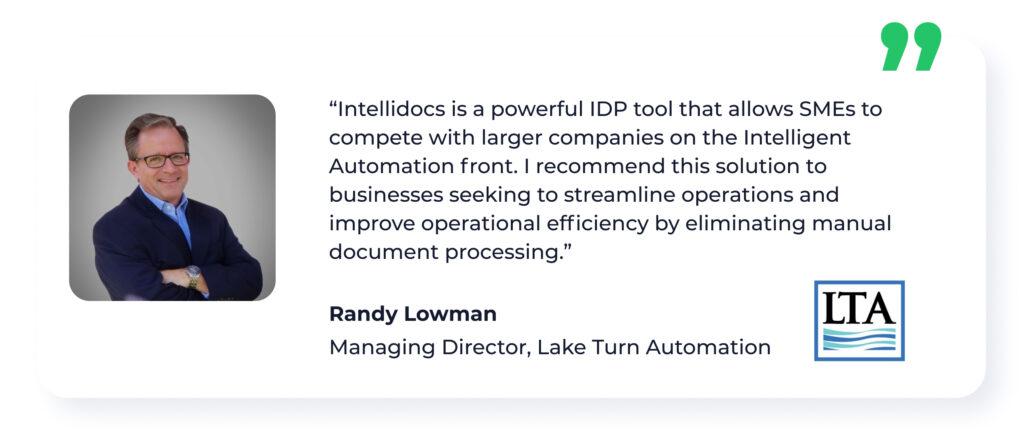 Gold and Silver plan ElectroNeek customers can leverage the potential of IntelliDocs to unlock the power of data flow between clients. Streamline the resources for data extraction and decide if you want to take charge of the customer's data or give them direct access to the API key while maintaining control. Transform the way you manage data and supercharge your customer's experience.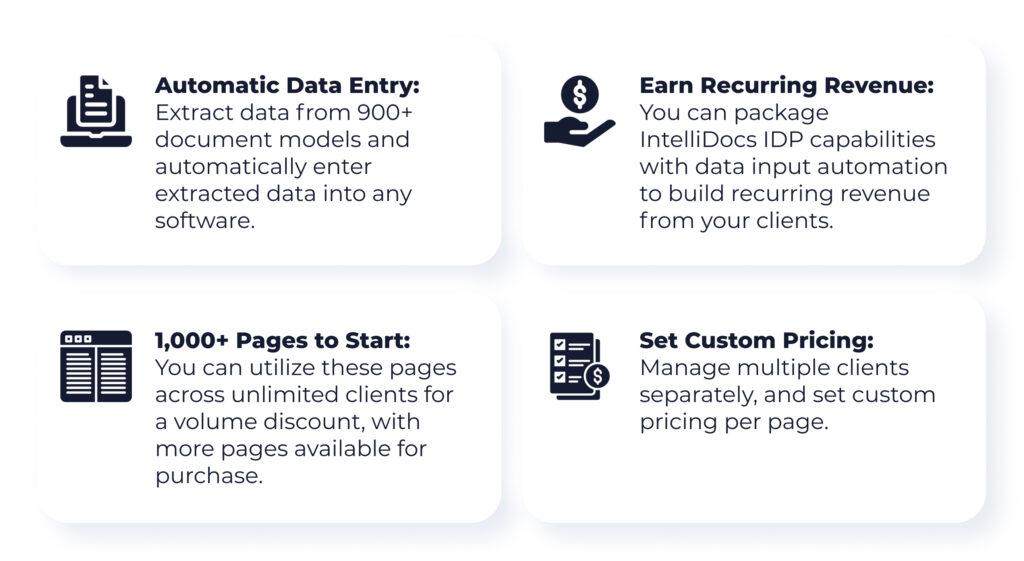 IntelliDocs recognizes 26 document categories, extracting data in a structured way for automatic data entry into any software. With standard document models, you can easily find a document automation case across your clients.
Gold and Silver plan ElectroNeek customers can use our unbeatable volume discount. Starting at 1,000 pages, you can use these pages across an unlimited number of clients, with the option to purchase more pages as needed.
Capture new revenue streams with IntelliDocs IDP capabilities, packaged with data input automation. Streamline processes and drive recurring revenue from your clients with this powerful combination.
Growing List of Supported Document Types:
Finance: invoices, receipts, checks, and more
Insurance & Logistics: shipping containers, ACORD forms, nixie labels, passports
Healthcare: Summary of Benefits & Coverage, and more
Onboarding & KYC: driver's licenses and IDs (International, US & Canada)
Travel: passports, travel visas, and IDs
Get ready to streamline your clients' workflow and save time!
Get our weekly newsletter
for the latest insights
Real Example from ElectroNeek Customer
IntelliDocs scans invoices and differentiates the invoice number, line items and totals, and due dates without additional instruction or manual intervention.
IDP takes OCR to the next level - extracting text from documents, parsing it, and applying algorithms to transform it into a meaningful data set.
Go beyond typed text: allow your workflows to process handwriting, barcodes, and more. IntelliDocs has the following features:
Specifying document types
Handwriting
PDF417 barcodes
MRZ (machine-readable zone)
Data normalization
Data validation
OFAC check
DOM (Document Object Model)
Unlock the Power of Low-Code Automation
IntelliDocs is more than a data extraction technology; it manages and processes data, effectively organizing and categorizing information to reduce data collection and analysis time.
IntelliDocs can verify information in virtually multiple document types by cross-referencing them with other digital data sources while organizing and sorting information based on the content.
With the help of AI, ElectroNeek empowers MSPs and IT Service Providers to monetize document processing.
To learn more about IntelliDocs and how ElectroNeek can help you build your first bot, book a product demo.