Well, it is a typical Friday. And while some of your colleagues count minutes to break into the weekend, you are itching to receive a much-awaited weekly performance report from your team.
You are well aware of the amount of the data they need to collect from multiple sources and a plethora of tasks assigned to them apart from the report preparation. It does not sound like a joyful end of the week, right? Especially for your team members stuck in a ton of projects.
According to the survey by Adaptive Planning, only 46% of employees involved in reporting activities feel satisfied with the process of report preparation and accuracy of data represented in them.
Preparing reports can be tough. No wonder that the findings are so discouraging.
In this article, we will consider the main challenges associated with the reports' preparation and discuss the benefits of automation in it, i.e., replacing a manually drafted report by an RPA report and giving you some insightful examples of using automation in various industries.
---
---
How was your week? Challenges of data collection
Before jumping right into the topic of countless benefits that automation can bring to your team, let us list at least 3 points that make manual reporting a dreadful routine.
An Excel spreadsheet is not always the best solution, especially for multiple teams collaborating on one project. Even in a good scenario, when a single user uses the spreadsheet, it is rather challenging to keep all the related files updated. When it comes to reporting, the most annoying thing would be to make comparative reporting, i.e., reconcile all the data from multiple periods or categories.
Gathering data from multiple systems
As a manager, you are responsible for the data represented in the reports. Due to the complex nature of the data collection process implying spending hours to find, verify, format, and input data into the reports, data validity issues, unfortunately, turn out to become of the second or even the third importance of consideration.
Now when you have collected the data, it is time to make shiny diagrams and charts. Sounds super creative. But it is not, in case you have only 1 hour left until the deadline. According to the Hubspot survey, around 53% of CFOs intend to formulate a data visualization strategy in their company. These statistics prove to the significant gaps of data representation approach among teams who cast aside the visual aspects of data performance while being in a hurry to keep with the deadlines.
How using RPA for reporting can help your team
Now let us pretend that you have a tool that helps your team break the hurdles associated with labor-intensive reporting tasks. Would you use it? The answer is definitely 'Yes'.
It is good news - there is, in fact, such a tool, and it is called RPA.
RPA, or Robotic Process Automation, is a technology of programmed bots that mimic human activities to perform repetitive and mundane tasks. RPA goes through APIs to automatically retrieve data from each program and integrate it into the software system.
The benefits of automation in reporting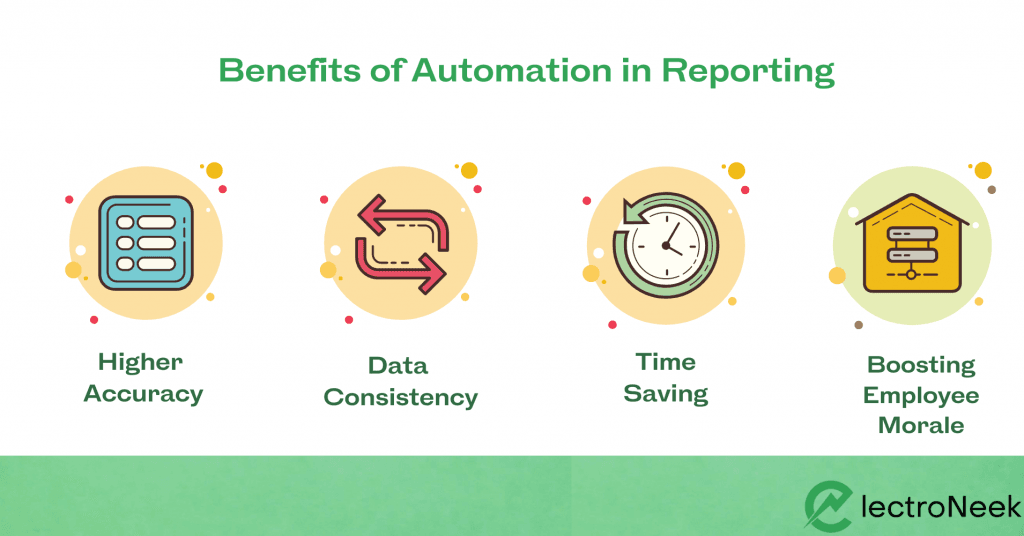 All in all, automating reporting is about saving time by eliminating the reporting process components that don't necessarily require human insight and giving enough options to add those insights where they matter most to each company.
Some of the RPA pros would be:
Automated and centralized data processing reduces errors to a zero rate. You may stay confident on every single number appearing in your reports.
Saving time for more value-added tasks
It is no matter whether you execute a data import from a digital spreadsheet or use cloud applications, RPA allows you to save the time of your team previously spent on manual thoughtless data processing. Instead, they are involved in more analysis-oriented tasks.
Reporting automation guarantees data consistency and governance. Additionally, execution logs trail allows managers to trace each bot activity and receive the full picture of automated tasks.
This benefit was slightly mentioned above. Team involvement in more creative analytical tasks maintains a higher level of loyalty to the company and raise team spirit.
Additionally: Multiple formats
Due to the integrations, bots may represent automated reporting in various formats, including diagrams and charts. After the report is formed, it is automatically sent to the stakeholders by email.
What can be done in particular, using RPA tools within reporting processes?
Collection of data from any sources (emails, files, SaaS, spreadsheets, Slack, Trello, you name it)
Composing a desktop or shared doc report
Merging excel tables and datasets
Calculation of ROI for digital marketing function based on Facebook, Google Ads ads reports and CRM data
Transformation of complex data (for instance, helping you in the automation of reporting finance data) from one format to another for external reporting
Automation of building and forwarding reports to management and other stakeholders
Updates to CRM deals and contacts
Automation of reporting: use cases by functions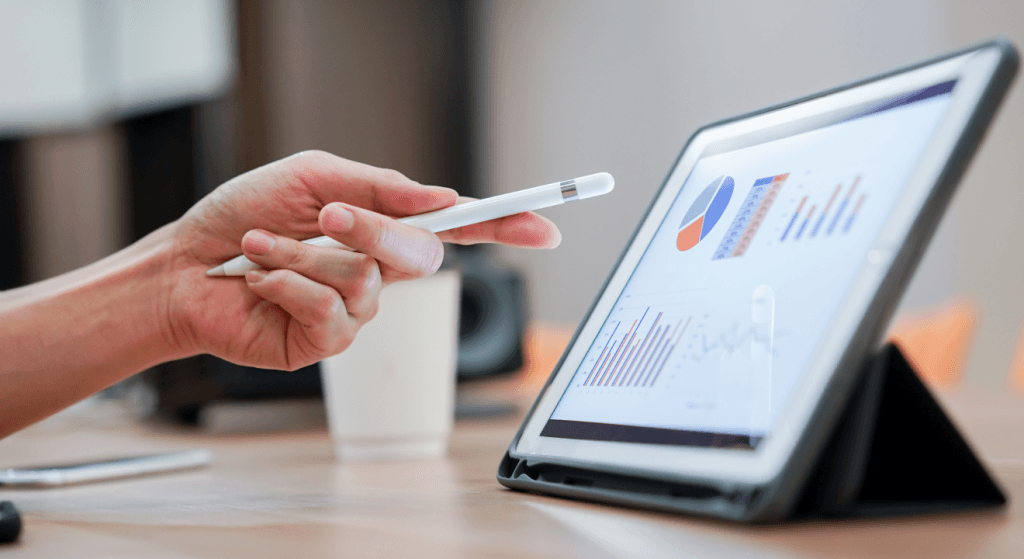 The practical examples can deliver a better understanding of what can be done using RPA in reporting. Below you could see the actual use cases from implementing automation in HR, Marketing and Finance
Use Case 1: Marketing
Typically a digital marketing team leader in a mid-size retail company spends 3 hours monthly to collect data on customer offline and online acquisition sources. She then compares the current and previous periods and produces a report with diagrams and charts for top management.
A programmed bot automates data collection from multiple sources: company CRM, Excel spreadsheets, and scanned surveys. Then it prepares a report where the data is represented in diagrams and comparative charts. Once the report is ready, it is immediately sent to the stakeholders.
Time saving: more than 30 FTE hours saved yearly
Employee morale: a marketer is more involved in data analysis and creating marketing strategies
Use case 2: Sales
A telecom company sales manager collects data on the efficiency of 15 colleagues within the sale cycles. The information is gathered from multiple CRMs, and then it is transferred to the sales manager, who afterward collects monthly and quarterly bonuses. The process takes 1 workday.
The bots automatically collect data on team members' efficiency and prepare a report on their monthly and quarterly performance. Then the bots make a report where all the bonuses are automatically calculated and pass it on to the manager.
Improvements: Higher accuracy of data and more improved bonus scheme
Time saving: more than 40 FTE hours
Use Case 3: Accounting
A mid-size financial company accounting specialist spends 1 to 2 hours collecting customers' financial data from various systems and preparing P&L statements for manager approval.
A bot automates P&L report preparation. Upon completion, a notification is sent to the manager.
Improvements: Errors rate reduced by 80%
Time saving: more than 100 FTE hours
As a final note
We have discussed the critical challenges associated with reporting processes and showed you robust RPA solutions that can become a helping hand in nurturing your organization's business continuity.
There's no denying that automation for reporting can be a driving force in improving an enterprise's operational excellence since proper reporting processes are crucial for strategic and balanced decision making and a healthy work environment.
If you are willing to help your team be more successful at data analysis, try ElectroNeek solutions, and empower your team with enhanced processes and value-added tasks.