What makes an entrepreneur? For Javier Villa, Co-founder of Botget, it is the ability to identify opportunities and be fearless enough to go after them. A former ElectroNeek employee, Javier soon realized he could create a business from scratch to offer RPA solutions to an underserved market: SMBs in Latin America.
According to a report done by Ernst & Young, Latin America is responsible for 15% of the global demand for RPA. However, much of this demand comes from smaller companies looking to cut project costs and increase efficiency. This has opened space for IT entrepreneurs who offer services rather than projects.
Javier started his RPA journey as an Account Executive at ElectroNeek, and he was constantly in touch with technology companies looking to expand their portfolio with RPA-as-a-Service. Before that, he had no previous experience with RPA or automation technologies. "This was all new to me. I started researching about it only when studying for the interview process to join ElectroNeek", he stated.
"I thought RPA was such a great opportunity, so I had to get involved. So I invested in the ElectroNeek platform in March of 2022 and created my automation service, Botget," reminisces Javier Villa.
Located in Monterrey, Mexico, the company has five employees: a sales engineer, two outbound representatives, and two developers. This lean team was enough to close his first client in two months of operation. "We were surprised to be ready to sign a client so early, and from a different country than ours" recalls Javier.
Transforming Challenges into Opportunities
As a new company, they needed support to start the business correctly. But despite the challenges, Javier knew those challenges and pain points could pose an opportunity, especially with ElectroNeek on his side. "I saw opportunities with clients because of the pricing and pain points that MSP vendors could not tackle with clients. Small companies have less revenue and require an alternative to the enterprise RPA vendors," recalls Javier Villa.

Although promising, RPA faces different challenges in Latin America. Many companies needed help realizing the need for automation. "The more inexperienced business owners were skeptical about the technology and failed to see the benefits of it," commented Javier.
More than that, some clients needed help with how the technology used to be offered. Projects are expensive for countries all around the world, and this is especially true for Latin America.
To overcome this problem, Botget came up with a solution: offering free trials and Proof of Concepts that showcased the value of RPA to their potential customers. Another differentiation was a 30-day guarantee: if the client saw no technological improvements, they could have their money back.
Another critical factor for thriving in Latin America was working with Software-as-a-Service instead of regular projects. "With ElectroNeek, it's possible to deliver RPA-as-a-Service, since no licensing cheapens the cost for the end-user," complements Javier.
Botget currently has four clients across Latin America with only 6 months of operation, serving various market segments. This was only possible due to RPA-as-a-Service since the companies in the region need affordable solutions to leverage the technology.
Botget's LATAM Market Start
Because of cultural similarities in Latin America, Javier offers advice for IT companies starting service businesses in the region. "Don't stay restricted to your region; Latin America is a huge market with many opportunities. If you can expand to different countries, go for it!"
As for their first deal closed, Javier was amazed to discover that it was a company from Peru. "We are very far away from Peru, so it was a surprise to get our first client from a different country," he stated.
Winning Clients: Utilizing Transparency Through Proof of Concept
To win customers, Botget was diligent in demonstrating the value of the technology through Proof of Concept (POC) and demos, aiming to be as transparent as possible with the leads. "Our difference is we try to be crystal clear; we want to be an automation partner of our clients, offering the best value for their money," complements Javier.
Through social media, Botget showed potential clients how digital automation could help their businesses. They focused more on displaying the benefits of the technology rather than explaining how it works. This has proven a good practice since many SMBs in Latin America struggle to stay competitive in the pandemic aftermath due to rising costs and other economic complications.
"From our experience, the common entrepreneur is more preoccupied with increasing effectiveness rather than just saving costs. When we show them how much time they can save with bots, it's easier to demonstrate value," says Javier.
No Boundaries: Botget Strives for Future Expansion Across the Americas
For Botget, Mexican borders are not a limitation. Being close to the United States, they plan to expand their operation into North America. "North America is a more mature market in terms of RPA and knowledge of the technology, and we want to explore that," says Javier.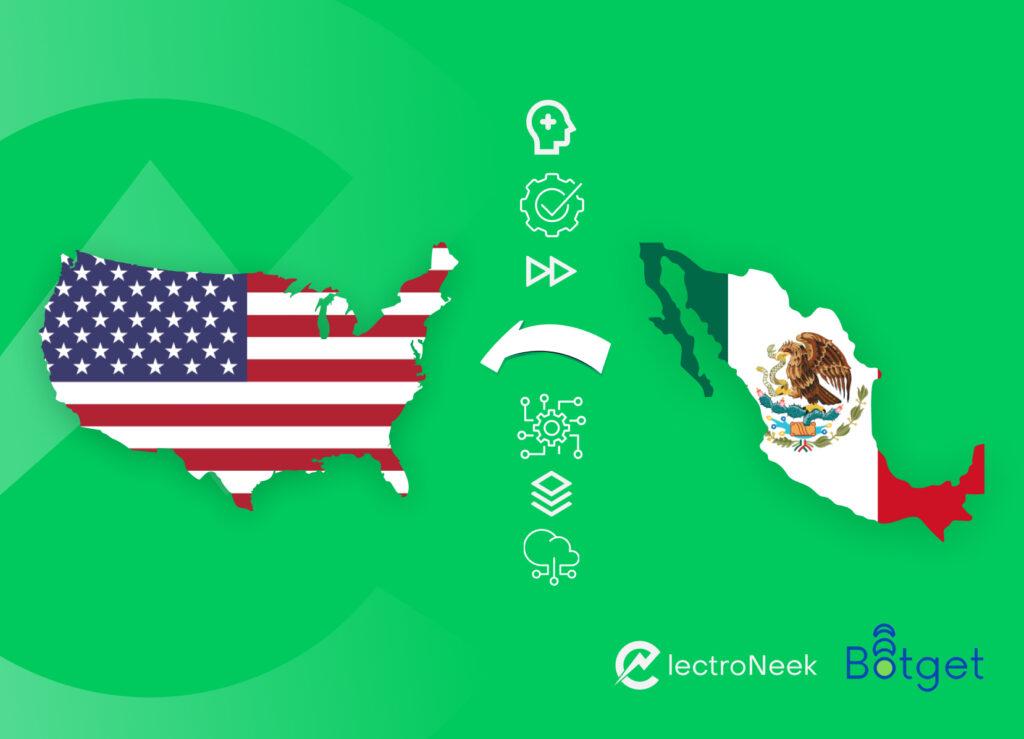 As for Latin America, Botget plans to stay competitive through SaaS models and expand its service offers. Javier says, "We don't want to stop in RPA and want to integrate more technologies in the future to serve our customers better."
Now is the best time to overcome roadblocks to digital transformation. Globally, we have seen a great response to the pandemic, driving unprecedented mobilization initiatives to support an effective economic recovery. There is a unique opportunity to accelerate the digital transformation across Latin America, and with ElectroNeek's help, Botget is sure to be at the forefront.