What the report is about
The current trend for accelerated RPA adoption across the globe has spurred Everest Group interest in RPA vendors.
In its latest report, Everest Group has observed the impacts of RPA tools on business processes improvements: cost reduction, increased workforce productivity, and enhanced operational efficiency.
The 97-pages report curated by the global technology analysts has covered the following topics:
RPA vendors categorization
Competitive landscape in the Robotic Process Automation market
Key RPA trends in 2020
Strengths and weaknesses of each vendor
RPA capabilities
ElectroNeek as a globally recognized aspirant in the RPA market
The report contains an analysis of the capabilities and offerings of 21 globally recognized vendors, i.e.:
Appian, Automation Anywhere, AutomationEdge, Blue Prism, Datamatics, ElectroNeek, HelpSystems, Intellibot, Jacada, Kofax, Kryon, NICE, Nintex, Nividous, Pegasystems, Perpetuuiti, Qruize, Servicetrace, Softomotive, UiPath, and WorkFusion.
Everest Group, the number 1 BPO research firm in the world, has divided the RPA companies into Leaders, Major Contenders, and Aspirants. ElectroNeek, the youngest RPA vendor in the report, has been named an Aspirant according to the Everest Group categorization table: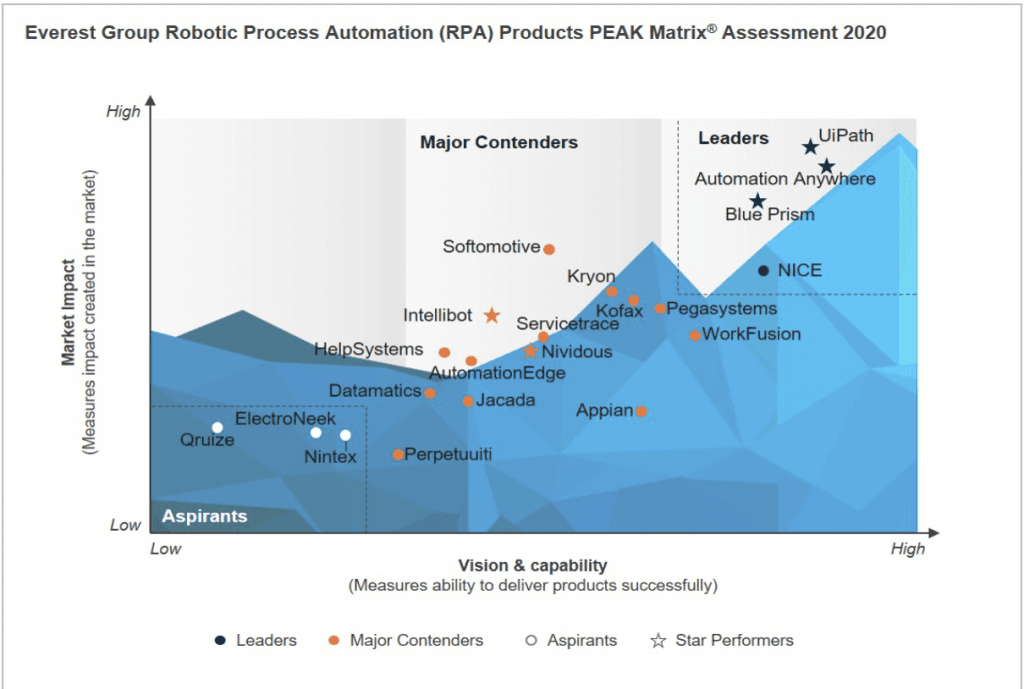 Why ElectroNeek
ElectroNeek has been founded in 2018 by a group of RPA enthusiasts and within 2 years has become globally recognized for its ease of use, stability and adaptivity by Capterra, G2, and Gartner research companies. Everest Group recognition is yet another proof that the vendor is on the right track.
Learn more on ElectroNeek capabilities and offerings by visiting our product pages:
The most developer-friendly Integrated Development Environment for efficient intuitive automation
The revolutionary RPA partnership model that allows for building workflows and deploying them as RPA-as-a-Service at no cost.
Start your automation journey with a globally recognised RPA vendor today! Book a demo to see how we can help in streamlining your business.