Austin, TX, June 6, 2023 - The ElectroNeek 9.4 Release organizes features that enable quicker, easier development, such as new no-code activities for Excel, automatic code generation in Studio Pro, improved updating of bot versions during production, and many more automation capabilities.
Studio Pro
Previously, in ElectroNeek's 9.3 Release, we connected Robotic Process Automation (RPA) with OpenAI's GPT, but there is more!
Studio Pro now includes the Code Generator feature for quicker, easier development, even for complex use cases. ElectroNeek Code Generator allows the user to provide instructions and an optional starting point for inputting data into the Artificial Intelligence.
The Code Generation feature enables users to leverage advanced problem-solving capabilities using generative AI and RPA. The user simply asks GPT a code-related question in Studio Pro to receive code feedback in seconds to build bots with ease.
Now, users can generate any code-related questions for OpenAI/GPT, helping them solve code-related problems more efficiently to build bots faster.
This feature is available in the following areas: Assign to Variable, Execute Code, and Command Prompt.
For example, when using the Command Prompt, the user can request that the AI generate a code that "deletes all files in a specific folder" to generate the corresponding command prompt automatically. Now, users without knowledge of the command prompt can quickly generate the results they need to build a bot.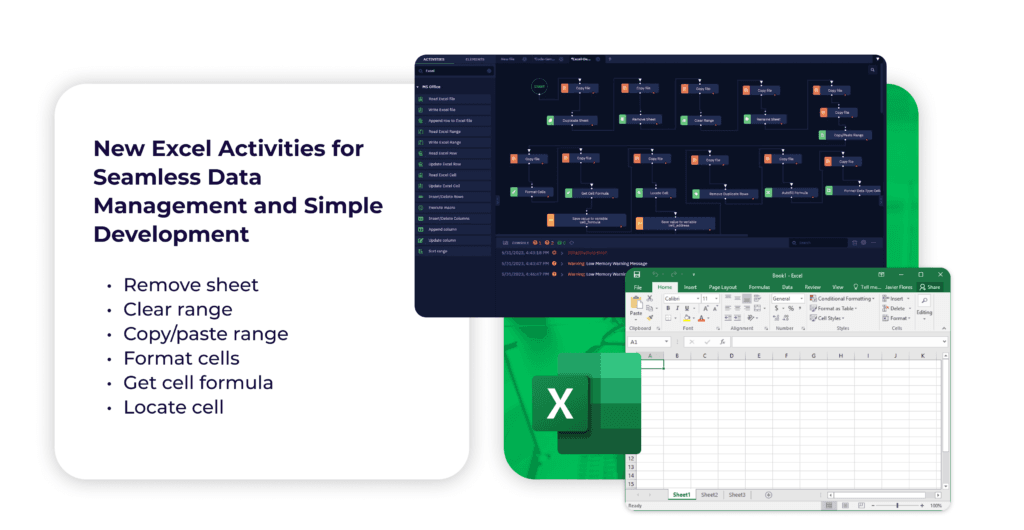 ElectroNeek introduces a new Studio Pro feature, where we have doubled the no-code Excel Activities in Studio Pro. These new Excel activities improve the user experience when working with Excel files within RPA routines.
These activities enable smoother integration and manipulation of Excel data and the simple development of the most commonly used bots.
For example, users can now remove duplicate rows widely used in Excel automations.
IntelliDocs
Billing and payment just became more intuitive with ElectroNeek's new IntelliDocs page limit feature. Previously, the user could only make a one-time payment to use IntelliDocs.
Now, organizations can purchase monthly or yearly page limits, providing flexible monetization options. For example, the user can set a monthly or annual limit of 2,000 pages; every month or year, the page limits will reset to 2,000. In addition, the user can set and modify their page balance, monthly and yearly limits separately for increased flexibility and document usage management.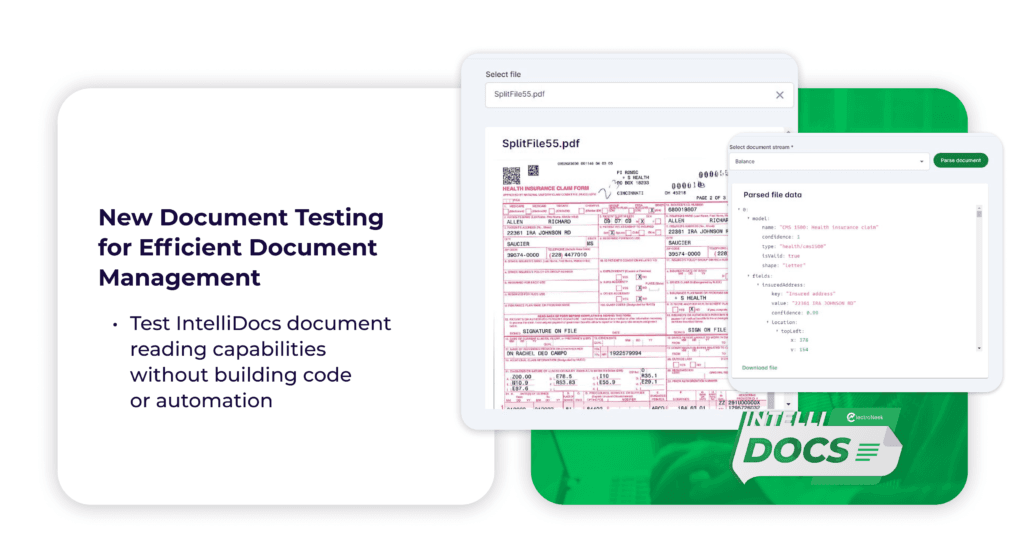 This feature allows users to test IntelliDocs document reading capabilities without building code or automation. This feature simplifies the testing process and facilitates efficient document management.
For example, when the user accesses the document testing page, they can upload any document type, choose the type of document stream that they want to test and see exactly how the data is parsed before downloading.
SaaS Orchestrator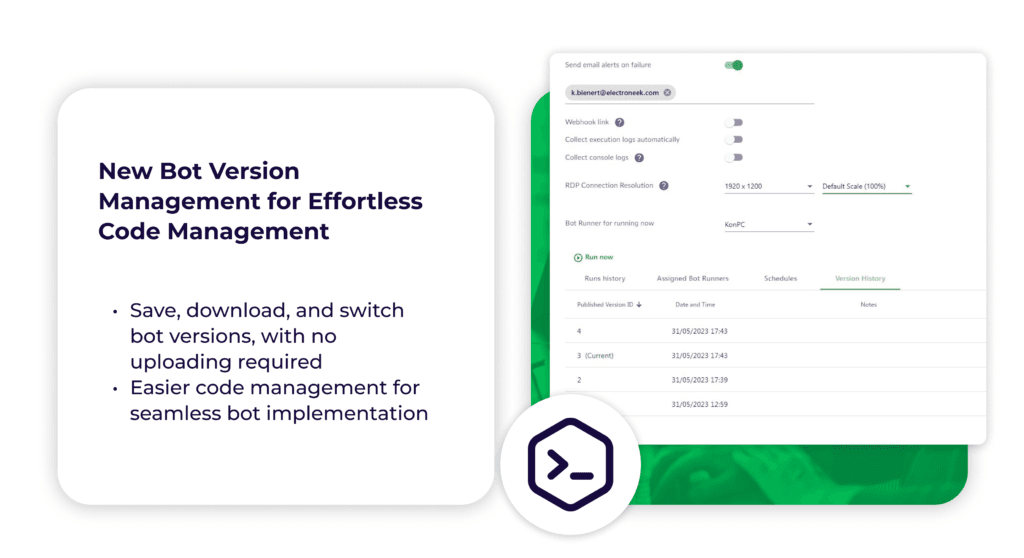 One of our most highly requested updates is here! You can now download and switch bot versions in Orchestrator without re-uploading them from Studio Pro.
Previously, to modify a bot version, the user needed to re-upload the bot, and if there was an issue, the bot must be recreated and re-uploaded.
Now, on 9.4, the user can see all bot run versions and switch through previous versions, with an area to add notes to identify the differences. In addition, the user can choose the screen resolution and scale percentage in the RDP Connection Resolution, which prevents bot malfunctions due to screen resolution issues.
Bot version management enables the user to easily update workflows in production and roll back to the previous versions of bots when needed for increased stability. This enhancement provides greater flexibility and ease when managing bot versions within Orchestrator.
Service Hub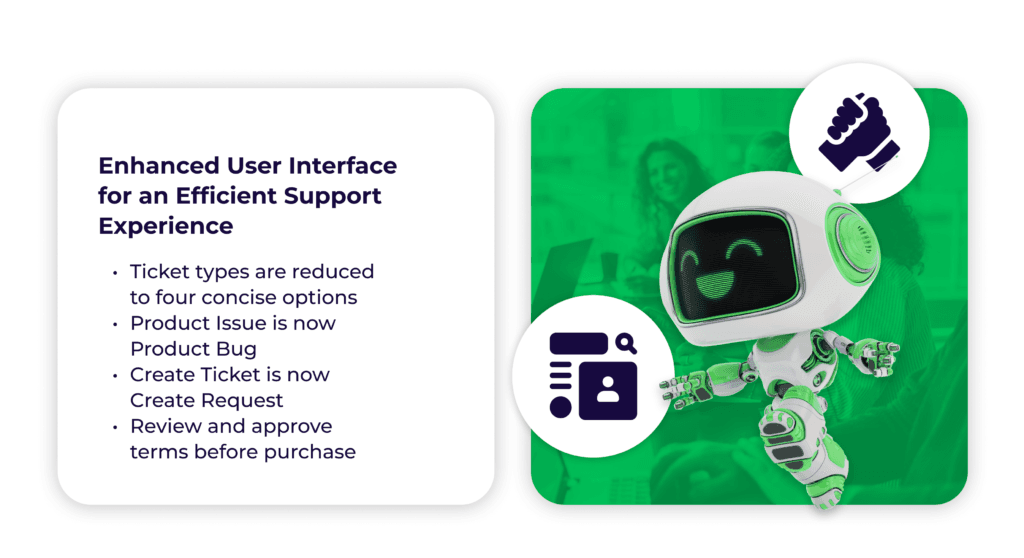 User Interface Improvements:
We have made meaningful changes to the Support Center user interface to provide better guidance when users encounter issues or need to report problems. These enhancements ensure a more seamless support experience.
The product issue has changed to a product bug, and create a ticket is now create request. Furthermore, we reduced the number of ticket types to four options for simplifying the support experience.
The user can now view and approve terms and conditions before purchasing.
Bot Library
We have renamed "Recipes" to "Bot Library" to better represent the feature's purpose. The Bot Library offers a repository of pre-built automation bots you can download and use immediately.
Within the Bot Library, users can now request development support for each bot, leveraging expert assistance to customize the bots as needed. The Bot Library also includes subsections for more straightforward navigation, ensuring a seamless user experience.
ElectroNeek's 9.4 Release: New Features for Seamless Automation Deployment
The 9.4 Release offers outstanding features and updates and is our biggest-ever product release.
Revolutionize your business operations - from data management to automatic code generation for building bots - you are empowered to build bots quicker for even the most complex use cases, leverage no-code Excel activities, and easily update bots to previous versions.
If you want to dive into the world of intelligent automation with ElectroNeek, check out these helpful resources: