Your business encounters a growing volume of documents, like CMS-1500, OSHA 300 forms and Know you Customer(Visa, passports), with 80%+ of your most important business data sitting inside them.
IntelliDocs is an Intelligent Document Processing (IDP) product capable to automatically recognize these digital documents, understand their types and extract key information to automatically enter in any software. No human involvement required.
Instant document processing
Save time, resources, and avoid manual mistakes when entering or copy-pasting data from documents.
Ready to go
IntelliDocs doesn't require any technical background in order to process documents, it s out of the box solution with 1100+ AI-trained models.
Easy to Integrate
Send documents through API (Application Programming Interface) or automate data entry with ElectroNeek no-code tools.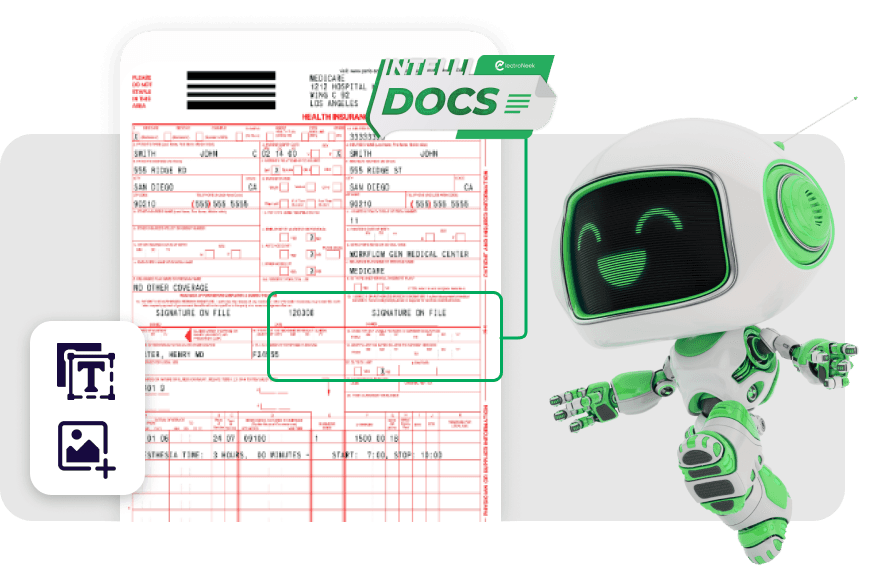 4 easy ways to use IntelliDocs
Efficient Patient Onboarding
Automate patient data collection and document submission during onboarding, ensuring accurate and complete records without manual data entry.
EHR Integration
Seamlessly integrate IntelliDocs with Electronic Health Record (EHR) systems to digitize and manage patient records, improving accessibility and patient care coordination.
Medical Billing Streamlining
Simplify medical billing by automating data extraction from invoices and claims, reducing errors and speeding up reimbursement processes.
Insurance Claims Automation
Accelerate insurance claims processing by automating data extraction from insurance forms, ensuring timely and accurate claims submissions.
Healthcare Provider: 150 Employees, $5M Annual Revenue
IntelliDocs revolutionizes CMS-1500 form processing, swiftly extracting essential data through advanced IDP. These forms are vital for submitting medical insurance claims under Medicare, Medicaid, or private health insurance plans. Seamlessly integrated into EHR, IntelliDocs reduces manual workload by 60%, enhancing precision. This transformative solution optimizes healthcare operations, saving over 50% processing time, and significantly boosting efficiency.