Updated on March 12th, 2021
Robotic Process Automation market is an extremely dynamic environment nowadays. RPA future in 2020 seems competitive and no one could deny that for vendors, it gets more and more challenging to keep up with the pace of developments in RPA in 2020. 
But what about customers thrashing around "best rpa software 2020" and "top rpa tools 2020" headlines? Which robotic process automation platform should they choose? And, what's more, how?
In this article, we will try to answer these questions and provide you with the list of top 10 RPA tools that can be efficiently used in various industries and company sizes.
---
Let's start with definitions and areas of consideration.
What is RPA?
Robotic Process Automation is a technology that uses bots to mimic human's repetitive, mundane tasks within computer systems. It allows people to execute daily business operations more productively and efficiently.
What are the advantages of using RPA tools?
It becomes a common practice today to use RPA tools in a company's daily routine. Mostly it is due to the absolute advantages of technology. The most important ones are as follows:
Saving time, resources. Allows employees to work on more value-added tasks
Streamlining business processes and assisting in a company's digitization strategy implementation
Prioritizing activities that require creativity and analytical thinking.
Which factors should you consider while selecting a RPA software?
The RPA vendor market is expanding rapidly. It is no wonder that choosing the technology that would ideally suit your business needs would be challenging. We can address various factors in the selection process. However, G2 RPA platforms' satisfaction score lists three significant criteria that customers value the most while using RPA:
Ease of Use
Meeting Requirements
Ease of Doing Business with
A G2 algorithm calculates the first factor (usability) based on satisfaction ratings encompassing the ease of product administration and whether it fully meets the business requirements.
According to G2, the top 10 RPA vendors with the highest ease of use among customers are the following:
(in brackets we have outlined the percentage of users who voted for the ease of use of the particular solution)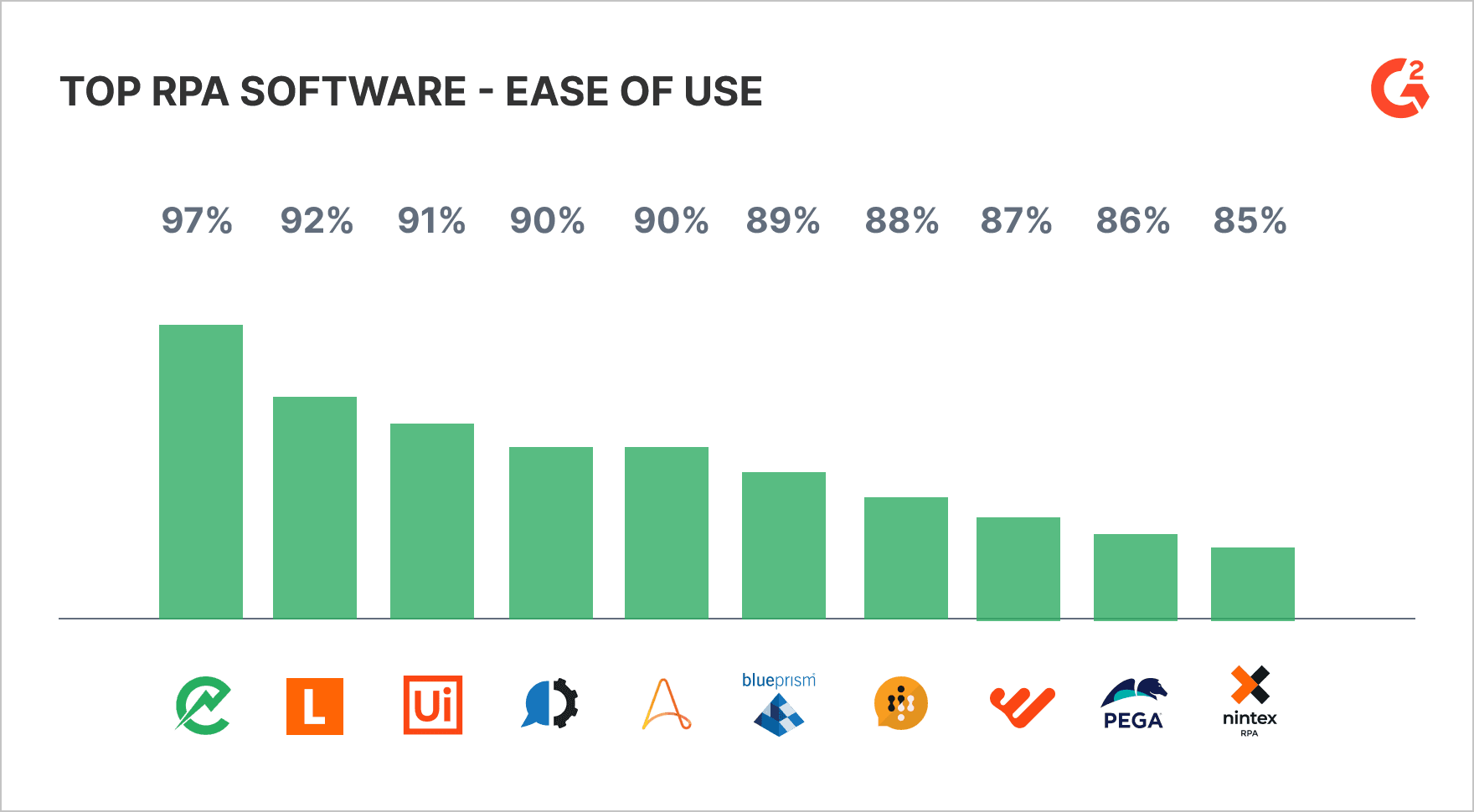 Apart from the usability, some other components can help you decide on the right solution for your business, for example, the price, the scalability of the products, and the technical nuances.
In this article, we took a closer look at some of the top vendors from the G2 highest ranking.
List of top 10 RPA tools 2020
1. ElectroNeek

We have put ElectroNeek first due to the combination of advantages acknowledged by the biggest technology ranking agencies, i.e.:
Easy-to-Use Workflow Builder
Free Attended & Unattended Bots
Process Recorder
GUI Desktop
Automation
Web Browser Automation
Powerful Error Handling
Due to these factors, ElectroNeek has gained acknowledgment by various ranking agencies. Here are some of the platform latest awards:
Voted best UX by G2 and Capterra
G2 RPA Market Momentum Leader
Ranked top 5 RPA globally by Gartner
Ranked top RPA Aspirant by Everest Group
Zinnov Hyper Intelligence Automation entrant
There is one more factor that stands ElectroNeek out of its competitors:
A disruptive business model: ElectroNeek charges only for Studio IDE license and allows for building limitless bots at no cost.
Free offerings: Free Online Academy, Community forum and Knowledge base
Functionality:
The key products of ElectroNeek are described above.
Studio Pro is a tool that allows users to seamlessly build RPA bots at zero cost and with no programming skills. Studio Pro users pay only for the integrated development environment and can use the bots forever (on premises or in Cloud).
https://i3.ytimg.com/vi/eplE0etacO0/maxresdefault.jpg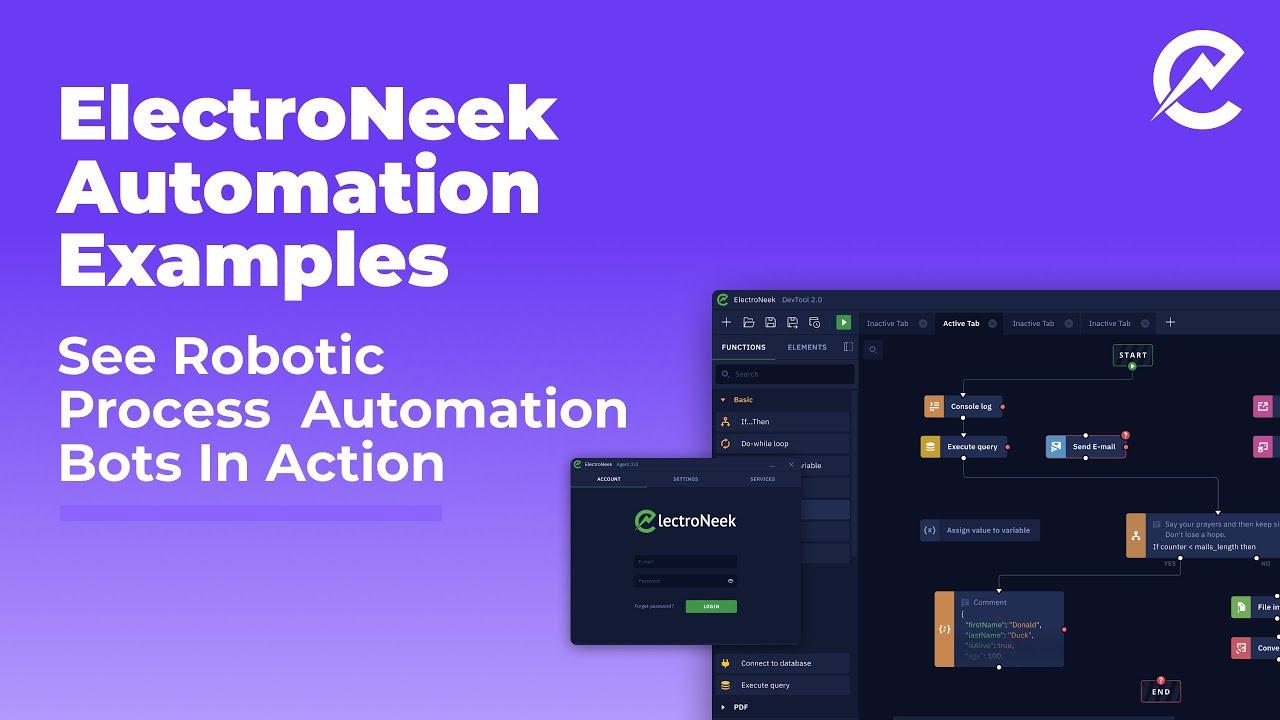 Orchestrator is a single control room for bot integration and management. Being laser-focused on connectivity ElectroNeek Orchestrator is a great tool to maximize return on automation.
Some useful features of Orchestrator are listed below:
Management: Triggers & Scheduling
Provisioning: API & Webhooks
Protection: AWS Guard Duty & SOC Compliant
Deployment: ElectroNeek Cloud & On-premises
Connectivity: Zapier & Steps
Logging: Errors & Steps
Monitoring: Statuses & Processes
Clients: PwC, IBS, Softline, Electrolux
2. Laserfiche

Target audience: mid and large size companies (local, state and federal government, wealth management, higher education, healthcare)
Pricing:
Functionality:
Process recorder: allows for building bots that execute repetitive actions and interact with third-party applications and systemd
Bot designer: allows for editing bots to handle edge cases
Local tool: allows for live tracking data of bot performance
Clients: Menlo Technologies, Inc., Victoria's Secret, The American Red Cross,
Molina Healthcare Inc
3. UiPath

Target audience: mid and large size companies
Pricing:
License fee for UIPath Studio: $3000/per year
License fee for UIPath Orchestrator: $20 000/per year
Attended bot price: $1200/per year
Unattended — $8000/per year
Free offerings: training, 60 days trial, UiPath Community Edition (a version for scientific professionals and small companies with annual turnover under $5 mln)
Functionality:
Key components: Studio (scenarios development tool), Robot (scenarios execution), Orchestrator (management tool)
Visualisation: GUI based on Microsoft, includes Elasticsearch, Kibana, Tableau visualization tools, Cyberark for account data management.
Data processing tools: partners with NLP, ML and IOCR vendors
Clients: Atos, PWC, Lufthansa, HP, DHL
4. Helpsystems Automate Robotic Process Automation
Target audience: mid and large size companies (banking, finance, insurance healthcare)
Pricing:
Small-scale RPA $3,600 / year
Scalable RPA $15,000 / year
Unlimited RPA $90,000
Free offerings: not provided
Functionality:
Digital workforce platform with bots extracting, manipulating, utilizing data from various sources.
Has a lot of integrations, including Microsoft AWS, visrtualization saoftwares ESX, Player, ESXi, cloud systems, and enhanced OCR tools.
Clients: Trans World Entertainment, Columbia Sportswear, KEHE Distributors, Carter Bank
5. Automation Anywhere

Target audience: mid and large size companies (banking, finance, IT, telecom, healthcare)
Pricing:
License fee: $5000
Free offerings: 30-days trial
Functionality:
Digital workforce platform focused on the operations connected with the purchase, payment, claims processing, human resources management.
ML-based OCR, analytical tools, integration with legacy systems
Coding skills: The basic bots are easy to be deployed, the more advanced bots deployment require XML and C#
Clients: Google, Siemens, Cisco, Dell, MasterCard
6. BluePrism

Target audience: large size companies (healthcare, telecom, media, manufacturing)
Pricing:
Fees: $15 000 - $18 000
Free offerings: not provided
Functionality:
Built on Microsoft .NET Framework, automates any application, and can be integrated with any platforms (Java, WPF, Windows). Robots are used only for back-office automation.
Clients: O2, Walgreen, Heineken.
7. WinAutomation by Softomotive

Target audience: mid and large size companies
Pricing:
Fees: on request
Free offerings: not provided
Functionality:
Key components: WinAutomation (RPA software robots creation tool), ProcessRobot (enhanced automation with cognitive tools).
ProcessRobot supports Java, HTML5, Microsoft, .NET, Silverlight, WPF, Citrix and all major web browsers: Internet Explorer, Mozilla Firefox, Google Chrome.
OCR tools: ABBYY Flexicapture, Google Tesseract, Microsoft MODI
Clients: IBM, Siemens, Xerox и Teva
8. WorkFusion

Target audience: small, mid and large companies (finance, insurance, healthcare, manufacturing, telecom)
Pricing:
Fees: on request
Free: 30-days trial, beginners version, training
Functionality:
Key components: RPA Express Starter (for individuals), RPA Express PRO (for small companies) и Smart Process Automation (for large companies). Depending on the package, you receive access to primary or enhanced functionality.
Automates any applications, including corporate softwares: Citrix, Office, Oracle и SAP, for front and back office.
RPA Recorder (recording of the logs and activities)
Online and mobile chatbots
Clients: Scotiabank, Deutsche Bank, Polaris Transportation
9. Pega Platform

Target audience: mid and large size companies (public administration, machinery, telecom, banking)
Pricing:
Fees: Monthly $350 per robot and $10 800 for a perpetual license + additional payments for ML services
Free offerings: 30-days trial
Functionality:
Automates repetitive tasks, such as customers and employees onboarding, accounts reconciliation, data processing and updating, and OCR.
Provides cloud solutions only and can be integrated with Windows, Linux и Mac.
Clients: Vodafone Spain, Siemens, Transavia Airlines
10. Nintex

Target audience: mid and large size companies
Pricing:
Fees: workflow-based plans: $625 per month (starter pack of 5 workflows, plus 25 forms) and enterprise-wide plans: $1665 per month (unlimited workflows and forms)
Free offerings: trial available
Functionality:
Key components: Nintex Workflow allows for automating workflow and content processes to create collaborative environment among teams and shareholders. Nintex Document Generation and Nintex Forms connect smart data inputs directly into workflows which makes the data management easier and faster.
Clients: Bridgestone, Auswide Bank, DNL, Kaspersky
Conclusion
As you could see, there are a plethora of really reliable tools in an RPA world. Certainly, it is quite challenging to compare them, since dependent on a business scale and needs, various factors can be encountered.
Yet G2 rating lends a helping hand here again. Based on a number of criteria, such as: technology specifics (attended and unattended automation), safety aspect (data and product security), enhanced automation tools (Intelligent Automation or other innovative tools) there are top RPA vendors by G2:
And below we provide you with a comparison grid among 4 of them (we selected them based on the 3 factors listed at the beginning of the article: ease of use, meeting requirements and ease of doing business with):
Though Electroneek leads in multiple aspects in the grid above, it should be noted that each solution presented above has its exclusive advantages. Those advantages could be revealed only after you dig really deep into them. And considering the free offerings, most of the vendors provide to the business nowadays, booking a demo can be an excellent try to start your automation journey.