Data is considered the strongest currency nowadays. The value of data for the business world steadily increases, both in strategy as well as operations. If you find yourself struggling with the challenge of making business data collection, integration, and analysis efficient, data process automation may be the solution.
One of the most recent data automation technologies currently in vogue is Robotic Process Automation. In this article, we will consider the areas where RPA can help businesses in data management automation and take a look at five use cases of RPA in accounting, insurance, marketing, HR process automation, and finance.
How RPA streamlines data management
Experian Global Data Report estimates that roughly 30% of American entrepreneurs consider their data management operations to be not very accurate. As more companies start to see the benefits of data process automation, especially when data is "big," the demand for RPA grows.
RPA refers to bots that imitate business processes related to data management that are typically executed by humans manually. Basically, they are pieces of software that perform rule-based tasks formerly performed by humans. Any business activity involves a large amount of time-consuming and repetitive tasks that can be automated, thereby freeing up time that can be reallocated to more meaningful tasks that add more value. For example, instead of wasting the time of accounting department employees on processing accounts manually, with RPA they can focus on designing smarter ways of ensuring management controls.
Applying RPA in data management processes makes tasks such as data entry, capture, creation, and update much more efficient. All of these tasks are highly repetitive and tend to be error-laden, thus reducing the data quality. Worse, it is often the case that data processing scenarios are quite specific to the business processes of particular companies or projects. In such cases, business process automation must be both efficient and context-flexible.
That's precisely where RPA is a great fit, be it digital or IT process automation, HR process automation, or even content automation. RPA can be combined with other techniques to create complex data management solutions and business process automation tools. Robots can be used to automate operations management, such as extracting information from scanned documents using Optical Character Recognition (OCR) to create metadata and reduce content to a usable format for big data or machine learning (ML) processes.
Benefits of implementing RPA
RPA provides business process automation solutions for improving outcomes in all data management areas. Augmented by machine learning and AI, RPA can streamline data input (such as initial processing of images and documents) and improve business processes by reducing the time consumed. It also can reduce payroll costs for manual and highly repetitive business processes and enhance the quality of data.
Below are some benefits of Robotic Process Automation and capabilities that improve data management processes:
Replacement of tedious manual data entry by automated, programmed bots
Capability to connect to any external source for data processing
No limits on the volume of processed data
Acceleration of data management processes—repetition rate of data update requests reduced to 0.1 seconds
Presets for MS Excel and Google Sheets
Optical character recognition of data from PDF and scans
Programming capabilities within scheduling and building timetables
Capability to be installed either on a server or in the cloud
Capability to connect to FTP, SQL, MongoDB, and other databases, as well as various applications
Compatibility with widespread ETL infrastructures (Amazon Redshift, BigQuery, Snowflake)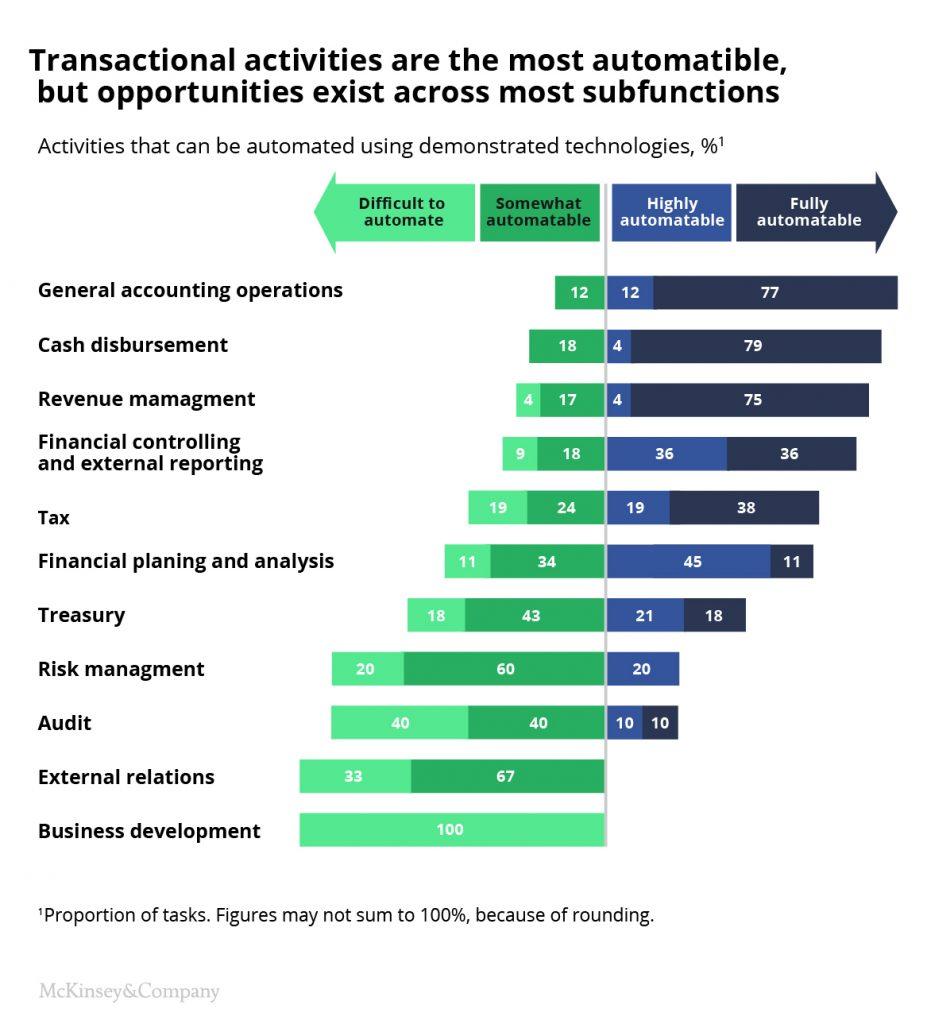 Data automation: 5 use cases
To illustrate the benefits of RPA described above, consider five real-world use cases of RPA implementation in some core business areas: accounting, insurance, marketing, HR, and finance. RPA encompasses different business process automation tools that can be applicable in different contexts, so it is worth looking at some specific cases.
RPA in accounting
In accounting, RPA can be implemented in document automation, which can also boost productivity. According to Techwireasia, a global healthcare tech company implemented a cross-functional automation program, setting out to automate 80 processes in accounting operations (record to report, order to cash, and procure to pay), thereby saving 300,000 hours of work.
Within a year, the firm was able to automate 140 processes with the help of 200 bots, saving 400,000 hours of work in accounting operations and 23,500 hours in financial planning and data analytics on average. RPA also significantly increased the data quality. Below, you can see how ElectroNeek bots handle data extraction with the use of OCR:
https://i3.ytimg.com/vi/3fNXa5indsc/maxresdefault.jpg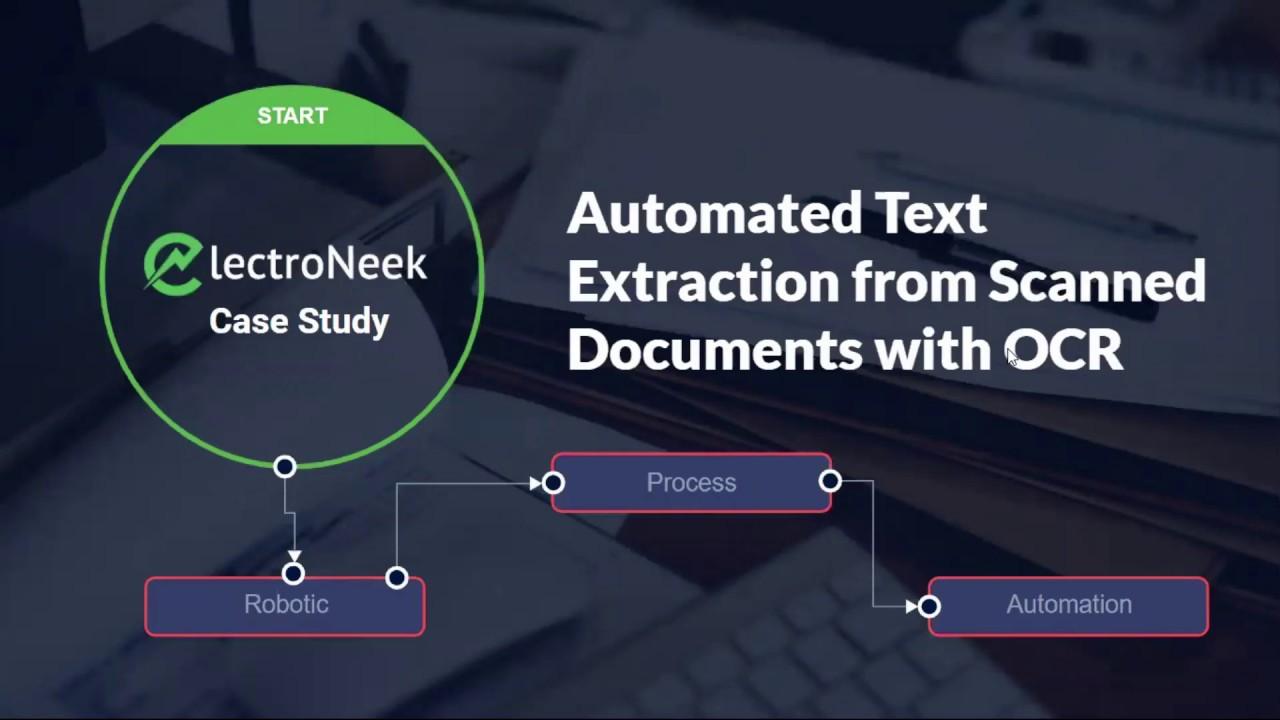 RPA in insurance
Altoros reports that a global Zurich-based insurance company implemented RPA to improve operations and digital automation to achieve US$1 billion in cost improvements. One of the areas of concern was document automation. One of its positive side-effects is freeing up work time that can be reallocated to the more meaningful tasks, just like in the other cases considered here. Implementing RPA allowed the company to achieve the improvement target and also released up to 25% of operational team capacity to staff a new robotic center of excellence.
RPA in marketing
Unlike in accounting and insurance, in marketing the primary use case for RPA is workflow and task automation. Marketing department specialists usually spend much of their time gathering data on consumers' acquisition channels from various sources. Then they prepare a report comparing diagrams and charts, typically doing it manually.
How can RPA be helpful here? A bot is programmed to automate data collection and report preparation processes. Once the report is created, it is forwarded to the stakeholders automatically. As a result, the company enhances customer satisfaction, and there is also a saving of 140+ FTE hours per year.
RPA in HR
HR process automation is another area where RPA can be implemented efficiently. When a new hire joins the organization, several data streams must be coordinated to create a new user account and email address, allocate access rights, etc. IT process automation via RPA can be helpful here.
Robotic process automation in HR frees up the time consumed by manual data integration by automatically activating a specific template for the onboarding workflow and streamlining the process. Bots follow scripts to determine access rights allocation, send onboarding documents, etc.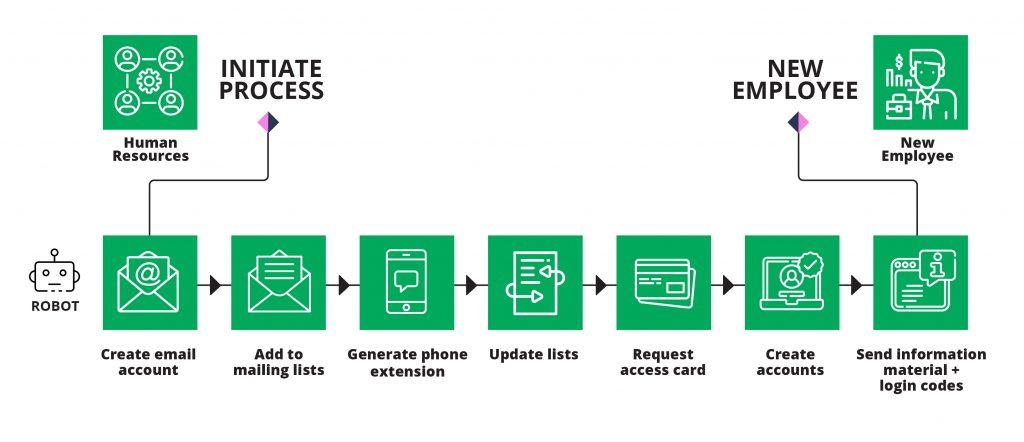 RPA in finance
Financial services is a data-intensive area of business with many opportunities for implementing process automation tools. Financial process automation includes accounts payable and receivable, financial controls, financial planning and reporting, investor relations, and much more. A study by Gartner found that RPA saves financial departments 25,000 FTE hours of avoidable rework by reducing human error.
In other words, RPA in finance is mostly about task automation. Accenture reports that a global asset management firm implemented RPA and boosted the productivity of its operational workforce by 25 percent by benchmarking internal and external productivity, analyzing service maturity and cost to serve, modelling an improved distribution of workload, and identifying productivity-boosting factors.
Conclusion
In this article, we've considered the benefits of RPA as an integral part of the data management ecosystem and demonstrated practical use cases in several industries. A robust data management strategy is one of the critical components of operational excellence and competitive advantage.

With the help of RPA, you can simplify complex data management workflows and cast aside the problems related to them. Reach out to our automation experts to learn how ElectroNeek can take away the burden of manual data management and increase your profits.