For example, with the introduction of ChatGPT to the business world and the public alike, this AI tool has been used to carry out many incredible functions.
Businesses already leverage ChaGPT and automation to streamline mundane tasks such as customer service inquiries and data entry. Automation also empowers businesses to quickly analyze large amounts of data and generate insights from it, to inform decisions and optimize processes. Additionally, ChaGPT can create more personalized customer experiences and provide more accurate customer service.
ChatGPT is not just a trendy new IT tool; it's a boon to technology that millions of people and businesses use for various purposes. Although it has many practical applications, there are challenges are associated with unlocking its potential and integrating it with other technologies.
In this blog, you will unlock five impactful use cases to transform your RPA business by streamlining processes, reducing manual tasks, and increasing efficiency.
Get our weekly newsletter
for the latest insights
Say Goodbye to Hassle and Hello to Smooth HR Time-off Requests!
With the help of the GPT API, both employees and HR departments can streamline the process of managing time-off requests. Employees can articulate their requests quickly and easily by eliminating the need for manual forms, saving them time and effort.
Simultaneously, HR teams no longer manually process each request, freeing time and resources to focus on more high-value tasks.
The ElectroNeek bot reads emails with the subject "Time-off," analyzing the context of the emails using the OpenAI GPT API and extracting the required information from them, and inserting it into the WebHR webpage.
This automation saves everyone time and allows them to get results faster than ever.
With this ChatGPT automation, you can easily handle time-off requests to your HR department.

Unleash the Power of Price and Reviews to Find the Best Products, Every Time!
ElectroNeek's GPT API helps MSPs and IT service providers automate tedious processes for their clients. The bot searches for products that fit the client's budget and then uses 'HTTP requests,' 'Scrape Structured Data,' and 'Sending an email' to parse names, prices, and ratings for specific items.
The ElectroNeek bot leverages the ChatGPT chatbot API to identify the top three choices based on review scores and prices. The results are sent to the client via email, saving them hours of research.
Each search request sends findings to the API and instructions to identify the top three choices based on review scores and prices, ensuring clients receive the highest-quality items they're sure to love.
Clients automatically receive an email with the results, saving countless hours of research.
Speed up Decision Making with Automated Article Summaries!
GPT is revolutionizing the way organizations explore content. If you're looking to save time and resources when exploring content, ElectroNeek and ChatGPT can help.
With its ability to generate summaries, your clients save valuable time and resources by quickly accessing relevant information. If you're tired of spending hour upon hour searching for the best articles and resources to read through, automate it with ElectroNeek and ChatGPT.
The ElectroNeek bot reads through an Excel spreadsheet, opens the websites, extracts the relevant information, and then sends an HTTP request to GPT. It then takes the response and updates the spreadsheet, sending the results to you via email.
This automation helps you save valuable time and resources by generating automated summaries.

Revolutionize Your Customer Support Game with Automated Social Media Integration!
ElectroNeek bots use GPT API technology to quickly analyze customer feedback from social media platforms like LinkedIn, Facebook, Instagram, and Twitter.
The bot extracts data from tweets, DMs, and customer pages, storing the information in an Excel sheet. The ElectroNeek bot also detects the sentiment behind online interactions and provides recommendations for appropriate responses. It provides concise summaries of the content and even suggests potential responses, making life easier for social media community managers.
This tool allows businesses to keep up with customer feedback and ensure their social media community managers are always in the loop, improving customer support for more thoughtful and efficient interactions.
Streamline Your Data Analytics: Remove the Guesswork and Gain Insights with Ease!
ElectroNeek's GPT API revolutionizes how IT Service Providers and MSPs manage business operations. Time spent extracting data is drastically reduced, with its ability to quickly read, understand, compare, and extract data from different sources.
We have crafted a powerful bot powered by this advanced AI technology so companies don't have to spend hours manually managing their sales sheets. All you need to do is provide the ElectroNeek recipe bot with two Microsoft Excel files containing monthly sales reports, and the bot will do the rest.
The ElectroNeek bot reads the sales information from the Excel spreadsheets and sends the report data to ChatGPT with a query containing the report analysis details.
Now you can provide your clients with a tailored email summary of their reports that contains everything needed for informed decision-making.

Leverage RPA and Generative AI to Enhance Your IT Service Business
If you can take advantage of this revolutionary integration with ElectoNeek RPA software and OpenAI's ChatGPT, you are well on your way to to delivering cutting edge services to your clients.
In addition to these use cases there are thousands of ElectroNeek bots that can integrate with ChatGPT API. A proprietary HTTP Request enables you to make calls directly into this AI, leverage the drag-and-drop ElectroNeek platform to simplify your integration.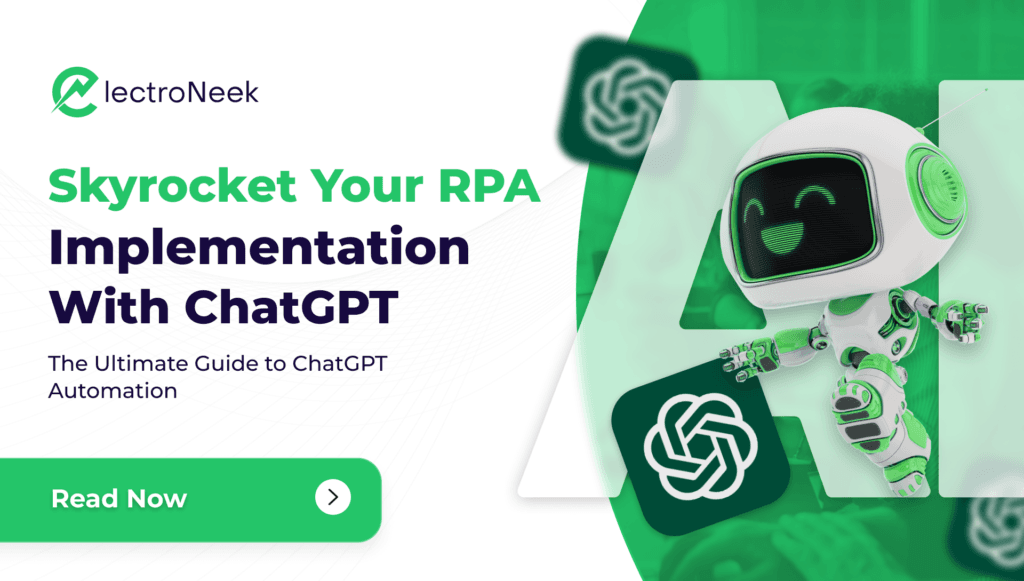 ElectroNeek is the only RPA platform tailored to IT Service Providers. We make it possible for solution providers worldwide to leverage the power of RPA for SMBs.
We safeguard your bots to keep your customers safe and don't demand a bot license fee, so you can expand your business and generate recurrent income without any limits.
Furthermore, our Automation, Business, and Service Hubs give you a ready-to-go solution to provide RPA-as-a-Service. Our mission is to give you maximum value from the get-go.