ElectroNeek Robotics is an award-winning RPA platform hailed for its business model, which focuses on mid-sized businesses and managed service providers.
This article will discuss what exactly makes ElectroNeek the best RPA vendor for MSPs, and how MSPs can take advantage of the vendor's robust ecosystem and free bot licenses to grow their business exponentially.
Robotic process automation is trending, and not only in the enterprise segment
RPA is among the most hotly debated topics in the enterprise technology sector. The combined revenue of RPA solutions is forecasted to reach approximately $2 billion in 2021, according to Gartner. The top five vendors, holding the major chunk of the market share—UiPath, Automation Anywhere, Blue Prism, NICE, and Pegasystems—are mainly focused on the enterprise market.
Still, digital transformation has come to managed service providers too, and so far, it's uncharted territory. MSPs are dealing with the pressure to offer exceptional service quality, while their clients expect to reduce their risks, consumption of resources, and costs related to software ownership.
In such circumstances, robotic process automation seems to be the perfect solution for MSPs' challenges. It offers instant and cost-effective automated business processes with the help of RPA bots, which are fantastic time-savers in management, administration, troubleshooting, and other routine operations.
RPA-as-a-Service for MSPs: ElectroNeek comes to the rescue
With a deep understanding of the market and expertise in RPA technology, ElectroNeek offers its solutions as RPA-as-a-Service (RPAaaS). This revolutionary business model, unique among RPA vendors, aims to help MSPs to provide their services seamlessly together with the RPA platform. The benefits of ElectroNeek's RPAaaS include scalability, better collaboration, a knowledge base, no technology lock-ins, and no upfront costs.
There are two key reasons why ElectroNeek is focusing on the MSP market:
To accelerate RPA adoption by building an MSP-focused ecosystem. With ElectroNeek, MSPs can build an unlimited number of bots, both for their own internal processes, and for their clients.
To make RPA technology more affordable for companies of all sizes. Depending on the size of the company and its business needs, end users—which are mostly IT teams—can either build one or two bots, or grow their RPA exponentially with dozens or even hundreds of bots.
The thing that MSPs value the most is maximizing their margins, which is very difficult in today's competitive RPA industry. ElectroNeek helps MSPs squeeze more profits by eliminating the costs of bot licensing and development tools.
Five reasons why MSPs benefit from working with ElectroNeek
ElectroNeek offers RPA vendors these key benefits:
A zero bot license fee model to help partners create a scaled automation environment without any expensive platform licenses.
Easy deployment and implementation of bots. It'll just take a couple of weeks to start working on a project, so MSPs can realize ROI quickly.
A multi-tiered Global Partnership Program that helps MSPs build their RPA services brand, generate more leads, and grow their business.
A comprehensive knowledge academy with numerous courses to accelerate the adoption of RPA solutions.
SOC2 compliance and a number of other security measures are in place to avoid the risk of data leakage and fraud, along with comprehensive audit capabilities.
RPA tools by ElectroNeek that are available to MSPs
Studio Pro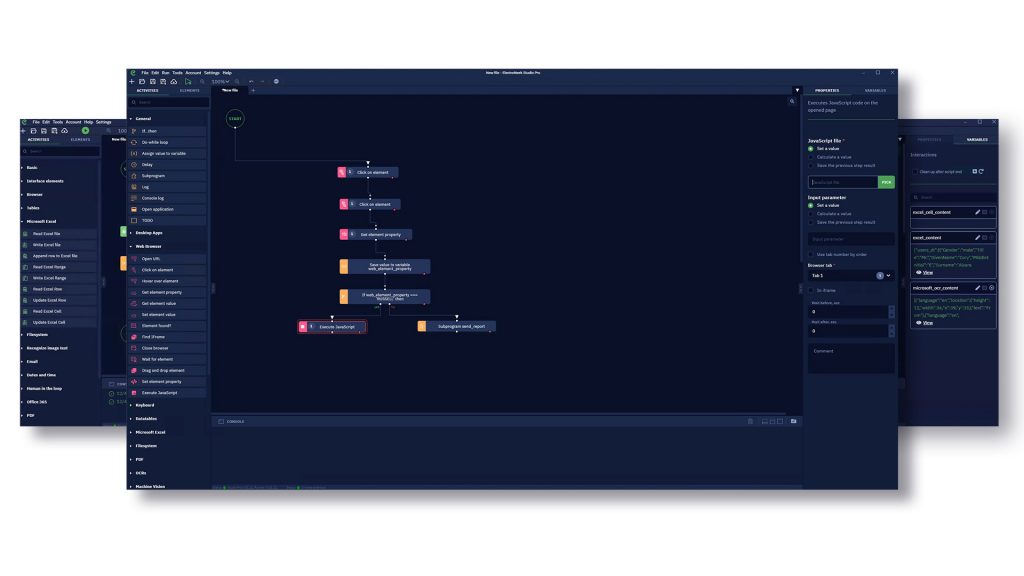 Studio Pro is an intuitive low-code/no-code platform for building RPA bots. ElectroNeek's easy-to-use integrated development environment can be used on-premises or in the cloud. MSPs don't need a commercial license to run bots developed with Studio Pro in their client's infrastructure.
Some key activities that can be performed in Studio Pro include:
Flowchart programming UI
Programming logic
Web scraping
Windows GUI scraping
Email parsing
Database processing
API requests
Programming languages
Debugging
Feel free to discover all the capabilities of Studio Pro →
SaaS Orchestrator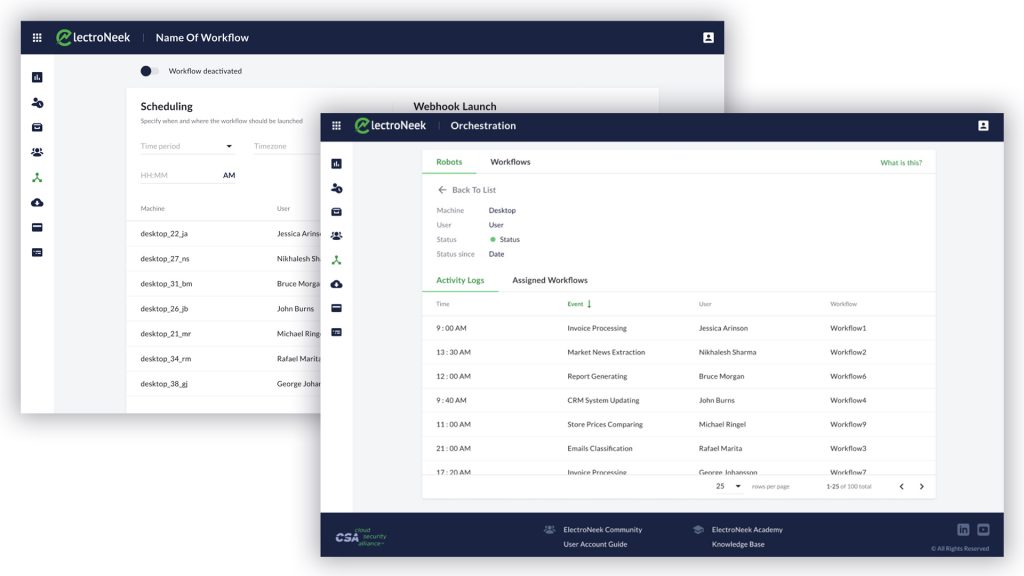 Orchestrator is a browser-based administration hub that helps MSPs manage and deploy RPA bots at an enterprise scale. It's basically a single control room to monitor and manage a bot workforce for multiple clients from one dashboard.
Here are the key capabilities of Orchestrator:
Enabling RPA Admins to monitor and manage all the bots in your ecosystem
Enhancing RPA bots' capabilities through APIs, webhooks, Zapier and other SaaS integrations
Improving RPA bot maintenance by deploying granular bots and connecting bots to longer queries
Learn more about Orchestrator →
Bot Runner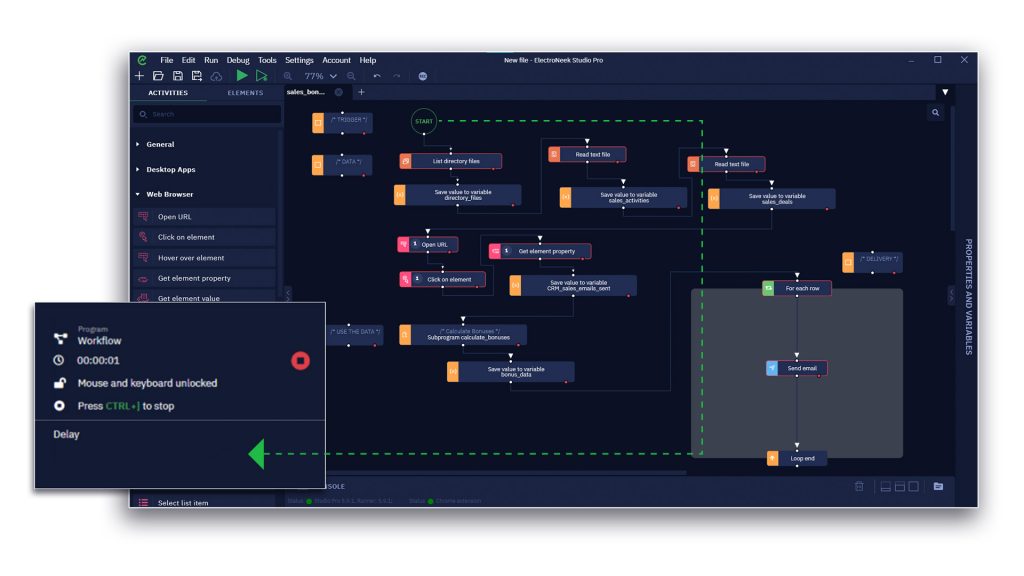 Bot Runner is a free platform to run RPA bots designed in ElectroNeek Studio Pro. It works on any supported Windows OS computer, whether it's a physical or virtual machine. Users can have multiple bots running in parallel without needing to purchase a commercial software license.
ElectroNeek Bot Runner can be used to run both attended and unattended bots anywhere in the world. You can install Bot Runner for free and use it without paying for RPA bot licenses. This boosts business productivity and can save RPA vendors thousands of dollars a year.
Discover the capabilities of Bot Runner →
What ElectroNeek's successful funding round means for MSP partners
Recently, ElectroNeek's valuation stood at around $105 million when it raised $20 million in a Series A round of funding in June 2021. ElectroNeek has successfully developed its vision into a smart and powerful technology that can be easily used to grow an MSP's business and keep margins high.
The products by ElectroNeek are already well-received by the market, so now the company is looking forward to building a strong partner ecosystem. To make this happen, ElectroNeek has successfully raised capital to attract more RPA talent, enhance their product to meet increasing customer demands, and keep operations running smoothly.
With the latest capital injection, ElectroNeek has moved one step further in its mission to drive mass RPA adoption by offering the best tech to the market. This initiative will empower ElectroNeek's partners to deliver the best service and win more customers.
The bottom line
RPA is a dynamic industry, and due to the strong competition, MSPs have been struggling to keep pace with their customers' demands and maintain their margins. As an MSP-focused RPA vendor, ElectroNeek can help MSPs strengthen their market positions and profitably build and deploy bots for their clients.
To learn more about how a partnership with ElectroNeek can benefit your business, feel free to book a demo or contact one of our sales representatives.