Robotic Process Automation (RPA) has gained a lot of traction due to its advantages, such as higher employee productivity, savings in terms of operational efficiency, better customer service, and more. But does this mean that managed service providers (MSPs) who sell RPA are also making lots of money?
Well, there's no simple answer. Amid the rapid growth in the RPA market, the competition between MSPs is also growing. Plus, the customers are looking for cost-effective solutions, but if providers try to offer more affordable automation prices, their profitability takes a hit.
For an MSP, it's crucial to find a way to maximize margins from its new RPA tools while staying competitive on the market. In this article, we'll consider three strategies MSPs can use to increase their profitability.
Strategy #1: Maximizing margins by driving down costs
MSPs have been advising firms on how to save money on automation initiatives. It's only natural to take their own advice and manage their expenditures in every way possible. Driving income is important, but minimizing costs is also key.
Here are a few ideas for MSPs that can help them successfully keep their revenue streams in the green:
Choose a cost-effective RPA platform
An RPA pricing package already includes a lot of overhead, such as costs related to equipment, IT staff, data recovery, and others. However, one of the main costs for MSPs is the platform license. Typically, using RPA software requires a license, and fees are to be paid on an annual or monthly basis. Furthermore, MSPs often need to pay extra per bot, especially for unattended bots (as they are usually more expensive than attended ones).
An alternative to this approach is ElectroNeek, a full-featured RPA platform available for partners among managed service providers. ElectroNeek offers its main components at no extra cost and doesn't require you to pay for platform licenses. Thanks to this beneficial business model, MSPs can use this RPA platform to build a scalable automation environment.
Furthermore, if a service provider is building their RPA capabilities with ElectroNeek, there's no restriction on the number of attended and unattended bots. The MSP can deploy and run an unlimited number of bots in their client infrastructure free of charge, and make a profit on bot development and maintenance.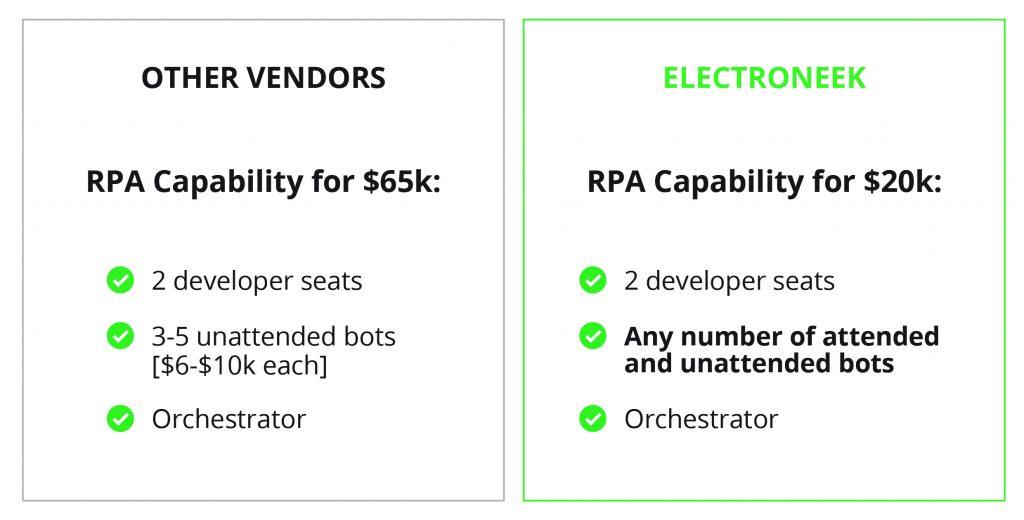 Incorporate scalable RPA tools
Scalability is a key factor for MSPs to consider when choosing an RPA platform. Whether you are expanding your business or planning to offer more custom services/product bundles, your RPA solution should have the capability to handle all the extra work. A scalable RPA solution can help obtain new or maintain recurring revenue streams.
Again, we can explain the benefits of a scalable RPA tool for MSPs using ElectroNeek as an example. ElectroNeek lets you scale the number of bots either up or down as you go. If you need, you can build hundreds of bots for any RPA use cases without the need to pay for additional licenses and offer them to as many clients as you want.
Last but not least, ElectroNeek's low-code/no-code development environment lets you create processes to develop new solutions quickly and cost-effectively.
With these benefits, MSPs will be able to scale quickly without the need to add more resources by leveraging the power of RPA to automate their internal repetitive tasks and intelligently cut costs (which positively impacts profits).
Strategy #2: Upselling additional services
This logical method to find a new revenue stream might seem easier said than done. Many MSPs assume that if their clients use cloud services, such as Office 365, Google Apps, etc., they are 100% satisfied, as these services usually include backup and security solutions. However, there are certain cases when the customers might need the help of managed service providers:
There may be end-of-life services, apps, and products that your clients are using but they'll need to abandon soon, so you can offer your recommendations.
Your customers are not interested in learning how to add a new user or which dashboard to use for changing a password. Offer them an easy way by making things happen for them.
Offer an additional layer of backup against the protection offered by their current services (such as Google Apps) to restore data and fix other errors. Many of the backup solutions offered by these services are limited. For instance, Office 365 can help restore an important email within 14 days. But what if a client wants to restore an email deleted a month ago? This can be a recurring revenue stream for RPA providers.
Remotely or from the office, your clients work using their desktops and laptops. They may require help with software installations, for example, antivirus, monitoring, etc.
To summarize this point, an additional revenue stream can be generated for MSPs by offering ongoing support, data migration, remote monitoring, and other additional services. Leveraging an affordable RPA platform such as ElectroNeek will let you manage these activities smoothly by making use of automation.
You can use ElectroNeek's Studio Pro product to build bots to perform these tasks. Another product they offer is Orchestrator, an online service which enables you to monitor and manage these activities for multiple clients from a single dashboard. And if your client wants to use your services in multiple locations, you can use ElectroNeek's easy-to-use Bot Runner to deploy bots created in Studio Pro in multiple locations.
Similarly, you can use the ElectroNeek platform to monitor your clients' workstations remotely and automate IT-related tasks such as patch management, antivirus installations, user onboarding/offboarding, data migration, etc. This means that you will be saving money on hiring additional resources, as only a few technicians can do this job with an RPA platform.
Strategy #3: Enhancing RPA client experience
Some businesses still look at their customer service as at overhead that needs to be optimized. So, they spend their efforts trying to cut their support team spendings by, for example, outsourcing. At the same time, other companies have managed to turn customer service into a benefit that helps them stand out in the crowded market and generate more revenue.
Provide responsive tech support
As an MSP that your clients already use and trust, you can take it a step further and provide them with safe and secure support services to help them tackle various issues, such as downtime or cyberthreats. As a rule, in-house teams can't complain about the small workload, so many customers would appreciate it if you could contribute your expertise and augment their capabilities.
Offer RPA training to your clients
Without proper training, there's a chance that your clients won't get the maximum value from the service they paid for. Thus, they might not be fully satisfied or eager to recommend you to their partners.
By providing learning, you create a resource that works as your brand advocate. It promotes all the newest, most useful and exciting features, as well as encourages your clients to apply them in practice. The good news is that providing customer training nowadays doesn't necessarily mean huge expenses on coaches and year-round business trips. With modern technologies such as eLearning and mobile learning, you can provide evergreen training content that's accessible on demand and can be taken at one's own pace.
Conclusion
The strategies offered in this article will help MSPs address the issue of maintaining or increasing their profitability by employing a high-quality RPA platform to automate their clients' business processes and expand the scope of their solutions.
ElectroNeek is an example of such a platform, and it offers the affordability and flexibility to quickly build on-demand bots on a large scale to suit the client's requirements. ElectroNeek can help MSPs stand out from the crowd by automating many business processes.