Digitalization creates new opportunities across the enterprise and shifts expectations for how IT supports the rest of the business. To achieve digital business's strategic goals, management must make the commitment to invest in building a team of digitally savvy people. However, this task is not an easy one, so many business owners are not sure how to get started.
Executives can no longer take a slow, reactive response in building digital capabilities. They must rethink how they approach the workforce transformation through a holistic, integrated strategy. A strategic workforce plan is critical to building a continuous pipeline of high-caliber talent.
The secret to digital is analog. By analog we mean people. People who are collaborative, agile, analytical, innovative, and have the ability and desire to exploit emerging technologies for better business outcomes.

Tina Nunno
Vice President and Gartner Fellow, Gartner Research
Essentials for workflow digitalization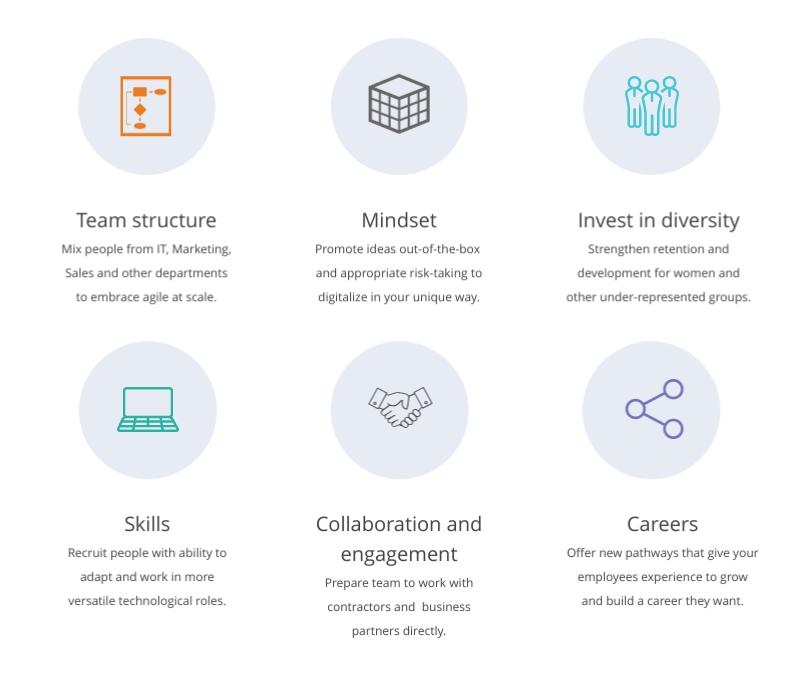 With the right digital talent management practices, executives can build a high-impact digital workforce that will enhance digital business performance and customer experience.
However, working with new programs and applications, managing unfamiliar business processes - all of this has to be learned fast and used daily. In reality, there is a way to streamline business processes leaving unnecessary routine operations in the past.
Technologies, such as Robotic Process Automation (RPA) and Optical Character Recognition (OCR) are good examples of valuable tools for employees who are standing in a path of workplace digitalization.
RPA mimics the actions that people do in front of a computer using a mouse and a keyboard to do daily office tasks. For instance, extracting information from an invoice or contract and entering data to a spreadsheet or CRM system (Salesforce) can be performed by programmed robots. It allows employees to spend less time on routine and get more involved in more exciting, higher-value assignments that require strategic and analytical skills.
---
ElectroNeek is an intelligent automation platform that is aimed to reduce the number of rule-based, highly-repetitive tasks performed manually by people in every department.
What is also important is the fact that ElectroNeek is focused on the needs of not only IT professionals but business users too. Even junior IT folks and sales, marketing managers can use ElectroNeek and build powerful automations in hours. With People Dashboard they can also analyze productivity and automatically find automation opportunities in their workflows. ElectroNeek efficiently works in legacy systems and without API, making no significant changes to your existing IT infrastructure.
A single automated process with ElectroNeek can generate $100k-$250k in business impact. The significant time savings on the execution of repetitive tasks allows people to concentrate on more strategic and higher-value business processes.
In the meantime, bots process data 10-100x faster than employees so the routine tasks are completed accurately and more efficiently than ever before. Taking humans out of the loop also opens the door to new opportunities for people to discover a new passion at work or learn new skills, get a promotion, etc.
Unlike all other business process automation vendors, we let customers automate as many processes as they want and run them concurrently. It drives scaling costs to $0 (other vendors will charge for each procedure you automate and run simultaneously). Today, you can try this feature in our Enterprise plan.
To learn more about the use of ElectroNeek RPA in your workplace, reach out to our automation experts.