In its recent research on the RPA Market, Gartner listed ElectroNeek as one of the promising global Robotic Process Automation (RPA) vendors. This year, G2 listed ElectroNeek as a Top-3 RPA platform in the US, based on verified user feedback.
As one of the most respected RPA researchers in the world, Gartner outlines actual clients' evaluations. It's attention to the ElectroNeek is a crucial indicator of traction among its enterprise clients. It also displays a critical client's demands validation from the company's core potential customers in the mid-market.
Earlier this year, in another study, 'Gartner Top 10 Strategic Technology Trends for 2020,' they introduced the world to hyperautomation, the technology that combines next-gen tools in order to automate, simplify, transform, design, manage and analyze workflows and processes across the enterprise.
ElectroNeek supports and develops the vision of hyperautomation by offering self-service of the platform to business users with out-of-the-box analytics and workflow development capability for any users without profound IT skills.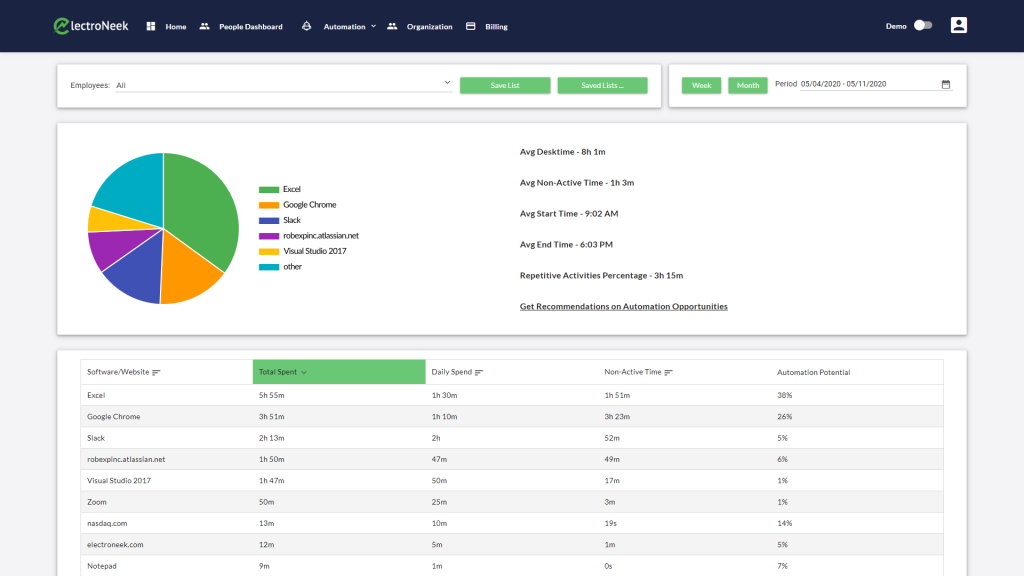 Why companies address ElectroNeek solutions
G2 has named ElectroNeek the easiest to use RPA platform. However apart from it ElectroNeek offer a vast number of benefits, such as:
1. Flexibility
ElectroNeek solutions are flexible and can be customized to the businesses of various sizes from small companies to large corporations, such as Softline and Electrolux.
Here are the list of the industries where we are successfully represented:
2. Affordable pricing policies and free bonuses
The 3 packages of pricing prove flexibility in pricing policies as well:
Team package
Business
Corporate
Free offerings: unlimited free bots in Enterprise package, 14 days trial, product tour and online training
3. End-to-end solution
ElectroNeek is an end-to-end solution with a well thought-out customized functionality
Key solutions:
Automation Hub – Management suite with suggested automation opportunities and benefits
People Dashboard – analytical tool for automation scope estimation
Studio – a tool for automated workflows creation
Robot – task execution
Orchestrator – scheduling and governing workflow tool
Learn more about ElectroNeek's self-service features, including automation recommendations and no-code workflows design by Booking a Demo of ElectroNeek Phoenix release.
With ElectroNeek, you can receive automation recommendations tailored to your business processes, cut costs on the unused software and increase the efficiency of your team's performance.
You will be able to schedule, launch and control custom programmed automation specifically focused on your strategic business goals.