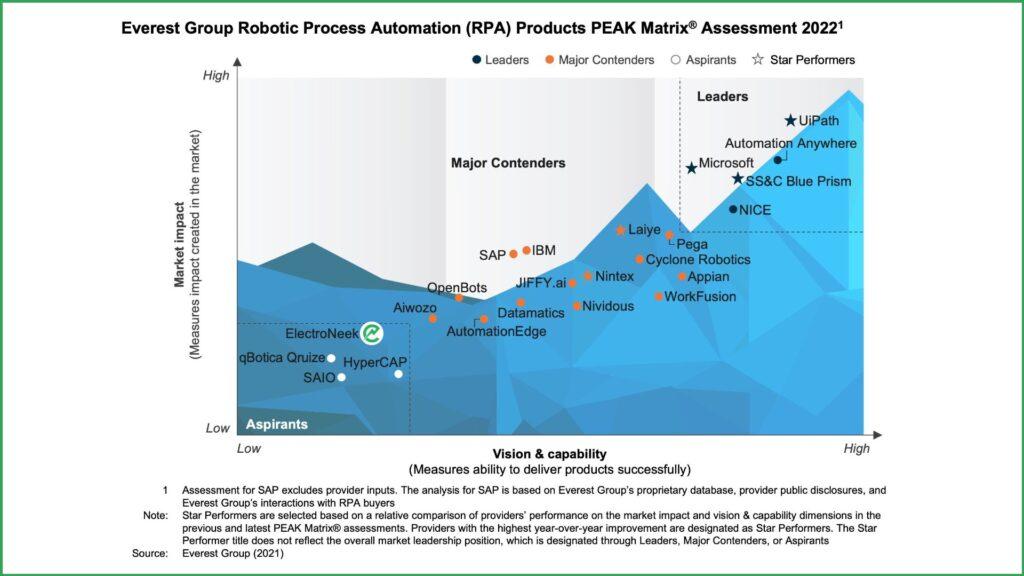 ElectroNeek Continues its Hockey Stick Growth in 2022
Unlike all other Robotic Process Automation companies in Everest's Matrix, ElectroNeek works with IT Service Providers as clients, not channel partners. Its platform, support, and customer success are designed exclusively to support small and medium-sized IT Services firms, enabling them to deliver automation to their clients successfully, monetize software bots, and capitalize on the growing demand for automation services. Recognition as a top aspirant in the industry, among vendors that predominantly serve Enterprise end-users ('traditional' RPA market), is another validation of ElectroNeek's vision for the key role of small and medium-sized IT Service Providers in the growth of the global RPA market.
What is the Everest PEAK Matrix RPA report?
The Everest Group publishes the PEAK Matrix RPA report annually, offering an objective, data-based review of RPA technology services provided by different vendors, their capabilities, their process assessment for RPA, and their impact on global markets.
The Everest report extensively describes top RPA technology providers, their locations, the products, and solutions within a task, workflow, or industry. Every Everest RPA report uses a peak matrix, which divides the RPA companies into three categories: leaders, major contenders, and aspirants.
What's Next for ElectroNeek?
"We are very proud to be represented in the Everest Group's Peak Matrix report this year and will continue to deliver the best-in-class automation platform to our customers - IT Service Providers. ElectroNeek is aimed at significantly growing market impact in 2023 with the upcoming investment round.
Our efforts will be focused on further growing the customer base, expanding our tech capabilities, and democratizing automation business opportunities for the IT Services market."
Sergey Yudovskiy, Co-Founder & CEO of ElectroNeek