October 12, 2023, Austin, TX - The Everest Group's Peak Matrix RPA report placed ElectroNeek at the top of the Aspirant category for the 4th time in a row. Compared to 2020 and 2021, ElectroNeek keeps advancing on the market impact scale, underscoring the company's consistent growth and innovation in the automation industry.
The Products PEAK Matrix® evaluation dimensions by the Everest Group measure the impact that companies created in the market and their vision & capability. Some aspects are considered Inside these dimensions, such as Market Adoption, Portfolio Mix and Value Delivered, Vision and Strategy, Deployment and integration, and Product Training & support, among others. That represents that ElectroNeek, once again, showed its commitment to the Automation industry as a Top Aspirant.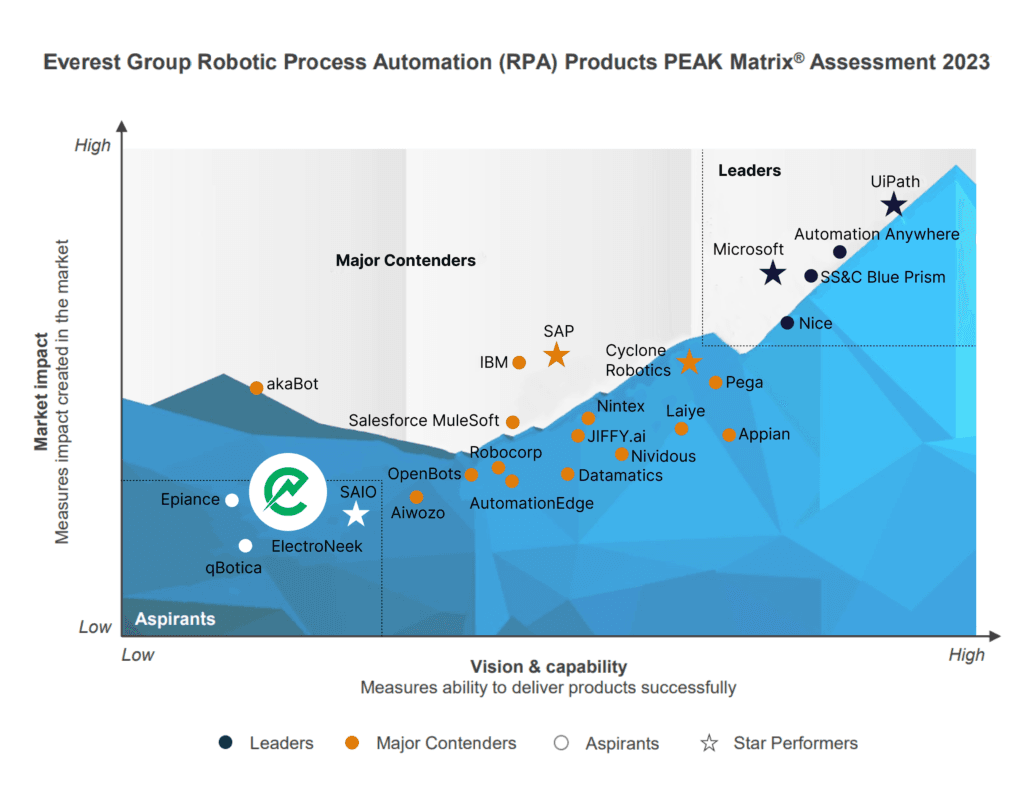 What is the Everest PEAK Matrix® RPA report?
The Everest Group publishes the PEAK Matrix RPA report annually, offering an objective, data-based review of RPA technology services provided by different vendors, their capabilities, their process assessment for RPA, and their impact on global markets.
The Everest report extensively describes top RPA technology providers, their locations, the products, and solutions within a task, workflow, or industry. Every Everest RPA report uses a peak matrix, which divides the RPA companies into three categories: leaders, major contenders, and aspirants.
ElectroNeek's Next Steps and Plans
Over the last few months, ElectroNeek has been working on improving its products with AI features and has been preparing for significant market launches.
"Our fourth consecutive recognition as a Top Automation Aspirant by Everest Group is a testament to our continuous pursuit of innovation and dedication to delivering powerful automation solutions. This achievement reflects our team's relentless efforts and our clients' trust in us. We're more determined than ever to keep pushing the envelope, offering cutting-edge solutions that transform businesses."
Sergey Yudovskiy, Co-Founder & CEO of ElectroNeek
AI Workflow & AI Code Generation: Build automation workflows from scratch with the generator feature from simple textual descriptions.
Ask AI & Edit with AI: RPA bots that can tackle complex tasks like document analysis and prospect communication, enabling more intelligent and versatile bots!
AI for ElectroNeek Documentation: Now you can use this new AI Chat feature to gather information about the ElectroNeek platform, our API Documentation, Release Notes, and helpful How-to Articles.
Now, more than ever, it's possible to use the platform without being a customer. Designed for non-developers or tech-lovers, you don't need to understand coding to be part of it. You can access part of ElectroNeek's features, integrated with GPT for community users, and perform functions such as building workflows, running Studio Pro automations, accessing part of the support, and more.
ElectroNeek recently launched its Partner Program, allowing new businesses to become partners, resellers, or affiliates in a robust program. As part of the program definitions, the end-to-end support of operations is one of its main differentials. Compared to other programs on the market, this one program stands out precisely because of its flexibility, the tools it provides participants, and its support.