Supporting your RPA-as-a-Service business from the start till the end and beyond
Who is ElectroNeek?
ElectroNeek is an award-winning Robotic Process Automation platform for Managed Service Providers, System Integrators, and RPA consultants, backed by Y Combinator.
ElectroNeek focuses on providing RPA products and services that create business value for its users and helps them win more customers and generate more revenue.
Our RPA solutions are scalable with free RPA bot licenses, so you can quickly build bots within hours (not even weeks) and deploy them anywhere without adding overhead.
---
ElectroNeek offerings
Studio Pro
Whether you are extending your business by offering RPA services or taking your first step towards RPA implementation, ElectroNeek makes it easier to adopt and scale RPA without breaking the bank!
Do you want to kickstart your business with a quick and easily scalable RPA solution, win more projects, and earn more revenue? We have the right product for you!
The Studio Pro is a premium and cost-efficient product with free bot licenses*. It means you can build and deploy RPA bots on your clients' machines without passing the additional licensing cost.
You can develop bots quickly and transform your clients' businesses even faster as the platform offers no-code/low-code simplicity with professional features that makes the process of building bots easier and significantly shorter.
* Free RPA licenses are for both Attended and Unattended RPA solutions.
https://i3.ytimg.com/vi/eplE0etacO0/maxresdefault.jpg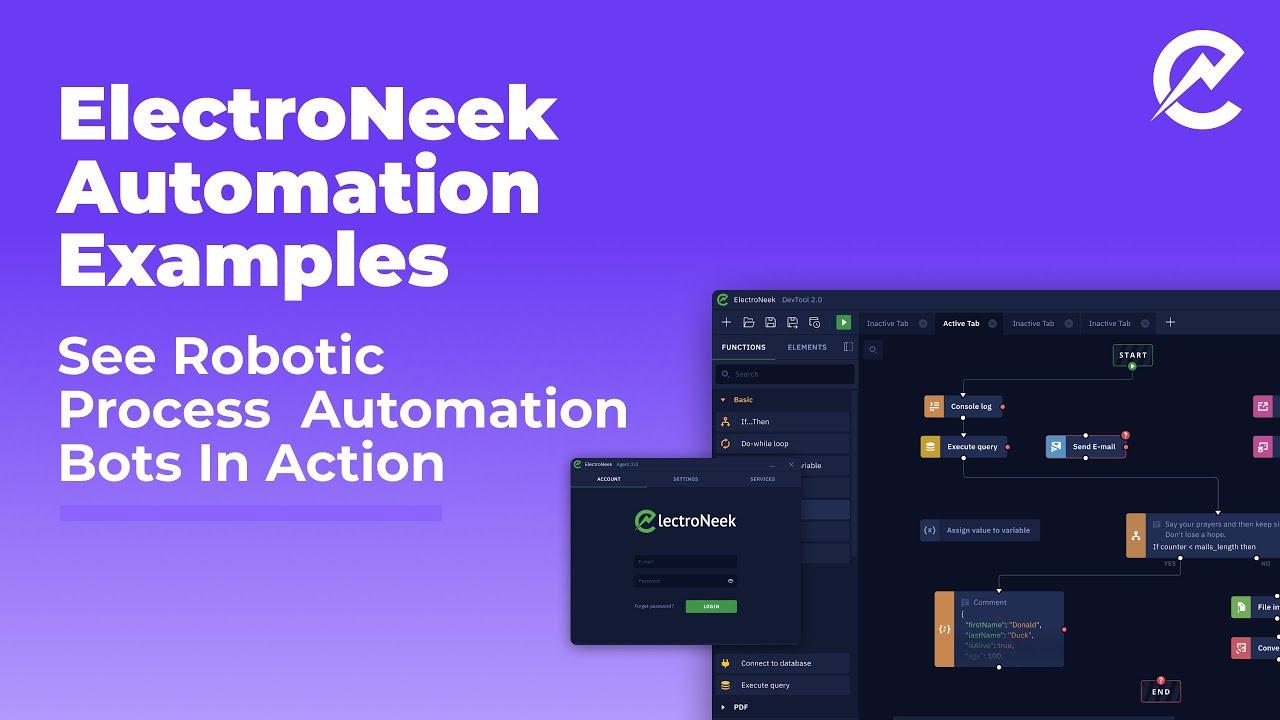 Orchestrator
ElectroNeek's SaaS Orchestrator is a secure, stable, and an intuitive RPA admin and control room that lets you build, and run your bots on desktop as well as virtual machines, build sequences, control bot status, and analyze their performance.
A majority of automation scaling projects fail to scale due to constant bot break-fix cycles that increase the cost of RPA maintenance, limited connectivity, and security requirements. The ElectroNeek Orchestrator has been built to help address these problems.
Bot Runner
The ElectroNeek Bot Runner is a free software solution where you can run multiple bots designed on ElectroNeek Studio Pro and any local or virtual Windows OS desktop.
Any business can install this software for free forever, and run an unlimited number of attended or unattended automation license-free.
Who is This Program For?
MSPs who are starting their RPA business: Register with us as a partner to quickly turn your RPA vision into reality. By becoming our partner, you can take advantage of the ElectroNeek's intuitive and versatile platform and resources to build your RPA business successfully.
MSPs who are extending their IT services to RPA: With ElectroNeek as your RPA partner, you can successfully move into the RPA market with all the right tools and resources. Leverage our extensive support and SLAs to build your RPA capabilities as you prepare to embrace RPA to grow your profits.
System Integrators: Make the smart decision to expand your offerings and add RPA services with a reliable RPA vendor. We empower our partners with technical, marketing and sales support along with training for successful clients engagements while reducing implementation risks.
Technology and management consulting firms: Whether you want to enter the RPA market or already have an established presence, we would like to have a conversation with you. Our team has significant experience and technological flexibility to meet and exceed your goals – achieve the highest level of customer satisfaction and win more projects.
ElectroNeek for Accountants
RPA is digitizing the Accounting and Finance function faster than you can imagine and helping the Accounting staff evolve their role and relieve them from time-consuming repetitive activities. ElectroNeek is a preferred vendor for Sage and a number of accounting firms.
Here is how Jason Staats, CEO of Realize, and one of our partners from an accounting community, takes advantage of ElectroNeek powerful automation capabilities:
Our Awards and Recognitions
Join forces with ElectroNeek & grow stronger together
The ElectroNeek Global Partnership program offers a practical approach to building, testing, certifying and marketing your RPA service. By partnering with us, you are enabled to:
Expand your RPA expertise
Extend your sales footprint
Enhance your brand
Grow your customer base
Develop new technical skills with robust training
Get ElectroNeek RPA certification
Get listed on our portal
Partner level and support
ElectroNeek understand that MSPs and System Integrators are under pressure to fulfil their clients' demands while also keeping their costs under control. At the same time, they are struggling to get an edge over competition and increase their own efficiency.
Having a partner-centric global program will help MSPs and System Integrators get over these challenges and pass on the benefits of RPA technology to their clients at affordable costs.
That's why we have a multi-tiered partnership program that offers a range of tools and benefits to build your expertise, and drive your RPA business growth.
Partnering with ElectroNeek means you have the:
Access to industry leading RPA products.
Opportunity to offer the best value and ROI to your clients.
SOC 2 Compliant products – the gold standard for security compliance.
Free bot licenses, so you will earn more by using our products.
Benefit to bypass IT procurement as you build bot with our free bot licenses.
Support of our Marketing and Sales resources to get more visibility, and assistance in lead generation.
Advantage to use our academy, knowledge base, and training to win more work successfully.
ElectroNeek Partnership benefits
The ElectroNeek intuitive RPA program makes bot development simple so you can expand your capabilities and build bots quickly and outpace your peers. Click the button below to book a session with one of ElectroNeek's experts and know more about the program benefits.
Don't jump on the RPA bandwagon without deciding on a reliable RPA vendor like ElectroNeek to drive tangible value and measurable business results from your RPA services.
Apply today to harness RPA as a competitive differentiator and build and grow your RPA business with ElectroNeek.