According to the Global RPA Study by Deloitte, process automation solutions improves productivity by 86% and cut cost by 56%. The pace of automation adoption is picking up amongst businesses of all sizes, and because of the current state of the U.S. job market, this could not have come at a better time.
Government data shows that 2022 was the second-best year regarding job growth, behind only 2021. However, the number of people available to work has decreased exponentially, resulting in what is referred to by Jerome Powell (U.S. Federal Reserve Chair) as a "structural labor shortage that is unlikely to be resolved anytime soon."
This forecast has grim implications for the U.S. economy, as a smaller number of workers makes it more challenging to tame inflation. Companies will have to compete for qualified workers, causing salaries to increase as well as prices.
This article will highlight real automation cases that will catapult you into providing valuable client services to combat low productivity and reduce costs for your clients. Automation aims to optimize employees' efficiency and help them focus on more meaningful and exciting aspects of their jobs.
Front Office Processes
The front office professionals are directly responsible for generating revenue for a company. The marketing team drives research campaigns to understand customer needs and runs promotional activities. The sales team is responsible for the company's growth in terms of product sales, subscriptions, and other offered services.
Repetitive front office processes related to data management and other rule-based tasks can interfere with the essential revenue-generating activities of the sales and marketing professionals. Coupled with a staff shortage, this can be a recipe for disaster. Short-handed staff can be more susceptible to errors and operationally unable to support the company's growth due to overwhelming tasks.
What Office Tasks can be Automated?
- Campaign management
- Analytics reporting
- Follow-up communication and sales requests
- Generating and sending quotes
- Updating customer information in CRM
- After-hours customer support
- Handling feedback
- Sending notifications by email or chat
- Updating client's profiles
- Real-time updates on purchase status
What are real examples of process automation?
Thrive Automation's e-commerce client specializes in selling second-hand clothing. The products are listed on multiple online platforms simultaneously, and when an item sells, employees manually delist the item from all the other online platforms.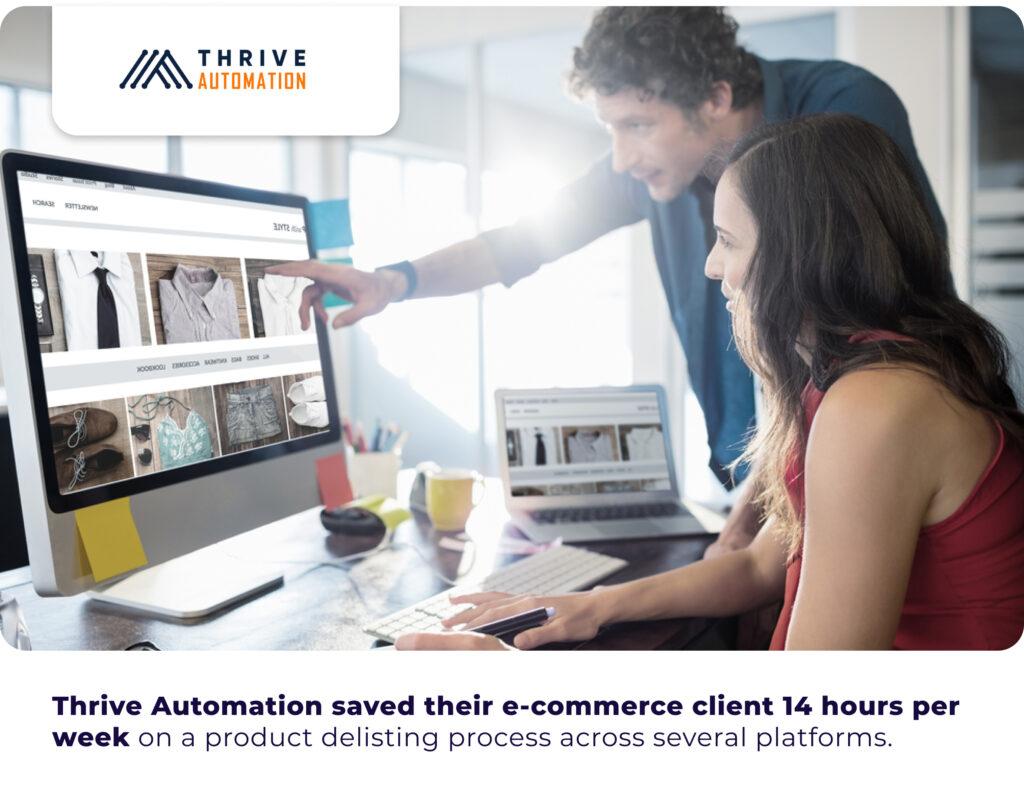 Thrive Automation automated the delisting process for the customer. This process was incredibly tedious and was done manually by employees, which cost the company more resources to carry out.
The automation flow includes setting up email triggers, automating web-based activities in Chrome, and interactions with platforms such as Shopify.
Thrive Automation saved its e-commerce client 14 person-hours per week, freeing up the employees' time to focus on more revenue-generating activities and cutting down the chance of human error.
Read the whole case study here.
Back Office Processes
Back office functions are critical in laying the foundation for any organization. The back-office applications involve administrative, accounting, compliance, IT, and maintenance functions. The main goal of the back office department is to plan, monitor, and improve ongoing business processes. Back office functions conduct data analysis, financial planning, and other information to make business decisions.
Back office staff, such as the IT department, accounting, and human resources, are responsible for managing the information system that can directly impact revenue generation. Repetitive tasks take away their ability to strategize for the greater good of the business.
What Office Tasks can be Automated?
- Extracting billing information
- Processing transactions
- Sending and processing invoices
- Accounting reconciliation
- Preparing financial data for audits
- Employee surveys and onboarding
- Managing payroll and other compensation
- Time-record validation
- Handling compliance
- Back ups
- Data migration
- Testing of websites and applications
- Managing events
- Security and compliance
What are real examples of process automation?
Roth Automation utilized ElectroNeek RPA for a fire and safety client that needed to process invoices. This client had three employees spending several hours per day producing and sending invoices. This was inefficient because it took employees' time away from more valuable tasks and increased the likelihood of manual error.
Roth proposed a fully automated invoicing process built with ElectroNeek software bots to eliminate manual work. The result saved the client hundreds of hours per week and significantly improved their cash flow.
Read the entire case study here.
Automation Hub Recipes for Streamlined Office Processes
ElectroNeek's recipes empower you to deliver business value to your clients quickly and easily. Recipe tutorials can help you hit the ground running so you can implement office functions for your clients to help them optimize how they interact with customers.
Back office duties related to finance, IT, and Human resources are essential operations that require handling an immense amount of data. Our Automation Hub offers versatile recipes to help you quickly implement and streamline critical back-office processes for your clients.
Automation Hub Recipe: How to execute macro activity
https://i3.ytimg.com/vi/67JytowliWE/maxresdefault.jpg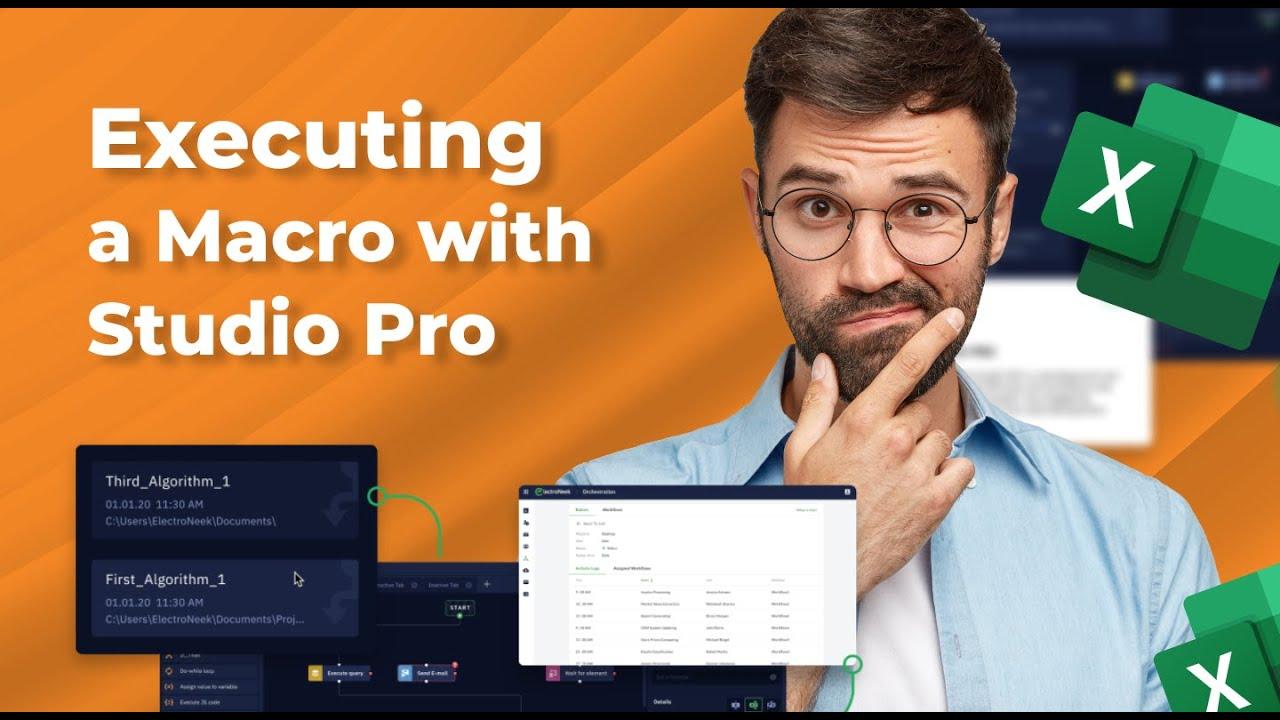 Excel Macro is a record and playback tool that records your actions within Excel, enabling you to play back the activity as much as you want. Excel is an essential tool for back-office operations and is commonly used to work with a large dataset. Macros involve importing and formatting data to your requirements. Automation can transform this tedious activity into a streamlined and efficient task operated by bots that take the pressure off the back office employees and further reduce potential errors.
Want to see more recipes? Book a demo with us here.
ElectroNeek's RPA services
The front and back office processes are crucial functions of any business, regardless of size. Though these processes are essential, they can be repetitive and time-consuming, requiring abundant labor resources. The nature of the labor market is set to exacerbate these conditions unless businesses take action. RPA can be a solution that supports businesses in a shrinking labor market by helping to reduce labor costs and improve efficiency.
As with any technology, small and medium-sized businesses are the latest to adopt robotic process automation but yield the most significant benefits. ElectroNeek delivers everything you need to implement automation solutions for your client's front and back office functions. With ElectroNeek Recipes, the power is in your hands, and you have all the resources to train your team to build automation to help your clients increase productivity.
Click here to book a demo to learn more.