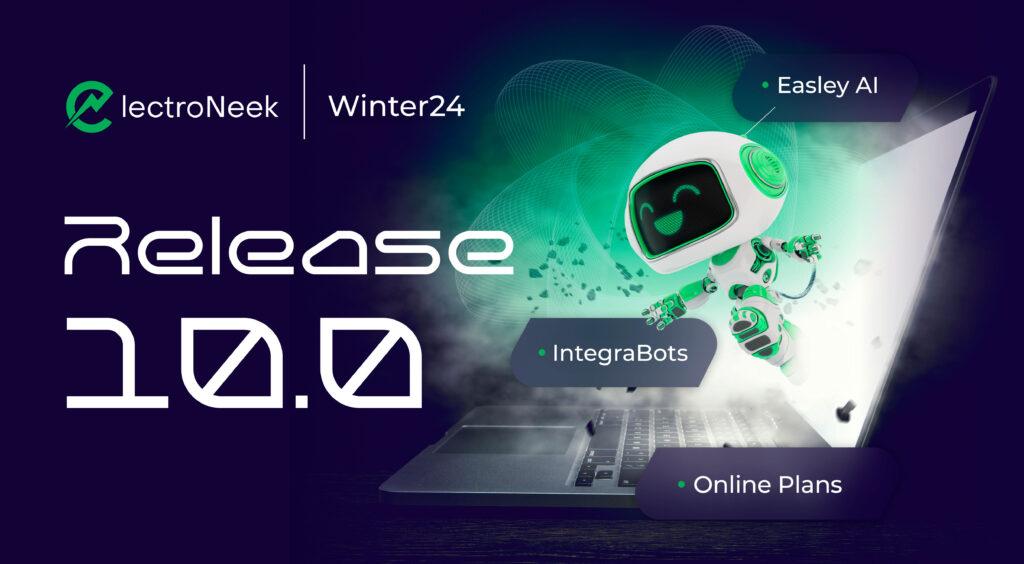 November 15, 2023, Austin, TX— ElectroNeek proudly announces the Winter '24 Platform Release 10.0. The major release 2023 delivers advanced AI automation features across the platform, opens access to integration platforms with 150+ connectors to popular SaaS apps, and expands the availability of free features in Community Edition, such as Cloud Orchestration and Intelligent Document Processing.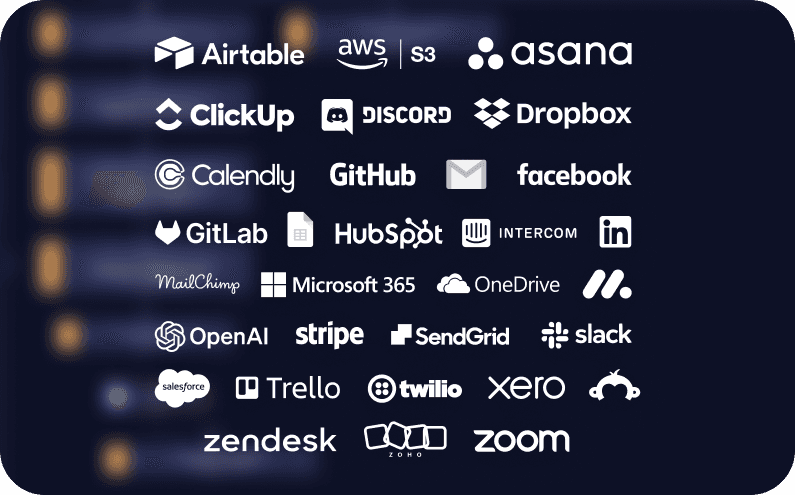 Our Newest Integration Platform (iPaaS), web-based no-code workflows with pre-built connectors to 150+ popular apps and the ability to interact with other workflows with API. Now, you can build and run automations without any desktop software. 

The introduction of IntegraBots exponentially expands ElectroNeek's integration capabilities by revealing an iPaaS (Intelligent Process Automation as a Service) web-based workflow canvas and bot runner.   
This landmark addition to the ElectroNeek Product Roadmap has +150 connectors and +30 no-code activities that support building workflows of any complexity. With this new feature, the ElectroNeek platform supports all kinds of process automation - desktop and browser (RPA), document processing (IntelliDocs), and SaaS (Integrabots), and their management in a cloud (Orchestrator). With the addition of IntegraBots, businesses can put aside other automation tools because one integrated platform has them all.
IntegraBots is not an alternative to Studio Pro or Bot Runner, but it is a complementary feature that enables all ElectroNeek components to connect with SaaS applications natively. Workflows built solely in IntegraBots have an advantage of time to value - they can be built in minutes, and running them doesn't require a local or virtual machine.
Easley AI: Easy. Accessible. Simple. Leading-Edge. and for You!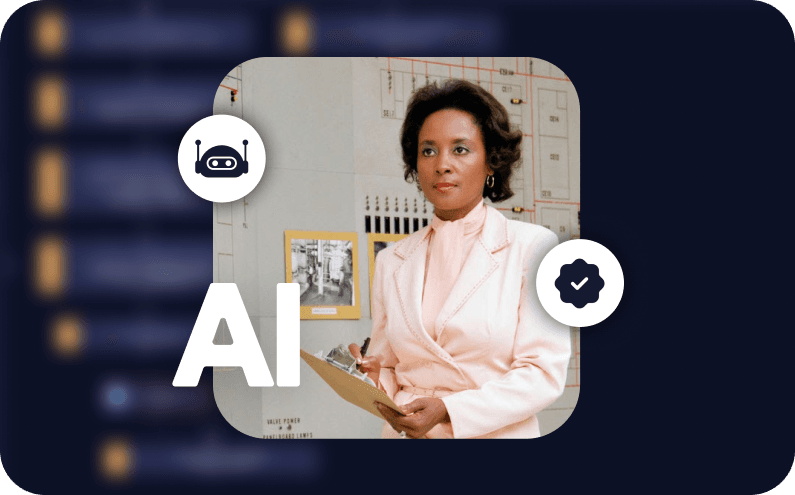 Leverage Generative AI technology, transform unstructured business processes into workflows
Build automations 10x faster
No need to be an RPA developer to automate tasks
Your All-in-One Automation Feature
The Easley AI, an embodiment of ElectroNeek's innovation, has undergone a significant evolution. Users can witness an expanded functionality, enabling text-based interactions and generating complex workflows. Notably, Easley AI's enhanced support offers instant assistance to users, furnishing answers to queries, sharing documentation links, and delivering educational & training resources. 
10.0 Release delivers significant improvements to AI capability to build RPA workflows in Studio Pro, bringing the whole suite of no-code activities in Studio in what can be automated with Easley AI. It also delivers the ability to provide support by AI agents and improvements in 'Ask AI' activity that bots can utilize during workflow execution to tap into the power of Generative AI and LLMs. 
To make Easley AI more accessible to all customers and community users, we introduce ElectroNeek AI credits, which will count towards usage of these features across products, and each user in the platform, no matter their configuration will get a certain number of AI credits, so they can experience this innovative approach to automation, that will ultimately replace the automation experience as we knew it before. 
To address the process automation needs of small teams and SMBs, we introduce the ability to buy newly introduced platform plans - Developer, Team, and Business, online, passing by our traditional sales channels. These plans come at an affordable price point and introduce new mechanics and limits - workflow runs count, so teams with small volumes of automation tasks and users on the platform can find greater ROI on their investment in intelligent automation.
Enterprise customers' professional services
To better support its Enterprise users with the 10.0 release, ElectroNeek started offering extended Support options, including global business hours and professional services that tap into the knowledge and experience of a team that delivered intelligent automation to multiple Fortune 500 clients and hundreds of fastest-growing companies in North America.
Winter '24 release comes with revamped product features for resellers and a reimagined Business Hub with many enablers to Service Providers in Sales, Marketing, and HR to better support the success of our resellers. With the new partner program, each includes an NFR version of the platform for internal commercial use at MSP and paths to up to 50% partner margin, ElectroNeek reinforces its position as the best RPA partner to MSPs whether they are starting an automation service business or are already scaling it.
New Community Edition: 2.0 version for All Users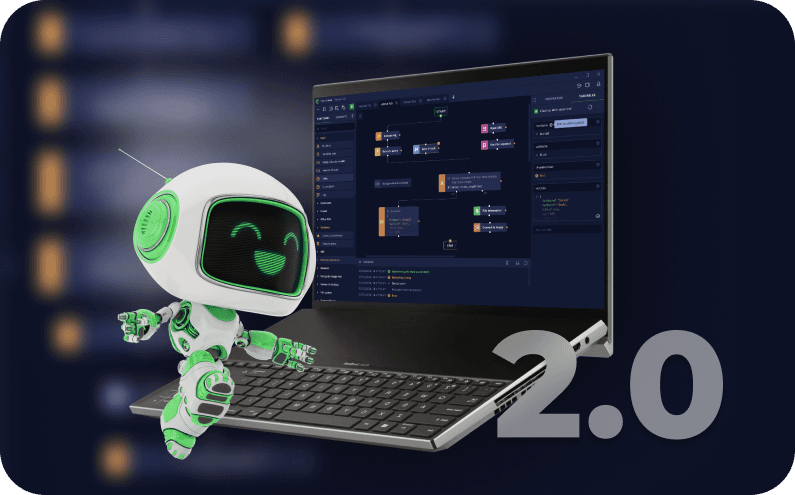 The latest version of Community Edition, now in its 2.0 phase, has surged beyond its initial RPA-focused phase. It now includes all features in the paid version, although with certain usage limitations.
ElectroNeek has removed constraints within workflows, empowering users with limitless possibilities for automation, positioning the Community Edition as a freemium version for exploration before making purchase decisions - and for users to experience all the potential of Intelligent Automation within the platform.
"With this significant update, we're not just pushing the boundaries; we're setting a new standard for what business process automation should be. ElectroNeek has always led with innovation, and today, we take a giant leap forward.  We're making it easier for humans and software robots to collaborate, integrating AI to enhance development and support, and introducing flexible pricing plans. It's not just about technological advancement; it's about delivering real, actionable solutions for businesses. Welcome to the future of process automation—available on the ElectroNeek platform today".
Sergey Yudovskiy, ElectroNeek Co-Founder and CEO. 
With the Winter '24 Release 10.0, ElectroNeek redefines the benchmarks of RPA and Intelligent Automation, offering a gateway to a future where seamless collaboration between technology and business processes becomes the new norm. 
About ElectroNeek
ElectroNeek transforms business process management in enterprises by integrating AI bots with employee workflows, automating routines, and helping humans focus on more creative and strategic tasks. Since its start in 2019, it enabled hundreds of enterprises and service providers to automate millions of work hours and reached clients in 50+ countries globally.